Learn French with Véronique Courtois
After teaching French as a second language in the United States for 34 years, Véronique realised over the years that more and more adult learners are professional women or retirees… mainly her private students in Beverly Hills and Los Angeles.
Reading a full book remained a challenge for them as they often felt intimidated to read French literature due to the automatic use of the passé simple, difficult clause structures, and themes they may not have related to.
So she decided to write a novel tailored to these students with the three following guidelines :
Write an entertaining plot
Reinforce basic vocabulary while introducing new intermediate to even advanced vocabulary
Highlight as much cultural information as possible about Paris and French customs.
Les aventures parisiennes de Kimberly

And so was born The Parisian Adventures of Kimberly, a new and unique method for learning French based on Véronique's original novel.
Designed specifically to reinforce every day French vocabulary in an entertaining manner, the novel also includes a workbook, giving learners the opportunity to apply new knowledge through targeted exercises with immediately available corrections.
Véronique is far from just the author, she is first and foremost a teacher, and you can contact her directly via the provided email should you have any questions or queries.
If you buy all 3 books together (novel, workbook & corrections), Véronique offers a FREE 15 minute Skype call.
More about Véronique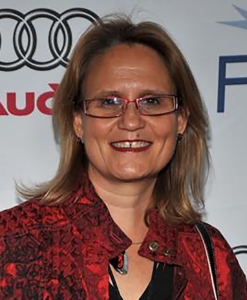 Born in Versailles and raised in Paris, Véronique graduated from Paris-III Sorbonne Nouvelle (B.A. in English/M.A. in American Studies) while working for an American Junior Year Abroad Program in Paris.
She went on to teach French Culture and Cinema at Tufts University and Boston University for 15 years. She graduated from the School of Communications at Boston University (M.S. in Advertising & Public Relations).
Shortly after graduating from UCLA with a Certificate in Film Distribution & Marketing, she worked for several film distribution companies.
In 2004, she founded her own film distribution company, Casque d'Or Films. In 2008, she wrote and directed an animated short film that premiered at the AFI Film Festival in Los Angeles.
In 2010, she wrote and directed an animated short series entitled THE QUEER PET ADVENTURES. Both titles screened at many film festivals worldwide and are currently distributed in French and German territories.
Since settling in Los Angeles, she has also worked as a French Instructor at the Beverly Hills Lingual Institute and has taught language seminars at the Alliance Française of Los Angeles.
Véronique just completed her second French-learning book entitled THE ULTIMATE FRENCH QUIZ BOOK : 500 PRACTICE QUESTIONS for Beginner and Intermediate levels. She is currently writing three other French Readers and two English to French Translation Workbooks.
Follow Véronique on Facebook