Instructions for Visitors : Life and Love in a French Town
by Helen Stevenson
Reviewed by Polly Cannie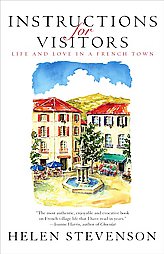 It can only be conjecture, of course, but I defy anyone to sit outside with an apéro at Le Grand Café or Le Bleu Citron in Céret and not look up at the shuttered windows of the apartments above the shops opposite and try to imagine which are featured in this book.
Helen Stevenson's story describes daily life and a new love affair in a "village in south-west France" through the eyes of a newly divorced lady writer. The village, although never actually named, is recognisable undoubtedly as Céret and as the story unfolds those with local knowledge will come to recognise the cafés and bars, the streets and the shops mentioned in the tale – even, perhaps, some of the characters!
Romance is soon centre stage when Helen meets the suave local dentist and painter, Luc. He, however, takes time to overcome his prejudice towards blonde Englishwomen but so begins the story of their relationship with its many twists and turns, highs and lows intermingled with glimpses into the lives of other village characters – Gigi, herself an ex-lover of Luc, who owns a chic dress shop and who, bizarrely, encourages Helen to adopt a style of dress which will appeal to Luc.
Then there is Stefan the Maoist tennis fanatic and Luc's family with their gatherings at their remote mas in the mountains almost on the Spanish border.
The locals take Helen to their hearts but although she is besotted by him, Luc is often cruel and dismissive making it difficult for her to really be confident in settling in a foreign country with its different culture and expectations.
However, Helen is nothing if not stoic when it comes to dealing with her new lifestyle and on-off relationship with such a Jekyll and Hyde character as Luc and ultimately it is she who must decide whether or not she remains in 'the village' or returns to her old life – certainly Luc makes it very clear that there is no future for them together in the UK.
Throughout the book, the descriptions of the busy work-a-day 'village', the surrounding countryside and the many references to artists who have made this corner of France so popular are truly evocative and I'm sure the story will be enjoyed just as much by those who know the area well as by those who, like me, are only just starting to discover its appeal.
Buy this book