The Caliph of St Cyprien (Part 1)
by Basil Howitt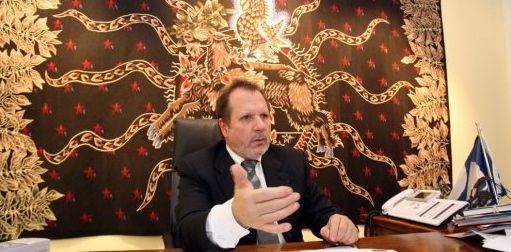 With the benefit of hindsight, it is none too surprising that Jacques Bouille, 62-year-old former UMP mayor of St Cyprien, was driven to suicide.
He had endured the reportedly squalid conditions in Perpignan's Mailloles prison for over five months. Remanded in custody on 15 December 2008, he hanged himself by his dressing gown belt some time between the prison's two nightwatch inspections (1.40 and 3.40) on 24th May 2009.
As a practising généraliste (GP) he would have known how not to botch the job. He left a note to his wife "in which he expressed his wish to bring his days to an end".
Suicide in French prisons
According to one blogger in L'Indépendant, Bouille festered in a cell of nine square metres, with mildewed walls whose stink in winter would have penetrated its inmate's clothes. Whether this is true or not, French prisons are unfortunately notorious for their insalubrious conditions – and also for their high suicide rates.
The Council of Europe estimates that prison suicides in France are double that of Germany and Britain and three times that of Spain. In 2008 there were 115 prison suicides overall, 20% more than in 2007.
The violent culture shock between Bouille's former lifestyle as the flamboyant, freeloading mayor of the swish Mediterranean resort of St Cyprien and his confinement in custody in a miserable cell must have become ever more unbearable. Especially when he must have known he had little chance of refuting the raft of eight separate charges against him.
In essence they centred round embezzlement and corruption, to the tune of more than 5 million euros. Much of the money came from bribes and backhanders and was lavished on paintings and objets d'art: not, alas, for the enjoyment of the citizens of St Cyprien in its museums, but mostly for Bouille alone in his private collection. In a play of words beloved of the French, Bouille's passion for art had become truly une boulimie.
No wonder at his death he had landed the town with debts totalling some 55,000,000 euros since his election in 1989. His purchases had included such items as Dali's La Vénus aux tiroirs, a sketch by Modigliani, and a fine Utrillo.
Gallery in a henhouse
When police began searching for Bouille's secreted treasures at the end of 2008 they found them all over the place: in his mother's henhouse, or buried in a nearby piece of open ground. The police's search was made easier by indiscreet conversations heard during their telephone tappings.
The charges
The eight overlapping charges against Bouille, as far as my limited legal French can make out, comprised money laundering, corrupt practices by a person with an elective mandate, influence peddling, gains begotten through abuse of public office, aggravated diversion of public funds for personal gain, hindering the pursuit of the truth, nobbling witnesses, and finally, forgery and the use of forged documents. (See below for the charges in French.)
High living
The comedown for Bouille must have been traumatic. He had enjoyed the life of Riley, not least when dining out with his colleagues and cronies at the expense of his commune. One of his favourite restaurants in Paris was the upper-crust and Michelin-starred La Tour d'Argent (Grand luxe et tradition), with its "sumptuous" view of Notre Dame. Hardly a snip at 250-300 euros for an à la carte menu that includes among its attractions "famous duck of Challans" and an "exceptional cellar".
Bouille's self-indulgence was boundless. One year he claimed 28,000 euros in taxi fares. He wouldn't hesitate to claim a taxi journey from Perpignan to Cannes to go and buy his wife a necklace costing 24,000 euros. The municipal coffers were also used to employ his "collaborators", his children, wife and friends.
Those who follow politics in the UK will find all this depressingly familiar.
Eric Hernandez
One man, an electrical contractor named Eric Hernandez (also facing multiple corruption charges) described Bouille's modus operandi to Christian Goutorbe of La Dépêche :
"One day the mayor Jacques Bouille called me in to his office (at the museum). What a fine room this was, where the mayor could admire, every day, his 300 netsuke (sculpted kimono toggles etc) bought over the years. He told me it was necessary to finance these works … So, I wrote out a cheque, 15,000 euros from my own funds. He made this appear like a partnership, he was a caliph here. Nobody stopped him doing anything."
Hernandez also thinks he contributed to the purchase of a canvass by Moïse Kisling, a painter friend of Modigliani. "But I never saw it," said Hernandez, "the paintings went straight to his home."
Brown envelopes
A young property developer, Jérôme Ferrer, had to shell out 37,5000 euros for a building permit that had been refused three times. At the mairie he was told he would have to pay the going commission of three euros per square metre. The transaction was carried out in a Perpignan brasserie with the cash stuffed in a plain brown envelope. Ferrer had no choice in the matter.
One could go on and on! Altogether 14 individuals with key responsibilities in the mairie (either as employees or elected representatives) have been charged with embezzlement offences relating to the purchase of objets d'art and planning applications.
TRACFIN
The entire scandal was first rumbled by TRACFIN whose business is to search bank accounts for suspect underground transactions. They discovered that between 2004 and 2007 at least 200,000 euros were paid into Bouille's 15 different bank accounts in bundles of 500€ each.
Pathology?
Did Bouille feel he had a right to all these colossal perks in view of his raft of undoubted achievements for the town? These included his key role in the growth of St Cyprien to become the second-most important marina in Mediterranean France. He also made major contributions to the development of the town's waste collection, water supply, roundabouts and Les Capellans, a large complex of holiday apartments, marinas and extensive sports facilities, including 21 tennis courts.
Tribute
Even one of Bouille's deadliest political enemies, Christian Bourquin, Socialist President of the P.-O.'s Conseil Général, paid tribute to him at the first meeting of the Conseil following his suicide. Bourquin arranged for a photo portrait of Bouille to be placed in front of the place he occupied in the council chamber.
Good riddance
Others, including many bloggers, are much less charitable. Many Cyprienencs are glad to see the back of a man who has left them all in hock to the tune of 55,000,000 euros!
Footnote on Bouille's successor.
Bouille's erstwhile personal bank manager and deputy mayor in charge of finance, Pierre Fontvieille, was elected as mayor on 2nd June. It was a very short reign. Nine days later he also was charged with a basketful of corruption offences and placed in custody, from which he was released on 2nd July. More on all this next time.
*The actual charges against Bouille:
"blanchiment, corruption par personne exerçant un mandat électif, trafic d'influence, prise illégale d'intérêt, détournement de biens publics aggravé, entrave à la manifestation de la vérité, subornation de témoins, faux et usage de faux"
Eric Hernandez speaking of Jacques Bouille, former mayor of St Cyprien – Le Monde, 12 June 2009
The Bouille affair is a Balzac story all of its own.

Nouvel Observateur, 28 May 2009
His love of art was no longer a passion, but truly bulimic.

Le Monde, 12 June 2009
Power tends to corrupt, and absolute power corrupts absolutely.
1st Baron Acton, 1887