Out for the day in Leucate
WALK THE REGION WITH TIM AND CHRIS PARKER
Leucate: plateau, cliffs and coast
A circular, 4 hour / 12 km* walk at low level with just 120m of ascent. Rocky paths with some sections of tarmac on country tracks. Good walking shoes/boots advisable. Sun protection essential IN WARM WEATHER as there is very little tree cover on most of the route.
Really pleasant walk with great coastal sections. Can be ridden by mountain bike (VTT).
Access: map IGN 1:25000 Durban Corbieres 2547OT
*Can be shortened to 2.5 hours / 8km by missing the Etang section. Alternatively, can be done as 2 walks on different days, separating the Plateau and Etang.
sections.
START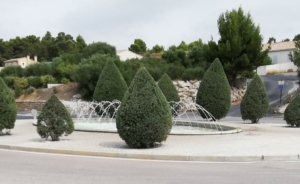 Large car park in Leucate village (north end) next to the Office de Tourisme (closed out of season) and cave à vins. Roundabout with fountains near the entrance. No toilets.
For strollers and flat level walkers it is possible to take a car from the D327 (Access via right turn off the first roundabout after exit to Leucate village from D 627) then follow sign to Le Phare.
Park near the lighthouse. Stroll along the coastal path
THE WALK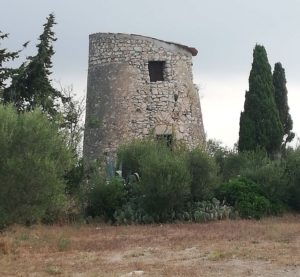 Turn right out of car park, walk in direction of village. Turn left up rue du Cercle – handy café/bar for drink and toilet! Continue up and soon enter plateau.
Pass old windmill, arrive at cross roads. Turn left.
After 50 metres turn right down lane. After approximately 400m the track divides – look out for mural in wall with motif on it.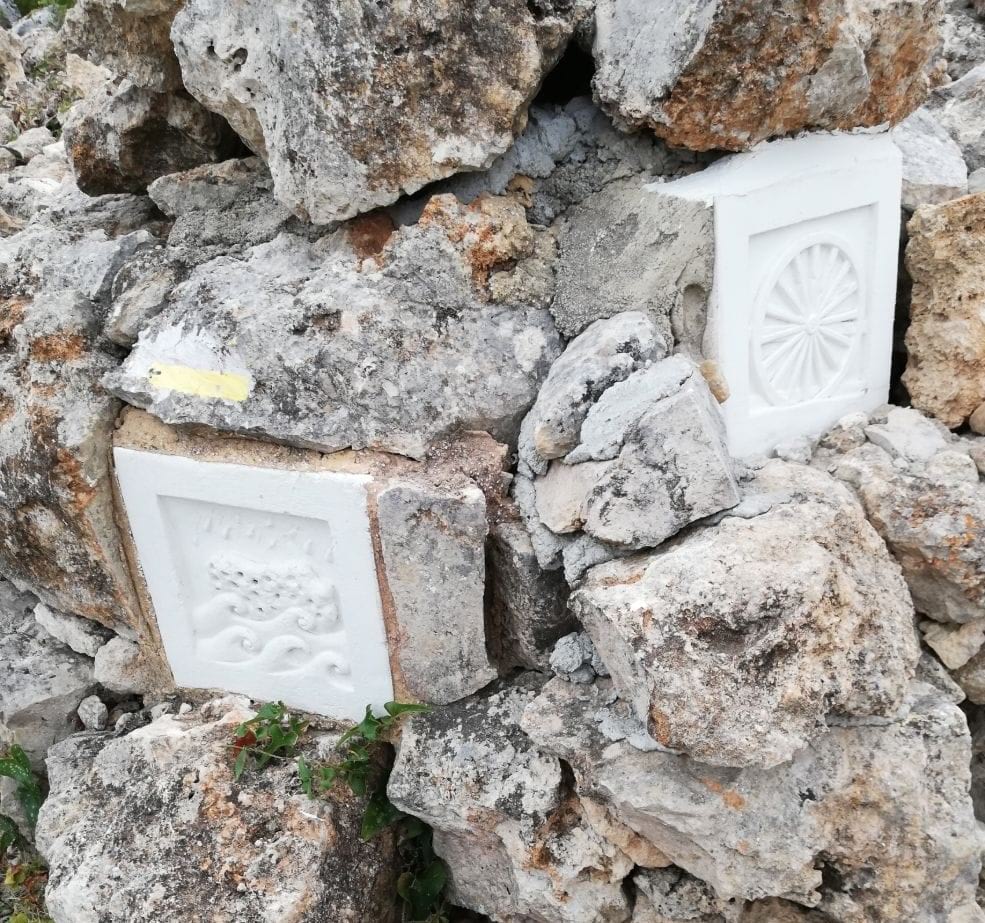 Take left fork and continue for about 750m. At left hand bend take track on right between 2 stone walls. Arrive at crossroads and turn right.
Follow this track past an old Bergerie – remnant of an age when sheep were grazed on the plateau.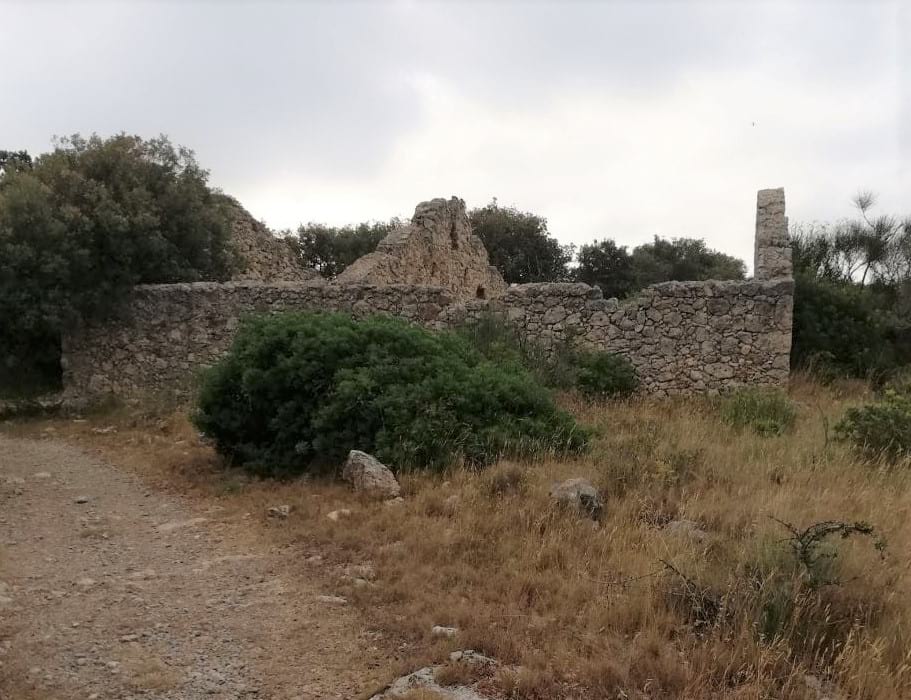 The path narrows. On reaching wider track, turn right. After 50 metres take left fork and head for the cliffs, emerging at Cap des Trois Freres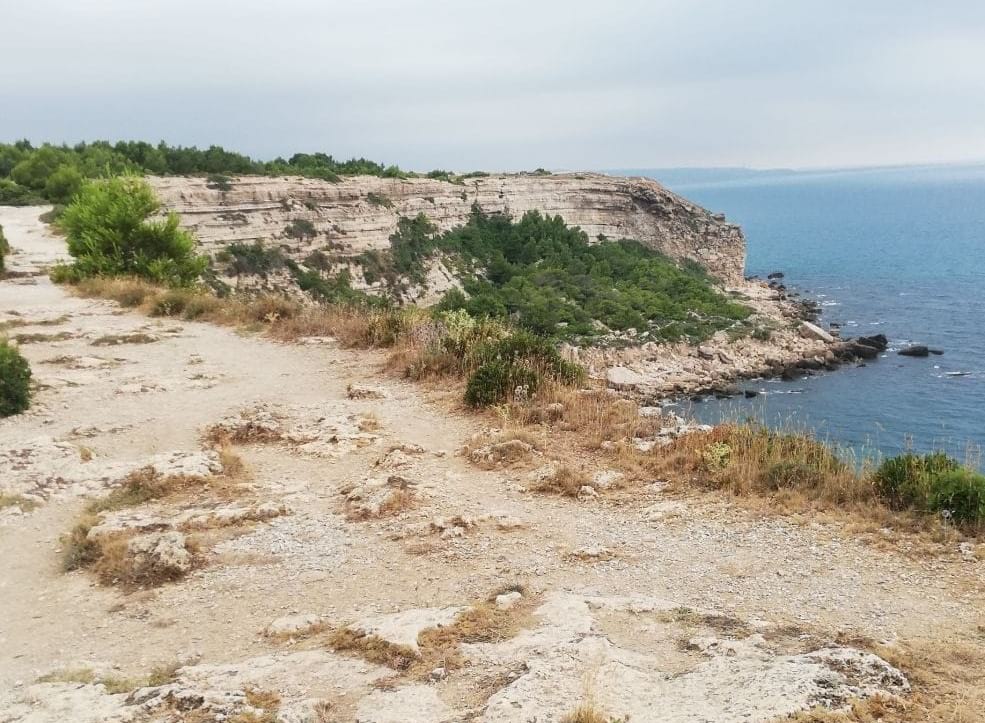 Pass car park, walk into road with "no through road" sign. Turn right between a house and a high wire fence. Keep high on footpath next to fence and
take in lovely views of Leucate Plage and beyond.
After about 400m, go down series of steps edged with wood, cross road, continue to quickly find second series of steps. Bend left at bottom of steps onto concrete. Reach side road.
Turn right and then right again along the main residential street. At end of street cross road to pick up cycle track and follow it across main road junction to reach roundabout at entrance to Leucate village.
You will have had D627 and Etang on left and D327 on your right, while you are away from all the traffic.
OPTION HERE OF SHORTENING THE WALK BY FOLLOWING THE ROAD SIGNED TO LEUCATE VILLAGE AND BACK TO CAR PARK.
To continue beside the Etang cross the D 627 just before the roundabout and turn left on a track, following the edge of the Etang. At a house, it is
possible to make a slight detour to la grotte des Fées.
The main track passes a creek and then gradually becomes narrower, with red markers. Later reach a wider track and continue past a campsite, ignoring
all tracks off the main one, to reach a tarmac lane.
Go up the lane and under the D627 and head upwards between 2 dry stone walls. At a pine grove, turn left on a track, follow the red markers and head
up to the ruined chateau de Leucate. Great viewpoint!
The route down leads to the Place de la République, with the statue of Francoise de Cezelly, who saved Leucate when it was attacked by Spain in 1590.
Make time to explore the attractive village centre and take some refreshment before making your way back to the car park.