Between Sea and Mountains
by Raymond Hughes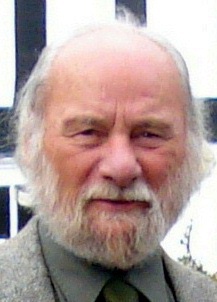 Raymond Hughes has lived for much of the past 20 years in Port-Vendres. Soon after his arrival, under the influence of his new surroundings, he began writing poems again, after a long unproductive period.
His bi-lingual book, "Between Sea and Mountains"/ "Entre Mer et Montagnes", by R L Hughes, contains 21 of those poems, with French translations.
Most of the English versions have been published in literary magazines in the UK.
Here are a couple of seasonal tasters.
AUTUMN LANDSCAPE: THE VALLESPIR
A long climb through the forest,
among the autumn hues
of chestnut, oak and beech – yellow,
russet, copper, golden brown –
and the dark green of the pines.
Then out onto the valley's rim,
lip of a bowl brimming with clouds
simulating snowfields.
From the valley floor
rise the sounds of hunting hounds
scenting sangliers in patches
of pawed and snouted soil.
In upland pastures dark blue gentians
hang their trumpet heads; swallowtails
fly; above the cowbells' clangour,
a buzzard's mewing cry.
On scree-scarred slopes
where last year's snows survive
in sheltered cwms and clefts,
izard and marmot thrive.
Surrounded by its acolytes –
Tres Vents, Sept Hommes, Roc Negre
and Roja – the Canigou thrusts
its head through a collar of cloud.
JANUARY FIRES
Smoke is rising from the bay:
men are building bonfires on the beach,
raising pyramids of brush and driftwood:
root and branch and twisted trunk of trees
wrenched up, dismembered, drowned,
picked clean by sea and surf and left
to moulder bone bare on the stony shore;
wrack of the last of last year's storms
cast away by wind and wave and strewn
haphazardly across the beach,
now gathered up and stacked on pyres,
slyly probed by fingers of fire
that flare in sudden breaths of air
and fan out into flaming palms,
sparks flying wildly to expire
in the sunlit January sky,
then die away to smouldering ruins,
where charred remains disintegrate
and ash and embers disappear
among the shingle, shells and shards.
The book is on sale (price 10€) at the Maison de la Presse, Quai Pierre Forgas, Port-Vendres. It can also be obtained directly from the author (10€ inc. P&P) by contacting him at rl_h@hotmail.com.