How to Recycle Your Old Car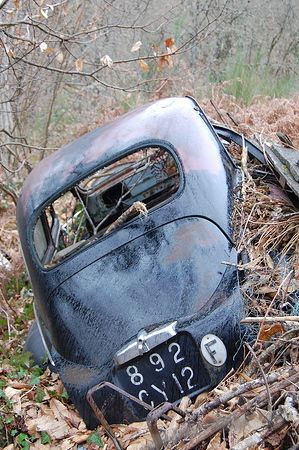 If you have been wondering what to do with the old heap rusting away at the bottom of the garden, you will be happy to know that it is easy, and free to scrap your car.
Risks to the environment
Every year in France more than 1,5 million de vehicles are scrapped. A VHU (véhicule hors d'usage) can pollute both ground and water, due to the various liquids they contain such as oil, brake fluid and coolant, battery acid…… all hazardous wastes which need special treatment to prevent any risk of pollution
Under Article R 322-9 of the Highway Code, owners of a VHU must dispose of the vehicle via an approved wrecker, (un démolisseur or broyeur agréé) who complies with environmentally friendly processing requirements.
Your local prefecture will be able to provide you with a list of approved wreckers.
The scrapping service is free, although a charge may be made if the vehicle has to be towed to the breaker's yard.
You have 15 days after scrapping your vehicle to make the 'déclaration de cession pour destruction' at the prefecture of your choice, using a form which you can download here
The SIV (service d'immatriculation des véhicules) will acknowledge receipt and cancel the registration of your vehicle.