Covid-19 Crisis Centres
In a bid to reduce the pressure on local hospitals and emergency services, a number of Covid-19 crisis centres have opened across the region.
The first Perpignan crisis centre opened on Friday 20th March, with Font-Romeu, Les Angles, Céret and Prades following suit on Monday 23rd March.
Now more than 10 crisis centres have opened, details below. We will try to keep you up to date with new openings over the coming days.
IMPORTANT : Do not go to these crisis centres without first telephoning your GP or the crisis centre reception for an initial consultation.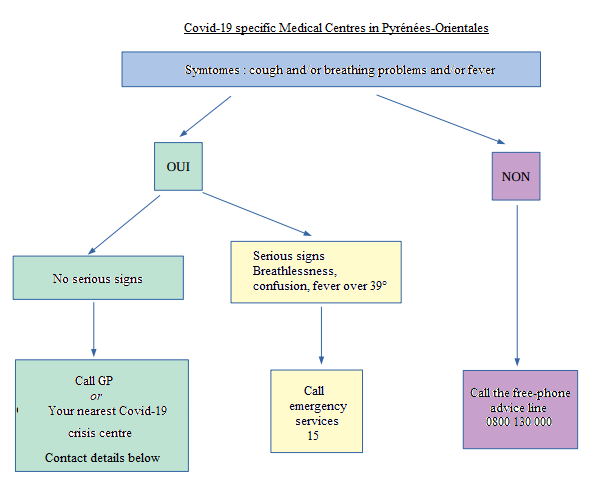 These emergency medical centres will accommodate patients who think they may have the virus for consultations like any normal medical centre. Those likely to be affected will be immediately separated to avoid the risk of contagion.
Doctors, interns and other medical staff will be mobilised throughout the crisis to accommodate a maximum number of patients across the region. Only those for whom it is strictly necessary will be sent to the hospitals.
Please spread the word and help make life just that little bit easier for the courageous men and women fighting this virus on the front line.
Contact Details
Argelès sur Mer
Address: Salle communale Waldeck Rousseau, 23 chemin de Palau, 66700
Opening Hours: 10am – 5pm, 7 days a week
Parking available
Tel: 04 68 08 21 77
Céret
Address: Maison Sociale de Proximité, 25 avenue François Mitterrand 66400
Opening Hours: 11am – 5pm, 7 days a week
Free parking available in the town centre
Tel: 04 68 85 85 58
Font-Romeu
Address: Maison de santé pluridisciplinaire de Font-Romeu, 28 boulevard du cambre d'Aze, 66120
Opening Hours: 9am – 6pm, 7 days a week
Parking available on site
Tel: 04 68 30 65 77
Les Angles
Address: Maison de santé pluridisciplinaire des Angles, 1 rue du Moraillou 66200
Opening Hours: 9am – 6pm, 7 days a week
Parking available on site
Tel: 04 68 04 42 32
Osseja
Address: Pôle jeunesse intercommunal, rue du Canigou, 66340
Opening Hours: 8am – 6.30pm, 7 days a week
Tel: 04 68 04 50 46
Perpignan- bas Vernet
Address: Maison sociale de proximité Perpignan Nord, 164 avenue Maréchal Joffre, 66000
Opening Hours: 10am – 6.30pm, 7 days a week
Tel: 0800 08 13 66
Perpignan- centre ville
Address: Ancien Hôptial Militaire, rue du Dr. Zamenhof (opposite place Arago), 66000
(disabled access 32 avenue du Maréchal Foch)
Free parking available in Parking Arago
Opening Hours: 8am – 8pm, 7 days a week
Tel: 0800 08 13 66
Perpignan- hospital
Address: Centre hospitalier de Perpignan, 20 avenue du Languedoc, 66000
Opening Hours: 9am – 7pm, 7 days a week
Tel: 0800 08 13 66
Perpignan- Saint Jacques
Address: Collège Jean Moulin, 41 place Jean Moulin, 66000
Opening Hours: 10am – 6.30pm, 7 days a week
Tel: 0800 08 13 66
Prades
Address: Maison de pluridisciplinaire de Prades, 2 rue du Général Roques 66500
Opening Hours: 8am – 8pm, 7 days a week
Parking available on site
Tel: 04 68 04 04 41
Saint Paul de Fenouillet
Address: Maison de santé pluridisciplinaire St Paul de Fenouillet, 17 avenue Georges Pezieres 66220
Opening Hours: 8am – 6.30pm, Monday to Friday
Parking available
Tel: 04 11 63 00 10