Two Women of the North – an Arctic Adventure
….a photographic exhibition in Ceret by Jane Henriques
Feb 6th – March 3rd 2016.
Mediatheque, Ceret
Join Jan at the vernissage for her exhibition, is shared with two other artists, on Saturday 6th February at 11.30 a.m. and for an illustrated talk on her summer in the Arctic ('Un Ete en Arctique') at 14.30 the same day.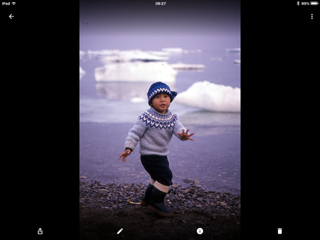 It was in 1989 that I first became interested in the Arctic. In searching for a Christmas present for my sister I found a 'remaindered' copy of the catalogue for the art of the Cape Dorset Inuit, or Eskimoes, of Baffin Island in northern Canada. The biographies of the artists fascinated me. Many were women.
Pitseolak Ashoona was born while her parents were attempting to cross the Hudson Straits in an 'umiak' during a storm; many had had hard lives living on the land, moving from camp to camp in the traditional, nomadic style before they settled in 'hamlets' governed by the Canadian government in Ottawa. I wanted to meet them! I pitched a story to Marie Claire magazine in its first year of publication in England, and received a commission to write 'Women of the Arctic'. Photographer, Ben Gibson, followed to take the pics.
(This can be seen on my website.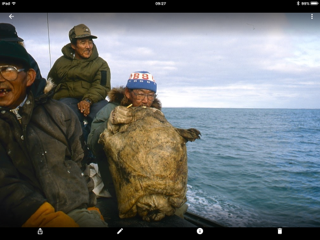 After my first visit I learned about Jenny Gilbertson, Scotland's first woman film-maker in the 1930s, who lived on Shetland. At the age of 69, after the death of her Shetlander husband Johnny, she had left for the Arctic with her clockwork Bolex camera to visit a schoolteacher friend, working in Coral Harbour, on Southampton Island in the Hudson Bay, and document what she imagined was a dying lifestyle.
She remained there for 8 years, the last spent in Grise Fjord, on Ellesmere Island, 2,000 miles further north, in line with the north of Greenland, where she was filming in 50 below at the age of 75. I visited her in Shetland and we planned to return to the Arctic together. Unfortunately she died, aged 89, but her family sent me her diaries.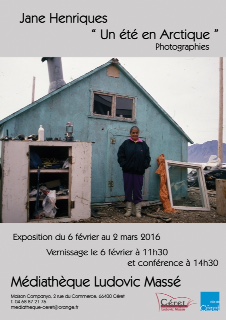 I decided to write the script for a docu-drama, 'Woman of the North', based on her time in the Arctic, received funding from a Scottish producer and set off in June 1992 to find everyone still alive who featured in her diaries. The photos in my current exhibition at the Mediatheque in Ceret were taken during three months of travel to find Jenny's former friends and sometimes adversaries – she was a feisty woman!
I had many adventures in the Arctic and nearly lost my life while out hunting seal with one of the hunters whom Jenny oftened accompanied, Johanassie. I had an aviator's hat, lent by my son, and was given a nickname in Grise Fjord 'the woman with the little hat'. In Coral Harbour, however, where Jenny had been called 'Ningeoraluk' or 'Little Old Lady', I discovered that my nickname was 'Little Old Lady Replacement'.
The vernissage for my exhibition is shared with two other artists on Saturday 6th February at 11.30 a.m. and I shall be giving an illustrated talk on my summer in the Arctic ('Un Ete en Arctique') at 14.30 the same day. Come along!