Strike action, started last Thursday by the bus drivers of the Régie Les bus du Conseil Général 66, continues this week. School transport and the one euro bus are both affected as negotiations are, for now at an impasse. to check whether your bus is running, ring 04 68 80 80 80 during office hours or consult their website
One Euro Bus Strike – Thursday June 13th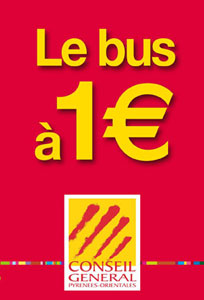 Due to a strike by employees of the la Régie Les bus du Conseil Général 66 on Thursday June 13th, many of the 1 euro bus lines will not run at all.
Over in Marseilles, French bus drivers are also striking….. because the trousers of their new uniforms are too tight!
Despite former president Nicolas Sarkozy's decree that public transport workers must give a 48-hour warning before a walkout or face sanctions, France continues to have the most strikes in Europe.