Between Chateau de Queribus and Chateau de Peyrepertuse on the D19 towards Peyrepertuse and Duilhac, around 5km after Cucugnan, turn right over a small bridge, and follow a narrow road winding through the vineyards for 2 km.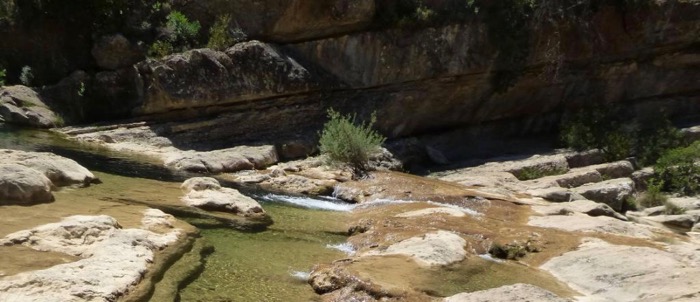 On your left a parking. Cross the river, follow the footpath behind an old ruined mill, Le Moulin De Ribaute, and the Cascades and Rock pools of the Gorges du Verdouble offer one of the most beautiful natural picnic spots imaginable.

The clear water flows between rocky banks of wild rosemary, eroding the limestone rock into a series of pools.
Swimming in the green waters is prohibited but the notices are ignored. Even when too cold to be tempted to swim the whole site entices you to stay all day.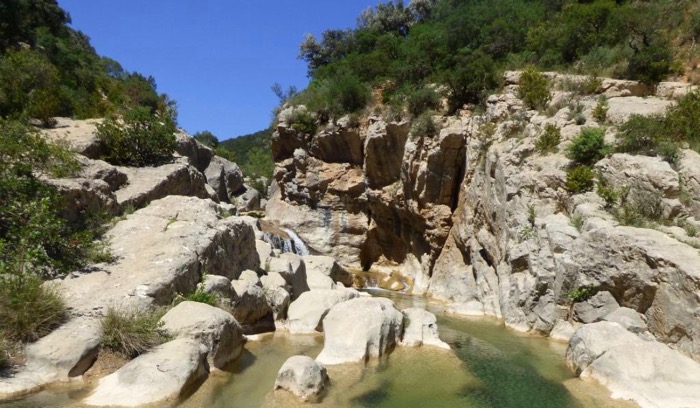 But Chateau de Peyrepeteuse beckons. Eight hundred metres high, occupied since Roman times, the castle itself is first mentioned in 1070 when it was owned by the Catalan Counts of Besalu.
It formed an important part of the Cathar defences and a secret passage ending in a movable ladder afforded vital access. It can still be found, the last part of the climb a vertiginous cliff "voie escalade"…
By 1258, in common with Queribus, it was one of the forefront royal fortresses on the border of Aragon. It continued to be enlarged and improved until 1659 when the border changed and it lost its strategic importance. However it remained in use till the Revolution when it was deserted by the fleeing nobles and, like so many other French castles, was sold to the State.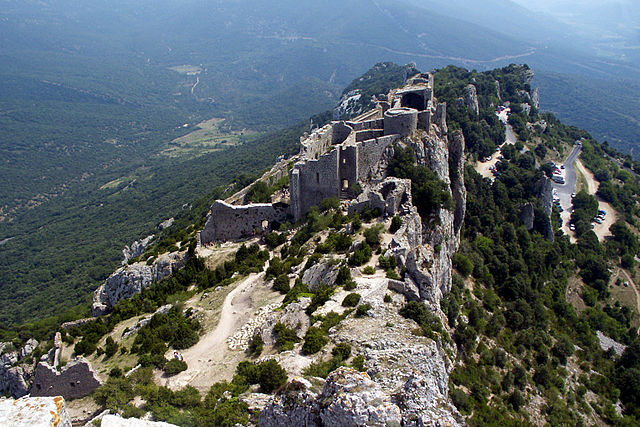 Now it can be visited and enjoyed. It appears inaccessible but from the ticket office a 1/4 hours narrow, shady walk through the scented box brings you to the entrance keep of San Jordi.
The steep steps of Saint Louis, cut into the rock, lead to the chapel of St Jordi from which, clearly visible is Chateau de Queribus, the Forca Real and the lookout tower of Tautavel.
History oozes from the ancient walls and in spring cowslips and fritillaries flower between fallen stones. In summer there are often Falconry Displays and Re-enactments of Castle life in the Middle Ages as well as the Grand Medieval Festival of the Castle of Peyrepertuse, as jugglers, acrobats and strange and fantastic beings besiege the Chateau along with Falconers from the Ailes de l'Urga and their eagles, vultures and Great Horned Owls.