By Ellen Turner Hall
The current exhibition of works by Viera da Silva in Ceret's museum of modern art is distinguished by a complexity of composition. From random lines which resolve into squares to squares which morph into curves, space is her playground.
Born in Lisbon in 1908, Da Silva moved in 1928 to Paris where she met her future husband, Arpad Szenes, a Hungarian painter. Some of the many portraits he painted of his wife throughout their long marriage appear alongside her work.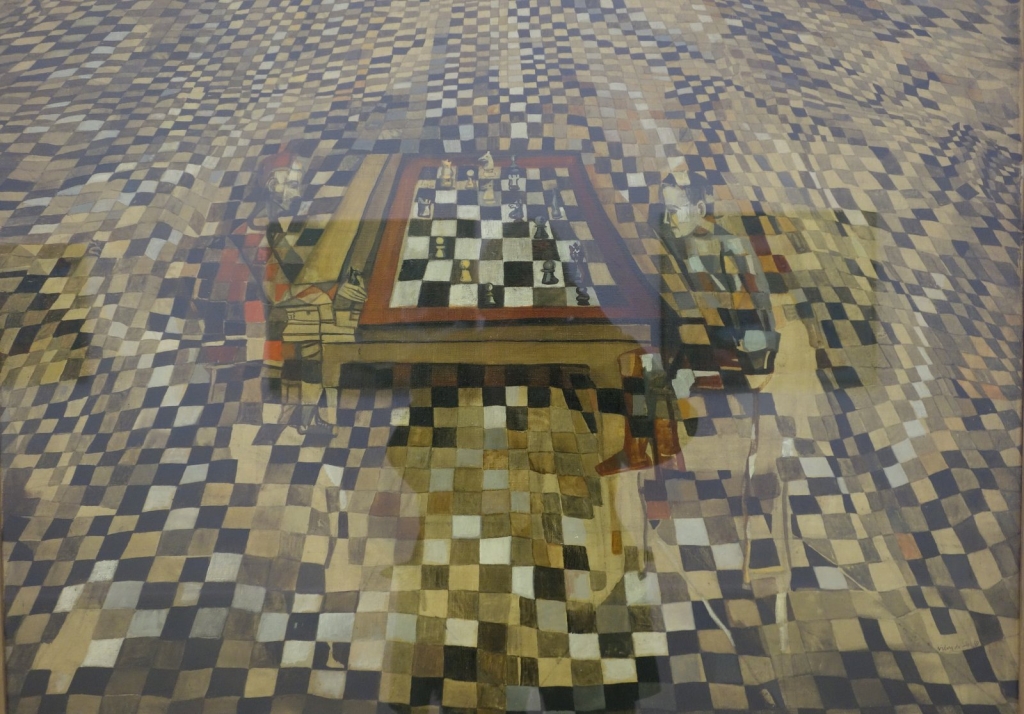 The exhibition starts with Da Silva's precisely detailed anatomical drawings from her student days in Lisbon .She wrote, "I was excessively concerned by each muscle, each bone." Her illustrations for a children's book about two Eskimos resembles the playfulness and simplicity of Paul Klee. Her native Lisbon she painted as a city of light, its streets full of life. In "Jardim das Amoreiras" (garden of mulberry trees) the traditional blue tiles of Portugal highlight the architecture. Thirty years later, in "Jardin Bleu" all of nature becomes blue.
In 1936 "Recherche d'espace" is witness to her developing love affair with lines and perspective. Small paintings of a corner of a fireplace, a bridge or a ladder show her interest in architectural structure and how a fragment can suggest a whole. In "La Scala" the opera house is constructed in tiers of nothing but eyes. Then in "Mouvement optique" the eyes become stylized lozenges from which her later canvases are formed.
At the center of the exhibition is her most exciting painting, "La partie d'échecs", inspired by Cezanne's "The Card Players". Here the players emerge, as if by magic, from the patchwork of the chessboard. The same ballooning upheaval of perspective is demonstrated in "Ballet of the Harlequins" where the linear grid of the chessboard is transformed into a whirl of dancing figures.
"Kaleidoscopic", "labyrinthine", "multi-faceted" describe the overall impression of Da Silva's work. Had Einstein been a painter, is this how he would have represented the space-time continuum?
For more details see: www.musee-ceret.com.