Sunday 10th & 24th June 2012
LA MUSIQUE BAROQUE S'INVITE AU JARDIN
Jardin des Plantes, Saint Cyprien
All events are free and take place at 16h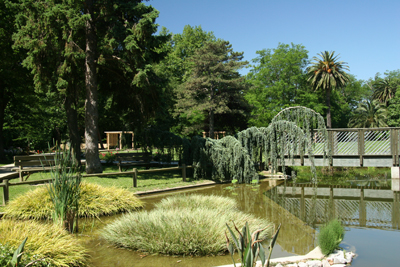 The Jardin des Plantes will put on three concerts of baroque music, with three guest ensembles, composed of professional musicians, concert artists and teachers. They will play in period costume.
Love madrigals from the court of Gonzaga, instrumental music of 'Europe galante', songs and dances of the Italian Seicento (harpsichord, lute, oboe) ……….
About Le Jardin des Plantes
Le Jardin des Plantes des Capellans next to the sports complex on Rue Verdi has a collection of palms and a bambouserie, the star of which is the giant from Japan that, in May, grows up to a metre a day, over a centimetre an hour. There is also a collection of over four hundred roses as well as many local Mediterranean plants through which peacocks strut.
It is to the Grand Stade des Capellans that the whole family can go for a summer of sporting and less-sporting-more-artistic entertainment. There are seventeen out door tennis courts, and a further four indoors. There is squash, swimming, body building and fitness gym. There is an 'ESPACE ZEN' where sauna and jacuzzi await as well as face, feet and body massage. You can join for an hour, a day, a week, a year and the prices are very reasonable. And whilst you're relaxing in the spa, children will have a whale of a time at the kids club for a half or full day of fun including rugby, football, circus, archery, painting or dance. Join as a family and all will profit from the wide variety of skills and activities available. Most of the staff are young, enthusiastic and bi-lingual. 04 6837 3200, contact@tourisme-saint-cyprien.com or www.tourisme-saintcyprien.com for details.