Local marine ecosystems to breathe a sigh of relief as Argelès installs new fish nurseries
The coastline of the P-O, along with coastlines throughout Europe and the rest of the world, have been significantly changed by human activity. From whaling and seal hunting to modern, commercial fishing; aquatic ecosystems have borne the brunt of our ever-expanding population.
Over the past 100 years, the seas have become a much busier environment: increased transportation of people and goods, an expansion in energy and resource exploitation, intensive fishing practices in response to a growing need for food… And what about climate change? Chemical pollution? Litter?
But it's not all doom and gloom! There are many people, here and abroad, working hard to slow and even reverse the damage. As part of a wider Nappex project, designed to improve the bio-compatibility of coastal infrastructures, 55 artificial nurseries are to be installed in the port of Argelès-sur-Mer.
A Biohut® is a purpose-built habitat that can be attached to walls of quays in ports and harbours and suspended under pontoons. A true oasis of life, it consists of a steel cage filled with oyster shells and acts as a safe haven for young fish, who are protected from predators by a second, outer cage.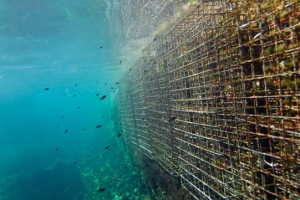 Observed and analysed by scientists from the Université de Perpignan, other similar projects along the Mediterranean coastline (including Port-Vendres and Le Barcarès), have seen promising results. The Nappex project is one of 62 Laureat concepts created in response to a call from the govermnent to improve France's ecological status.
So from all us here at P-O Life, soyez les bienvenus, les poissons!