Sunday 1st February 2015
F

ETE DE L'

O

URS –

A

rles-sur-

T

ech
A

rles-sur-

T

ech

B

ear

F

estival
Usual Programme

(This many vary. Exact times should be checked beforehand with the tourist office on 04 68 39 70 83)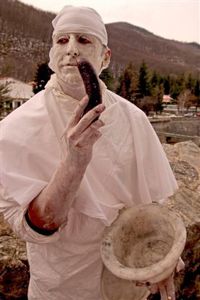 9h30 Hunter's breakfast – Salle des Fêtes
10h30 « Trobada dels Caçaires, de la Rosetta et du Trappeur» – procession through the streets
11h Passation du témoin "LA PATTE DE L'OURS" – Placette d'Amont
12h Sardanes – Placette d'Amont with cobla « Les Casenoves »
12h30 Hunter's lunch – fontaine des buist
15h Departure of the Bear Hunt – fontaine des buis
15h – 17h Great Bear Hunt through the streets with music from « les Casenoves » and « Els Tirons »
16h30 Shaving of the bear and sardanes wth « les Casenoves» – place de l'Eglise
18h30 Village centre ville : various entertainment in the bars
Find out more about the tradition of the Bear Festival
LA BAHIA, Arles sur Tech …..with Polly
December 2014
Meet new chef Yanis Berenguel when the Bahia reopens this weekend, 31st January with an exciting menu based around truffles….and the sea urchin! (Oursin)

High in omega three, low in calories, an aphrodisiac and said to contain euphoria-causing chemicals similar to that found in cannabis, one Japanese researcher said that 'eating a raw sea urchin was like sharing an intimate kiss with the ocean'.

Here's the menu
☛ Assiette de fruits de mer de nos côtes
☛ Crémeux d' œuf à la truffe, île flottante oursin et truffe, crème de topinambours
☛ Coulant au chocolat, tuile aux amandes et sorbet au basilic
PRICE NOT COMMUNICATED

It's probably been a while since Arles sur Tech and the word 'jewel' have appeared in the same sentence but I think this is changing and we can't keep the brilliance of Le Bahia to ourselves any longer!
A little jewel in Arles sur Tech, this restaurant/bar/mini-golf venue has been taken over by Guy Travé and his lovely wife Rapha, who had previously run Las Conques very successfully in the Haut Vallespir above La Preste.
The popular mini-golf course remains but the reputation of Le Bahia is now growing in leaps and bounds due to its delicious, freshly cooked food, the warmth of the welcome and the view from the terrace looking down on Arles, across to the Canigou range and right along the valley towards Prats de Mollo!

The traditional menu changes regularly, and although not extensive, the choices are creative, varied and well planned and everything on your plate will have been locally sourced and produced and freshly cooked to order.
Expect to pay around €30 for three courses, €24 for the two-course Formule, or around €14 to €18 for one of the four choices of 'mains', which will include a fish dish as well as mouth-wateringly tender beef or lamb or even an authentic steak tartare, all served with imaginative and tasty vegetables fresh from the grower.

There is never any pressure to go the whole hog with three courses if your appetite or budget is small and over several visits we've never been disappointed in a meal. They will also provide a delicious and good value vegetarian option, but remember to mention this when you book.
Clearly sign-posted from the bridge on the main road into Arles from Amelie – Le Bahia, Route de la Baillie, 66150 Arles-sur-Tech.
Open every day, except Tuesday, for lunch and dinner and for drinks and mini-golf from late morning all through the afternoon. Closed throughout January. Reservations on 0468 878701.