Fête du Livre, Collioure
---
6th September 2019

-

8th September 2019
Event Navigation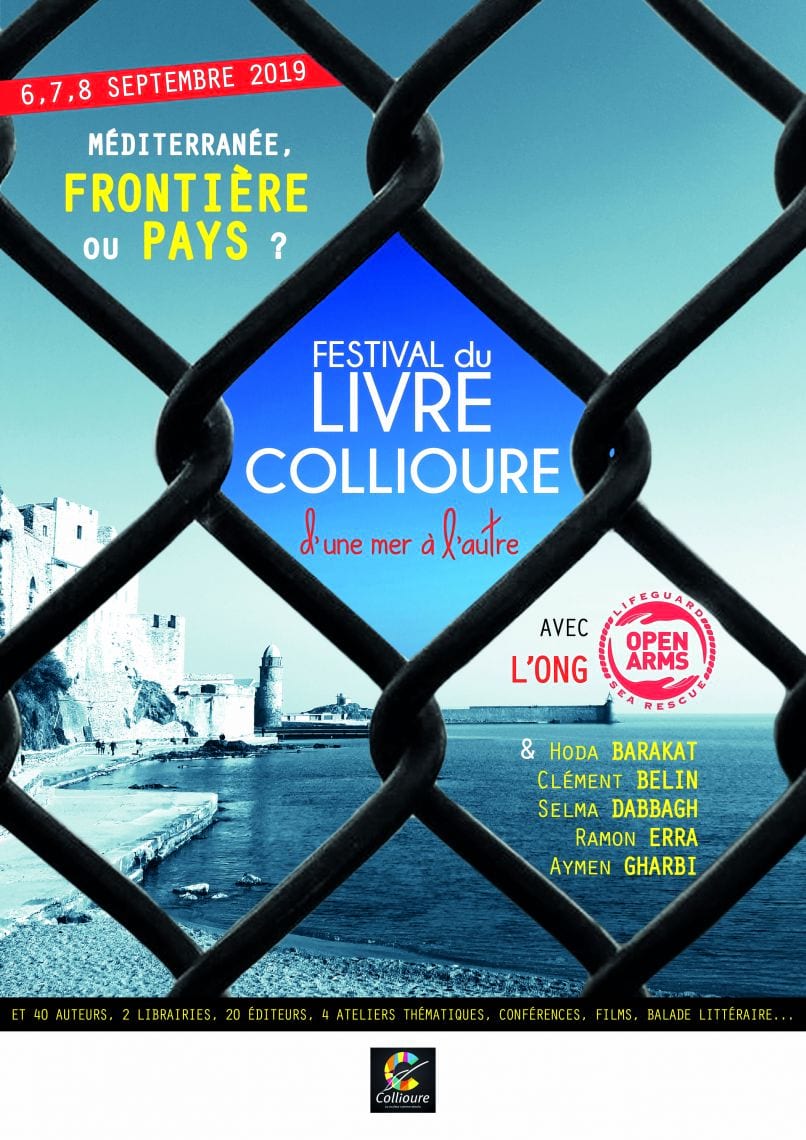 Open Arms to open Collioure's Book Fair
By Ellen Turner Hall
Open Arms, the NGO whose ship has been saving lives of refugees in the Mediterranean, will inaugurate this year's Book Fair in Collioure on Friday 6th September at 8.30pm.
"La Méditerranée: frontière ou pays ?"(The Mediterranean : border or country? ) will be the theme on which the invited authors will debate. Coming from all points of the Mediterranean, they will offer us their testimony and their reflection on this Mare Nostrum, both cradle of civilization and cemetery of the destitute.
Hoda BARAKAT (Lebanese), Selma DABBAGH (Anglo-Palestinian), Ramón ERRA (Catalan, Spain), Clement BELIN (French, author of comic strips), and Aymen GHARBI (Tunisian) will present their points of view. On Saturday 7th they will discuss their literary work, and on Sunday 8th they will address the theme: border or country..
Gildas Girodeau, Artistic Director of the Festival, explains the challenge of this year's debate: "The Mediterranean has always been a country in itself where the same plants are cultivated, the lateen sail was invented, the children are raised in the same way, the ways of cooking are similar, the old are respected and the matriarchy predominates. But for some time this universe has been presented as a border. What is it exactly?
"Three writers from the Eastern Mediterranean, on the other side of this neo-border, will come to talk with Catalans and a French artist. Why Catalonia? Because Barcelona in 2017 staged the biggest European demonstration in favor of welcoming refugees. In the context of increasing European tensions , is there a Catalan, or more broadly, a Mediterranean exception on this subject? This will be another point of debate in this 2019 edition, and it should be exciting! "
About fifteen publishers, forty authors and two bookstores (Torcatis and Llibreria Catalana) will be present on the Place du marché during the two days of the festival. Thanks to a partnership with the network of intercommunal libraries, the Collioure médiathèque will host an installation by Hélène PEYTAVI entitled "crossings and territories".
You and your family are invited to participate in a variety of free workshops on the same theme hosted by local associations.
Sunday morning, a literary walk will explore places frequented by four authors who lived in the village (Patrick O'Brian, Jean-Marc Reiser, Antonio Machado and Boris Darnaudet).
Rendez-vous at 8am at the Espace Patrick O'Brian in the Médiathèque.