WALK THE REGION with Lyn and Arthur Saville
---
Tour del Far
This is a steep walk, takes 2-4 hours depending on ability and how long you stop for your picnic lunch. Walking boots are essential. It is well marked. The views are stunning, plenty of wild rosemary, thyme, lavender. In April and May the flowers are fabulous and cover the hillside but it is a delightful walk at any time of the year.
If you are scared of heights this is not for you!

The Walk
This walk starts on the D59 about 1 km from Casa de Pene. Take the road into Casa de Pene, go through the village and out of Casa de Pene towards "La Ferme Auberge Bernard".
After about 1km there is a parking area on the left hand side. At the end of the parking there is a crossroads sign. Park here.
*Turn left towards the Ferme Auberge and when you arrive at the Auberge ( a few hundred metres on the road) turn right past the Auberge ( which looks worth a visit for a meal, all home produced, when we went past they had a load of tomatoes on a table being sun-dried) and carry on uphill, you will see yellow markers.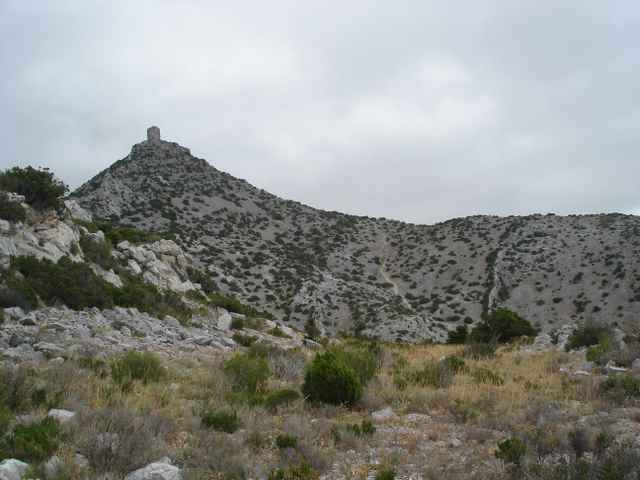 Continue uphill following the yellow blobs and markers until eventually you come to a yellow signpost showing the Tour de Far (one and half hours).
Turn left here and the path meanders up, slowly at first and then quite steeply. The path becomes very stony.
After about half hour there is a yellow cross and you turn right ( this is marked by yellow blobs) Don't forget to look backwards at the views!! Then continue up, up, up!! Very steep in parts and if there are no yellow blobs you have gone wrong, retrace your steps and look for markers.
Eventually you come to another yellow sign showing to go either right to Casa del la Pene or left to Tautavel. Ignore this and carry on up the path until you come to the tower.
There are 360 degree views and what a place for your picnic lunch! It is worth climbing into have a look inside the tower. – When you are ready to return , walk around the tower and there is a gap in the wall which you go through and more yellow blobs almost immediately.
The next part is very steep, follow the signs all the way down to a road. The views are stunning.
On reaching the road turn left past some vines and after a couple of hundred metres there is a yellow sign to the right. Turn onto the path, down at first and then uphill again to a wall.
Turn left at the wall and downhill until you reach the signpost where you originally turned left. Retrace your steps back to the car park.
* This route has changed there because of Ecozonia. The restaurant has not been there for years now, although the property is still there at the entrance to Ecozonia.