Out for the day in Collioure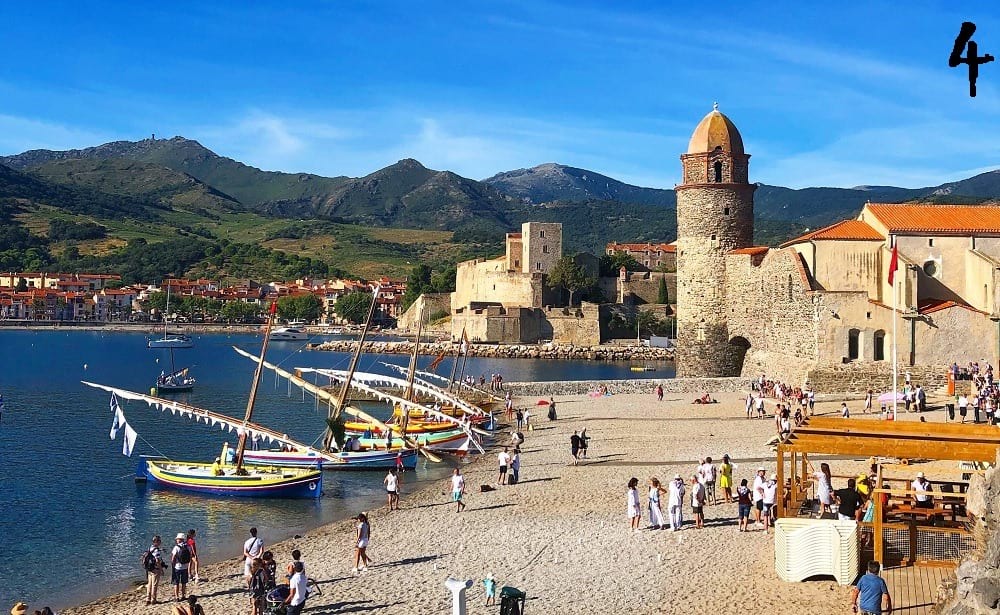 Most people fall a little in love with Collioure on first sight. Its charming tangle of ancient cobbled streets and alleys lined with tumbling bougainvillea and geraniums, brightly painted houses, colourful Catalan Barques moored in a pretty bay overlooked by a royal castle rarely fail to work their magic.
Art, music, literature…
Maurice Chevalier, Edith Piaf, Charles Trenet and artists Raoul Dufy, Salvador Dali, Picasso are just a few of the town's famous lovers. Like moths to an exquisite flame, artistes great and small are drawn to this jewel in the Catalan crown.
When Henri Matisse arrived in May 1905, he was depressed and broke. He was soon uplifted by the colour and light… and on the verge of starting a new movement in the history of art: Fauvism. He sent a simple postcard to his friend Andre Derain. "Venez!" it said. And Derain came. Together, they painted Collioure in wild colour from every angle, often side by side, the same view, different pictures, inspiring many artists to explore colour in new ways.
Wander through narrow alleys, up to the top of the town following "Le Chemin du Fauvisme", a guided walk with strategically placed copies of the paintings of Derain and Matisse in the positions in which they were originally painted. Guided tours in English are also available.
Visit Collioure's Museum of Modern Art next to the Dominican Convent, now wine cellar, where you can enjoy the permanent exhibition, catch a temporary one… and pop next door for a wine tasting!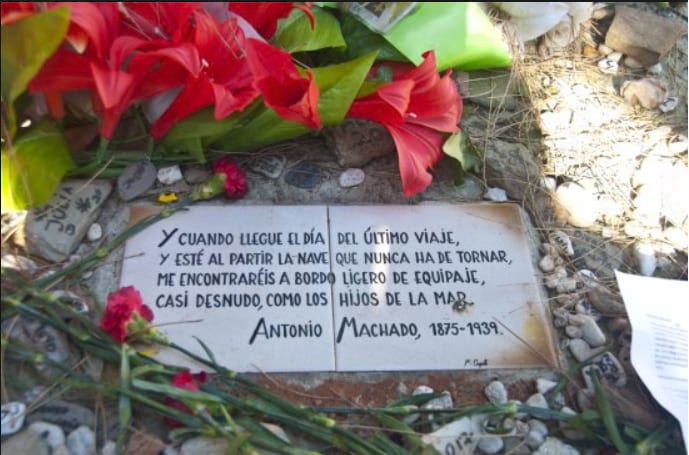 Antonio Machado, arguably Spain's greatest poet, fled the Spanish Civil War with his family and escaped to Collioure, only to become ill and die three weeks after arriving. He is buried in the municipal cemetery.
Visitors from all over the world pay homage to the great poet and use the letter box on his grave to send personal message to Antonio in heaven.
Master and Commander author, Patrick O'Brian, lived and wrote in Collioure until his death in 2000. Charles Rennie Mackintosh lived and worked for the last four years of his life in Port Vendres but also painted in Collioure, his work is displayed in the town.
Things to see and do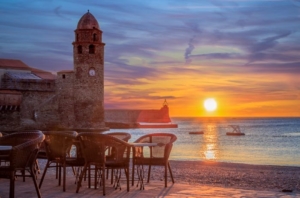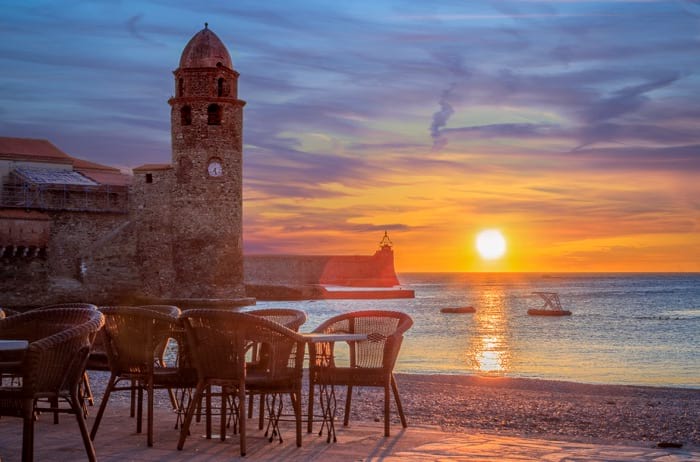 Notre-Dame-des-Anges, our Lady of Angels, with its emblematic pink bell tower stands firm against the onslaught of winter storms and summer crowds and is probably the most well-known round-towered church in Europe.
Originally a medieval lighthouse, the bell tower or 'clocher' stands on a small outcrop of rock next to the beach.
In 1693 Vauban, Louis XIV's chief military engineer, had it demolished to strengthen fortifications, and the villagers were left without a church. A new church was completed in 1693, attached to the bell tower.
Catalan Baroque in style, the main altar was hand carved by Catalan sculptor Josep Sunyer and covered in gold leaf. The pink dome, added in 1810, has become a symbol of Collioure, featured on every tourist's holiday photos.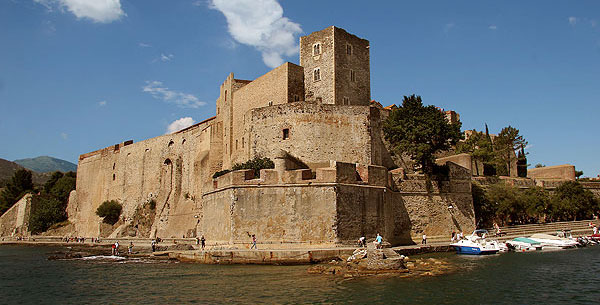 Across the bay, its walls also plunging into the sea, is the impressive Château Royal, summer Palace of the Kings of Mallorca. King James the Builder built the Château at the same time as his royal palace in Perpignan.
In 1939, after centuries of historical sieges, rebuilds and renovations, the castle became a men's prison and disciplinary camp for Spanish refugees living in atrocious conditions on the beaches of Argelès-sur-Mer, Saint-Cyprien and Le Barcarès, after fleeing the Spanish Civil War.
Today, festivals, markets and exhibitions are held within its ancient walls. Wander through history for just 4 € (free for U12), check out secret underground passageways, dungeon and stunning views from the ramparts.
Back in medieval times, Collioure's reputation revolved around the salting of anchovies, sardines and tuna. Salting is a hard way of making a living and now only two salting houses remain.
Established in 1870, you can't miss Maison Roque as you come into Collioure on the main road. Fascinating to visit, do take a tour and sample free tastings. Once you see the skill involved in preparing and arranging the anchovies in their jars, you will appreciate these fiddly little fish even more!
The fortresses
Sébastien Le Prestre de Vauban, royal engineer to Louis XIV, was famous for installing fortifications throughout France. In 1669 he visited Collioure and wrote that it was not worth improving, even suggesting razing it to the ground and starting again!
Surrounded by forts and look out towers, Forts Miradou, St Elme, Dugommier, Carre and Rond all overlook the town.
Two 14th century beacons of Madeloc and Massane perch high above on ridges of the Albères. These signal towers would use smoke by day and fire by night to signal approaching danger.
You can walk to both. Madeloc is accessible by car, but Massane presents more of a walking challenge.
Le Moulin de Collioure is an an easy uphill climb from behind the Museum of Modern Art, bringing you to a lovely park with terraces of olive trees and a cactus garden. The windmill, the oldest in the department, has been restored and converted from a cereal to an olive mill.
It is used today for crushing olives and producing olive oil, which you can buy on site. Take water and a hat if you're intending to continue the climb up to the Fort Saint Elme – and buy your olive oil on the way back!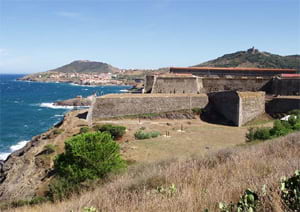 Fort Miradou is now the Centre National d'Entrainement Commando, possibly the most beautiful garrison in France.
You may see commandos practicing manoeuvres out in the bay, an entertainment in itself!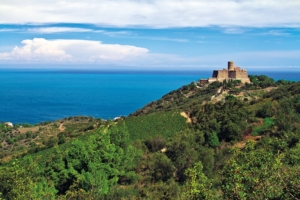 Fort St Elme was originally a XIV century watch tower, the object of many a border skirmish. It was sold at auction in August 1913, and occupied by the Kriegs marine, the German navy, between 1942 and 1944.
Strategically positioned for defence, with clear views of the sea, the Spanish coast, the Château Royal and the natural harbour of Port Vendres, it is now a museum with armaments collection, nooks and crannies to explore, and organised fun for the kids.
It has spectacular views from the tower, and beautiful gardens.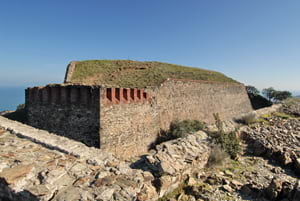 Fort Dugommier, situated near Fort St. Elme on the col between Port Vendres and Collioure was named after a famous French General, and built to protect Collioure and Port Vendres from invasion by sea. Particularly from the British!
It is now being renovated by volunteers to become an art and science research centre.
Perfect picnic spot
Looking for a perfect picnic place? There are sooooooo many… but L'Ermitage de Notre Dame de Consolation, a pleasant 30 minute walk from the town
centre, is a little bit special – a quiet haven of perfection and reflection, if a little tired in areas.
Huge plane trees shade old stone buildings, limes, chestnuts, and poplars create a haven of cooling green. In the chapel at its centre, crocodiles guard marble plaques and icons from centuries of fishermen and sailors, given in thanks to our Lady of Notre Dame, patron saint of fishermen, for safe return from storms and tempests.
You can even stay the night! There are rooms for rent, and weddings, concerts, festivals and celebration take place in the grounds. Drinks and simple food can be bought. Behind the hermitage, a simple rocky path climbs up a stream bed to a balcony where the spring rises in the centre of an ancient balustrade, set into the dense tree lined hillside.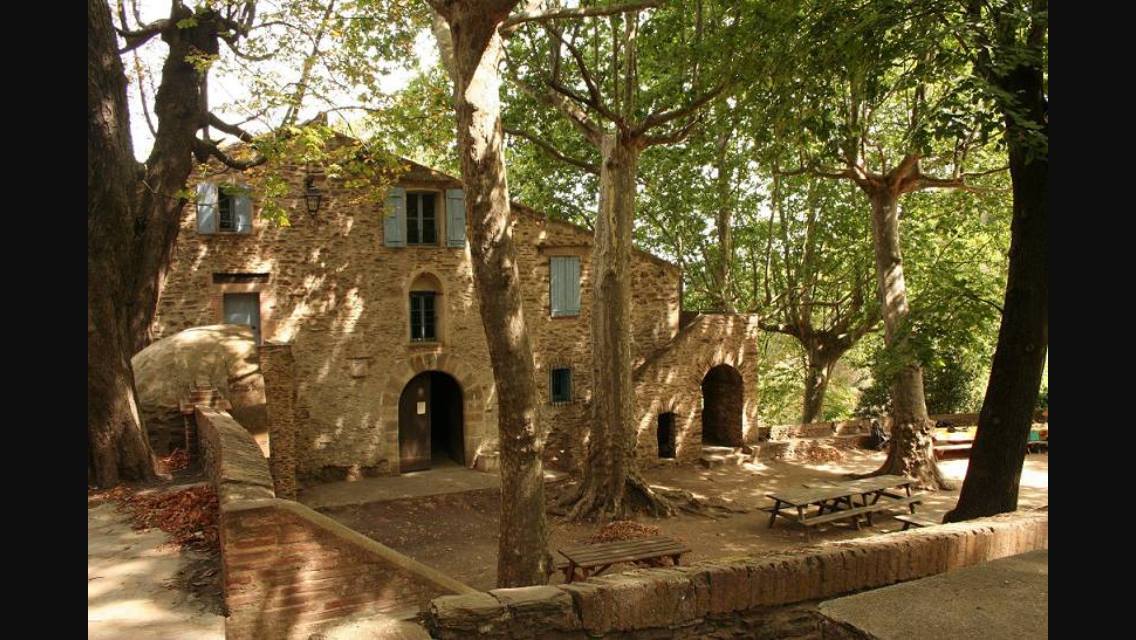 With cafés and restaurants good, bad and ugly, artists' studios, craft shops, street stands selling every flavour of ice-cream you could dream of, pretty beaches, quirky boutiques and a busy market on Wednesday and Sunday mornings, this picture-postcard town can get very crowded in high season.
But some might say that part of its charm is the colourful and cosmopolitan, hustle and bustle of different nationalities milling around or sitting on the café trottoirs watching the world go by!
Try out our advertisers – from breakfast on the beach at Derriere Le Clocher to delicious fresh fish straight out of the sea at Can Pla, L'Amphitryon and Le Jardin de Collioure (and snails too, if that's your thing!).
Not forgetting the recently-opened, small and intimate L'Ambroisie for wholesome, home-made, local fare.