Tuesday 9th July 2013 at 22h

Place Maillol, Saint Cyprien
AN EXOTIC WIND IS BLOWING ON
Saint Cyprien

!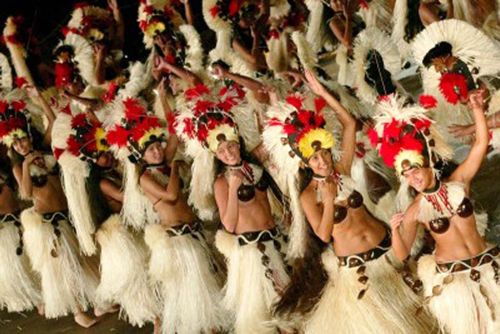 Exotic beauties I HEIVA TAHITI (Tahitian for festival), artistes, dancers and musicians, return to the P-O in July.
The folklore of Tahiti and all the Pacific islands is the stuff dreams are made of…
The image that springs to mind at the mention of the "Tahiti" is that of an idyllic island lost in the vastness of the ocean with a few sparse coconut trees in it middle, and the provocative smile of a beautiful semi clothed dusky maiden. Ladies might well image the same setting with a muscular, tattooed and handsome warrior in centre stage.
The Heiva i Tahiti dance troupe whisks you away to this island of dreams.
Heiva i Tahiti means "party time" in Tahitian. Polynesians have a natural inbuilt sense of fun and good humour. This comes across immediately in their performance, while their gentleness overwhelms you and leads you into their far off paradise. In inviting them to your event you will be offering pure pleasure to your friends and to everyone invited.
Success is guaranteed.
Heiva i Tahiti offers you a Tahitian revue that will enchant all audiences…
Pure magic under the spell of dusky maidens – a real invitation to spread your wings. Choreography, (the Haka, Fire Dance, Dance of Love, etc.), songs, and much more feature on the programme.
All the folklore of the Pacific islands spread before you, it is a dream that is suddenly within reach!
For an evening to be successful in every sense of the word, the audience needs to be involved, to feel it is part of the show. A carefully balanced interactivity reveals another face of Polynesian folklore: that of fun in life and the pleasure of sharing that fun with those you love…
"Polynesians have an innate sense of celebration: they express their natural joy for living, and infectious good humour!" . Go and enjoy!
Fun and free! Office de tourisme, Saint Cyprien