For the love of Roussillon
By Ellen Turner Hall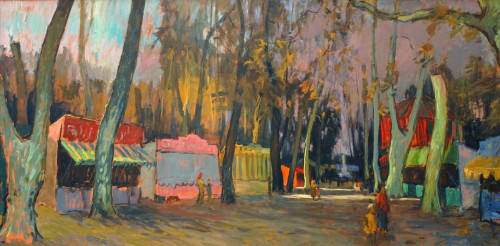 Love is in the air in the canvases of Martin Vives. His colourful interpretation of Roussillon scenes is on display at the Collection Desnoyer in St. Cyprien until 12 May 2014.
One hundred works – in oil, watercolour, India ink and pencil – form this retrospective of Martin Vives (1905-1991). As his diaries witness, Vives sketched every day, working quickly to capture the first impression of a scene. Many of these pencil studies later were transformed into large colourful canvases.
Vives' beloved Roussillon comes alive in landscapes of the rolling hills of the Conflent or under the flamboyant sunsets of the Cote Vermeille or in the shade of avenues of plane trees in Perpignan.
Perhaps the most touching work in the exhibition is his painting of the tiled roofs of La Tour de France with the Corbières in the distance. A member of the Resistance, Vives was forced into hiding in1944. Enclosed in an attic with a single window, he painted what was as far as his eye could see.
Further details: www.collectionsdesaintcyprien.com