Tuesday 1st May 2012 at 16h
Flamenco show.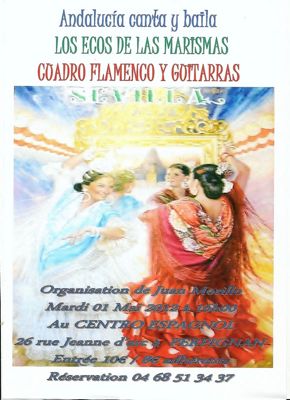 For the first time in Perpignan, the Spanish centre will host famous group "Los Ecos de las Marismas".

Also on the bill:
Dance: The Alexander Romero company.
Music: Juan MORILLO, José Antonio HERRERA "el granaïno" et Jose Diaz "el loreño"..
Guitars: Lucas MOLL et José Luis NAVARRO.
After the show, Sevillanas and rumbas open to all to end the party!
Centro Espagnol,
26 rue Jeanne d'Arc
66,000 Perpignan
04 68 51 34 37
www.centroespagnol.eu