The poppy is a powerful and iconic symbol of remembrance in the UK, but did you know that the French have an equivalent, 'Le Bleuet de France', their own poignant reminder of the First World War?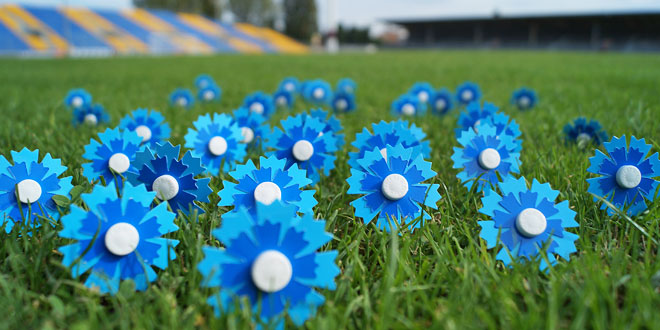 In 'flowerspeak', the 'Bleuet' or cornflower symbolises delicacy and innocence.
It used to grow abundantly in France, and, like the poppy, was often the only sign of life, and colour amidst the mud and desolation of WW1 . It was also used to describe fresh, young soldiers of WW1, whose bright blue uniforms initially stood out in sharp contrast to the grey and muddy misery of the trenches.
Les poilus, as the French soldiers were known, suffered terribly. Survivors trailed home maimed, mutilated and mentally traumatised. Seeing the importance of keeping these poor souls active, French nurses Suzanne Lenhardt, and Charlotte Malleterre , started up 'Le Bleuet de France', a workshop where ex soldiers created cornflower blue lapel badges from blue tissue paper to sell to the public. The initiative spread slowly around France.
In 1928, French President Gaston Doumergue publicly gave his support to the Bleuet, and in 1935, the sale of the Bleuets on Remembrance Day finally became official throughout France.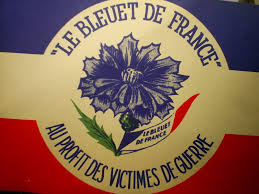 The symbolic poppy is well known in France, mainly thanks to British footballers and celebs who are spotted wearing them throughout November. Le Bleuet however is unknown internationally and little known amongst the younger French generation.
Maybe it will never become high profile like the poppy in Britain, but it nevertheless continues to support veterans and their families. Look out for Le Bleuet de France on November 11th, the only day it is sold, and pin a cornflower next to your poppy.
YOU CAN NOW BUY YOUR BLEUET ON LINE HERE
A popular poem by Alphonse Bourgoin, written in 1916 goes….
| | | | |
| --- | --- | --- | --- |
| Les voici les p'tits « Bleuets » | | | Here they are, these little 'Bleuets' |
| Les Bleuets couleur des cieux | | | These Bleuets the colour of the sky, |
| Ils vont jolis, gais et coquets, | | | Are beautiful, gay, stylish, |
| Car ils n'ont pas froid aux yeux. | | | Because they are not afraid. |
| En avant partez joyeux ; | | | Merrily, go forward |
| Partez, amis, au revoir ! | | | Go, my friends, so long! |
| Salut à vous, les petits « bleus », | | | Good luck to you, the little 'blues' |
| Petits « bleuets », vous notre espoir ! » | | | Little 'bleuets,' you are our hope! |
LES POILUS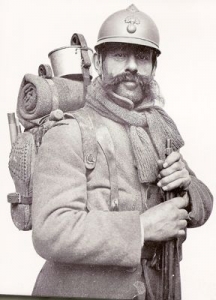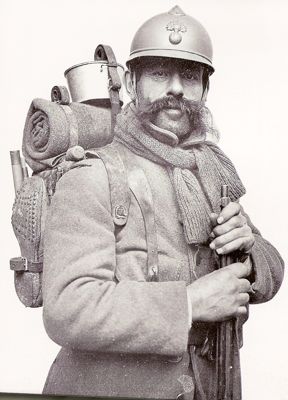 Le Poilu, informal term of endearment for a French World War I infantryman, and literally meaning 'hairy one' was also used to describe soldiers in the time of Napoleon Bonaparte. (The term 'grognard' (grumbler) was also common.)
The word was coined from the caricature image of the bear-like, bearded and moustached French soldier, much used in propaganda at the time.
The stereotype of the Poilu was brave but undisciplined.
During the disastrous 'Chemin des Dames' offensive of 1917, they were said to have gone into battle baa'ing like sheep, to symbolise lambs to the slaughter….. as proved to be the case.
Widespread mutiny followed, and a mini military revolution was only avoided by withdrawing from the whole offensive.