WITH KATJA WILLEMSEN
(Read Shepherd's Prayer, Katja's fast- paced adventure set in Collioure.
Available on Amazon)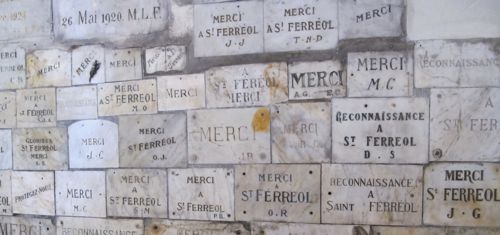 What do wooden crutches, miniature boats and faint words scrawled on an altar have in common? Each one is a thank you to God or a saint for divine intervention. Called ex-votos, they are gifts left in churches across different ages, cultures and continents, and evoke images of mums praying over sickly babies, fisherwomen fretting over husbands out at sea, and soldiers begging to outlive their injuries.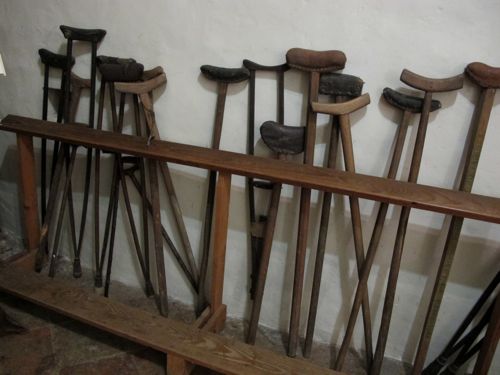 The expression has its roots in Latin – ex voto suscepto –  "from the vow made". Back then, these offerings took weeks or months to create by hand. Today, they are more likely to be electronic transfers to a favourite charity!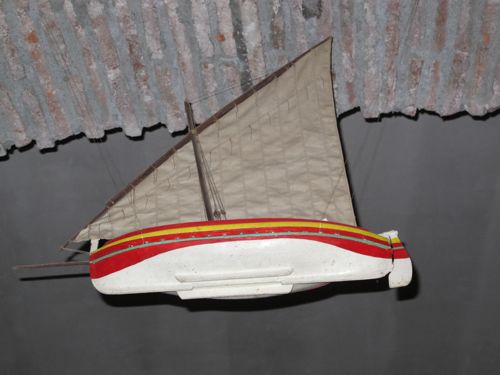 Here are two venues with very different ex-votos on display (see inset below for detailed directions):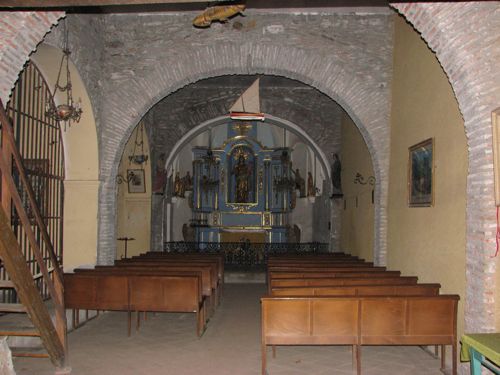 Hermitage de Consolation, Collioure.
For centuries, Collioure's fisherwomen made daily pilgrimages to the hermitage after a backbreaking day mending nets or gutting anchovies. They would trudge along the dirt track parallel to the Douy River (now chemin de Consolation) then climb the steep path to the tiny chapel at the hermitage to pray for the safe return of their menfolk.
Sadly, many of the thank-you gifts left for Notre Dame de Consolation, patron saint of fishermen, are now locked out of sight, but a few poignant examples still clutter the walls and floor of the first alcove on the left.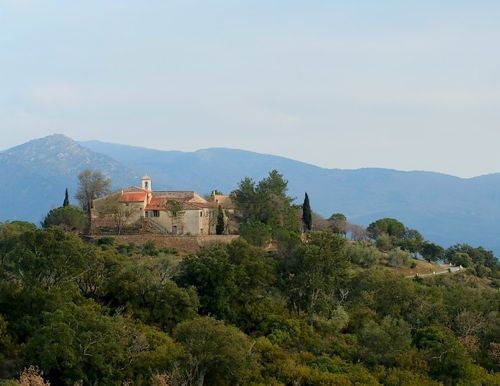 St Ferréol Hermitage
This impressive hermitage crests a hilltop overlooking Céret and the surrounding plains. Inside its 13th century chapel, wooden crutches huddle behind a prayer bench like the fragile bodies they once supported. Some are over a hundred years old, with threadbare padding and worn through rubber stoppers.
While the rich etched their gratitude on costly marble, the poor scratched their merci directly onto the altar:
These humble reminders of faith over suffering combined with the glorious settings of the hermitages make them well worth a day trip!
 Directions
Hermitage de Consolation
•    From Collioure centre, take Avenue Miradou which leads up Route du Pla de las Fourques
•    At roundabout, take 2nd exit into Route de Consolation
•    At roundabout near the freeway, take 3rd exit onto N114
•    Go under bridge and follow sign to Notre Dame de Consolation/ Le Rimbau
•    After about five minutes on this road, turn off to the Hermitage on your left
Hermitage St Ferréol
•    From Céret centre, cross the Tech River on Avenue des Aspres then soon after the bridge, turn left into D615 to Oms and Llauro.
•    After about ten minutes on this winding road, follow signs to Hermitage St Ferréol, perched on the hill on your right.