Saturday 20th September 2014

LAND OF THE FREE
Theatre de l'Etang, Saint Estève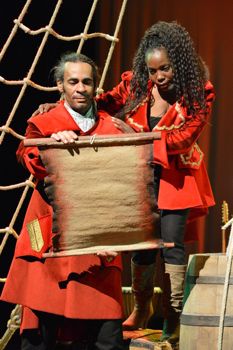 After several years of adapting Broadway musicals, the Syppox Theatre, based in Argeles on sea, has turned successfully to the creation and staging of their own.
Land of the free, is the incredible adventure of two sailors who wake up safely on an island after a shipwreck.
Beside them, a wreck containing many mysteries, including a handwritten parchment written by a slave before his death, indicating that other scrolls exist worldwide.
Thus begins a musical journey taking in England, Jamaica, Africa. Reggae, amongst which Jimmy Cliff and Burning Spear, a medley of Bob Marley songs and 7 original creations. Two actor-singers and five musicians present the show in a pirate setting.
Théâtre de l'Etang
6 Allée des Arts & Lettres
66240 St-Estève
Reservations au 04 68 38 34 95