The Comrie Pipe Band from Perthshire are coming to the P-O this October to showcase their music and to bring a tiny bit of Scotland to the region.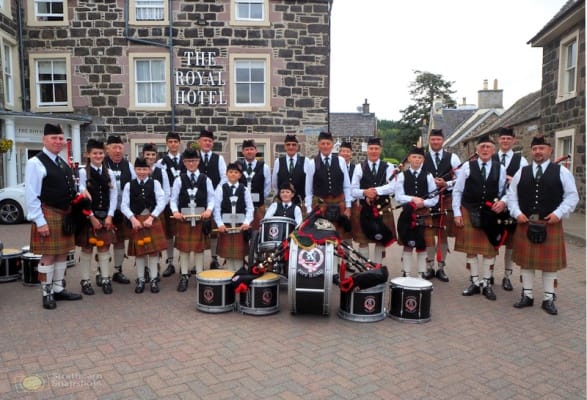 The 20-piece band, including bagpipers, drummers, a fiddler, accordionist and dancer, will be parading through the streets in their full regalia playing a medley of traditional Scottish tunes. You can catch them in Maureillas, Perpignan, Collioure, Figueres and Céret between the dates of 13th and 19th October.
The band are raising money locally for the trip to France, and Maureillas Sans Frontières are organising fund-raising activities for their expenses while they are in the region. There is a concert of Scottish music and dance in Maureillas on 21 September, and there are tombola tickets on sale now.
If you would like to help keep the "auld alliance" alive by selling or buying raffle tickets, lending a hand or making a donation however small, please contact Ruth L'Hostis at maureillassansfrontieres@hotmail.fr.
So grab your tartan, adjust your sporrans and come and skip the Gay Gordons to welcome this talented band to the PO.
Programme

13th – 19th October
Monday 14th October at 5pm
Parade through the streets of Maureillas, from Place de la République to the Foyer Municipal
Tuesday 15th October at 3pm
Parade through the streets of Perpignan, from Allées Maillol to the Mairie
Wednesday 16th October at 11am
Parade through the streets of Collioure round and about the market
Thursday 17th October at 11am
Parade through the streets of Figueres, from the theatre municipal to the Mairie, passing by the fruit and vegetable market and la Rambla
Friday 18th October at 4pm
Parade through Céret from La Capellata to the Mairie
Friday 18th October at about 8.30pm
Concert in la Place de la République in Maureillas with Scottish dancing and sardanes. Everyone welcome!
Do come and support the Comrie Pipe Band as they parade in full regalia with pipers and drummers from Bonnie Scotland.