Maureillas Las Illas and over the Col de Manrella to La Vajol
In these uneasy times of increased security and border controls, it's rather nice to get off the beaten track, avoid the crowds, and slip across the French Spanish border amidst magnificent scenery. Don't necessarily assume you won't run into a gendarme or two, but you certainly won't get stuck in long traffic queues – as long as we keep it between ourselves of course!
Our day starts in Maureillas, pretty Catalan village off the D9 Le Boulou – Le Perthus road. Surrounded by cork oaks, there is an interesting museum, unique in Europe, dedicated to cork, the main village industry in the past. From tree to finished cork, there are videos, ancient machines and tools, mini-sculptures in cork, cork art and furniture…..and the biggest cork in the world, 2,40 metres high with a diamètre of 1,30 metre. Love to meet the bottle of wine that fits the cork!!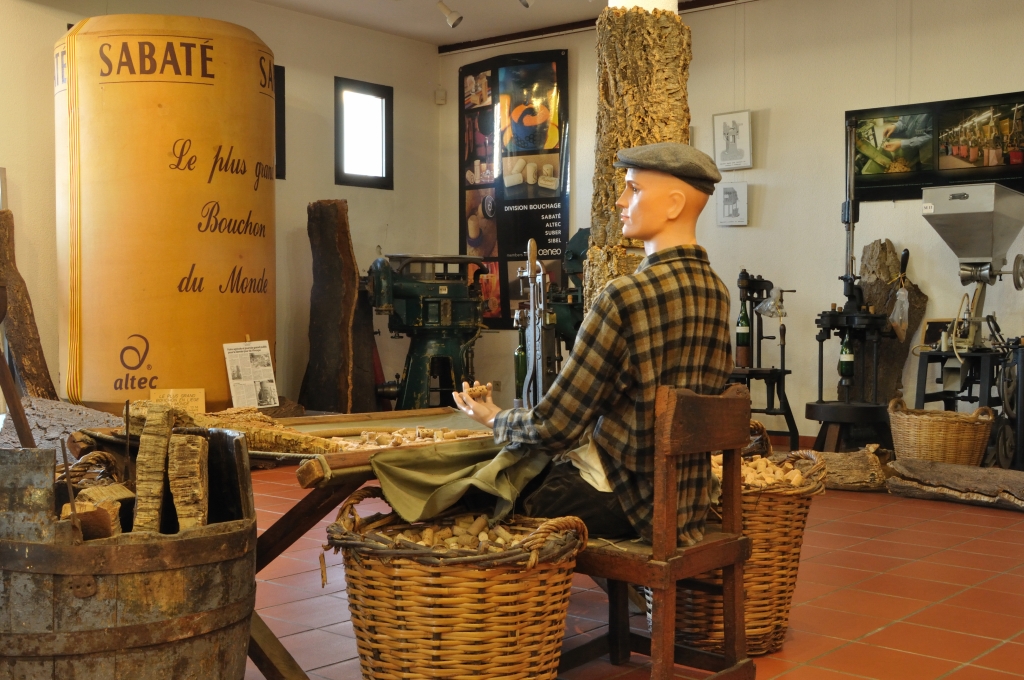 From the centre of Maureillas, just after the cork museum, follow signs for Las Illas and along the D13 as it winds its way, amidst stunning scenery, towards Las Illas.
Eyes left as you pass La Clapère nudist camp on the right.
Cross a bridge with the option of turning left for the tiny village of Riunogues with a minute IX century church and a restaurant reputed for its plentiful plates of hearty Catalan food at very reasonable prices. (Noticed a For Sale sign when last there September 2019 so check in advance if you're heading out that way for lunch) Maybe on the way back? For now, we continue towards Las Illas, a great starting point for some fantastic and panoramic mountain walks, in the tracks of the Trabucaires.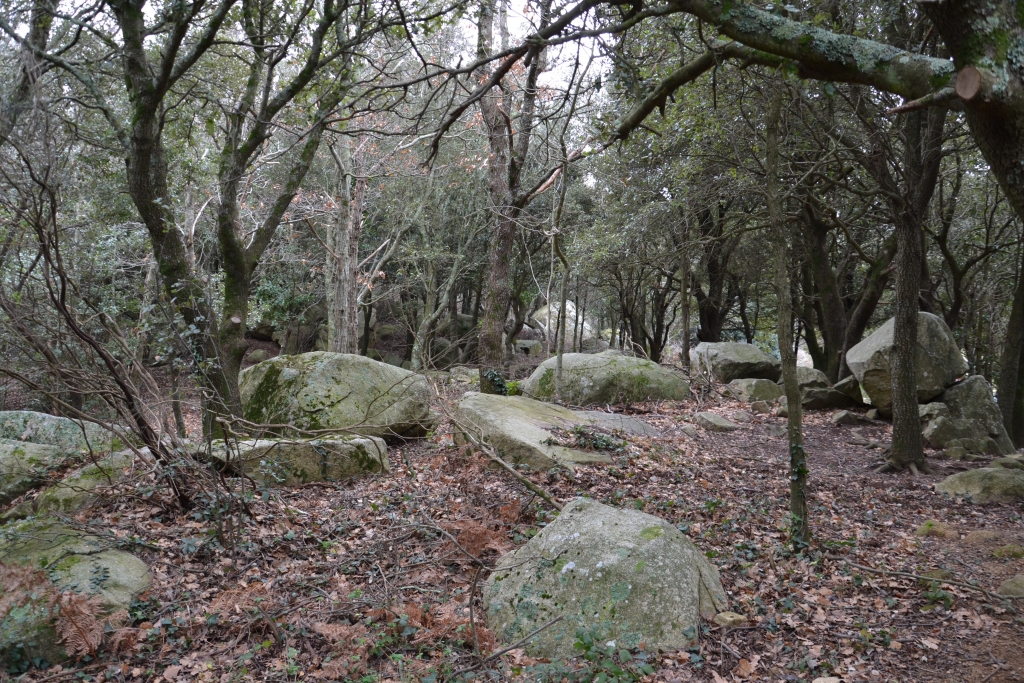 In the 19th century, Don Carlos wanted to take over the throne from regent Marie-Christine. He called for the reintroduction of ancient salic law, excluding women from inheritance to thrones and titles. War broke out between his supporters, the Carlists, and supporters of the Regent, the Christinos.
The Carlist army terrorised the Vallespir, and from this army were born the Trabucayres, smugglers, bandits and highwaymen armed with trabucs (muskets). Based in and around Las Illas, for its easy-to-hide caves, and mountain tracks, and its great smuggling opportunities, they were finally arrested at Corsavy and executed in Céret and Perpignan in 1846.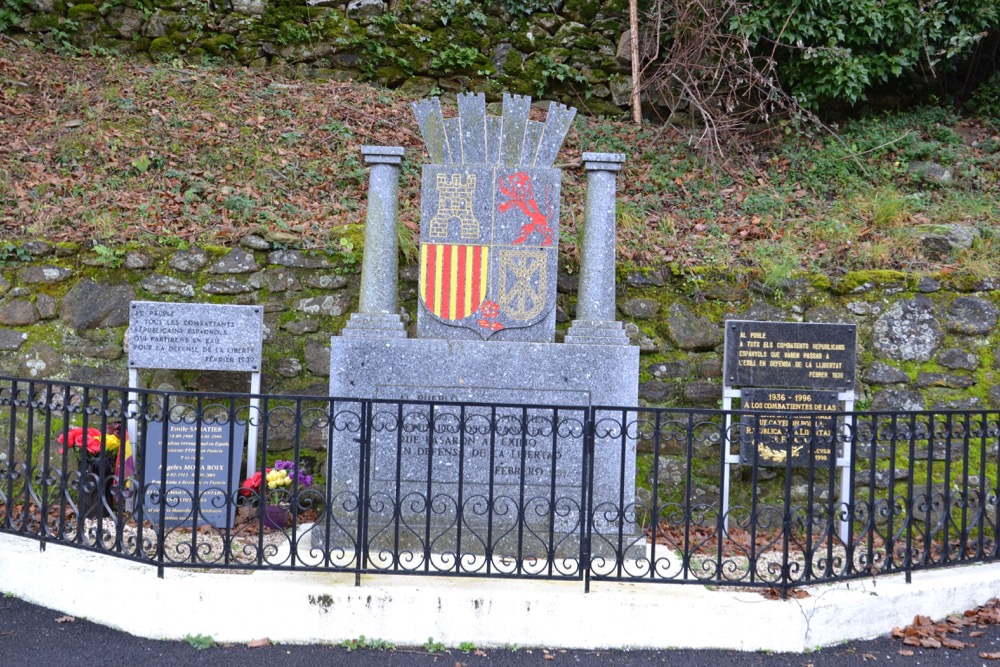 Up and up to Las Illas, second most southerly village in France after Lamanère. Don't forget to be nice to your driver – he or she will be too busy concentrating on the narrow winding road to enjoy the fabulous views! And if you're in the back…..well, hang on to your breakfast. It's not far now!
Arriving at the entrance to Las Illas, you can take a break – public loos and even a public shower are available next to the bus stop and memorial at the entrance. Have a wander around the sleepy hamlet, or lunch at the aptly named restaurant, Hostal dels Trabucayres, historical shelter for Spanish Republicans fleeing Franco's Spain, and Jews and allied airmen escaping the German occupation in France.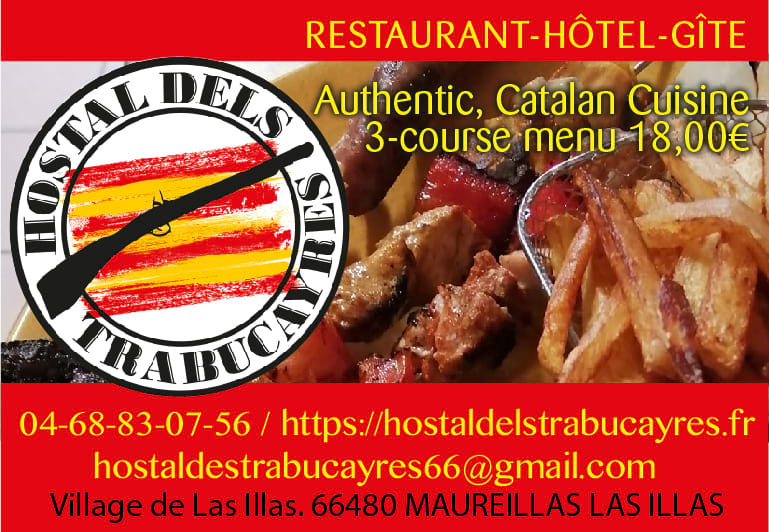 ---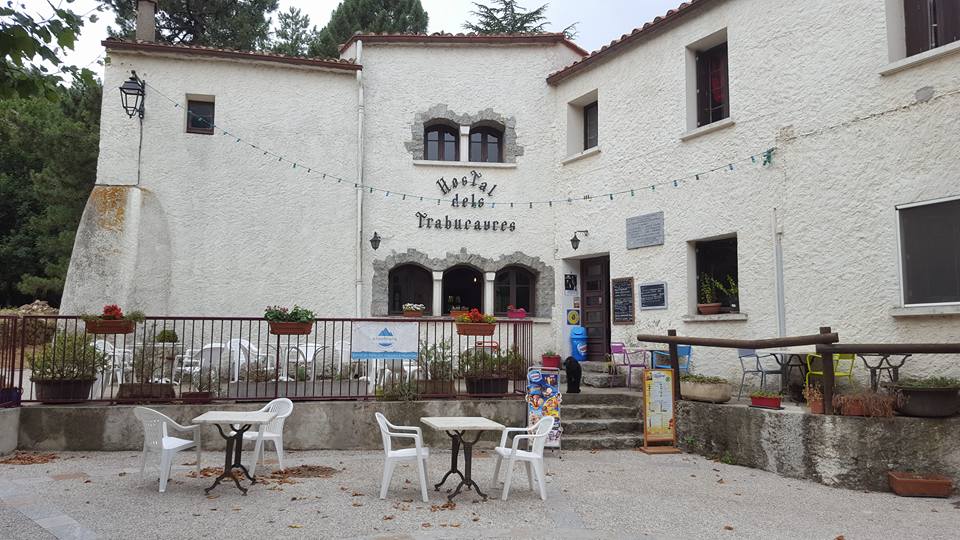 You could take a right and head up to Fontfrède (to be explored another day) or back down to Céret, but today, we will turn left at the road next to the memorial signed La Vajol, our destination. Follow the sign around a hair pin bend to the right, with Super Las Illas on your left. Three point turn skills could be required here, followed by another even sharper left hand turn onto a dirt track. Hard work over. Continue up the track – a few lumps and bumps but most vehicles will cope easily.
Suddenly the track comes out into a wide open space, the Col de Manrell, with an interesting if rather incongruous pyramid monument, Temple de la Paix, dedicated to Luis Companys, president of Catalonia from 1934.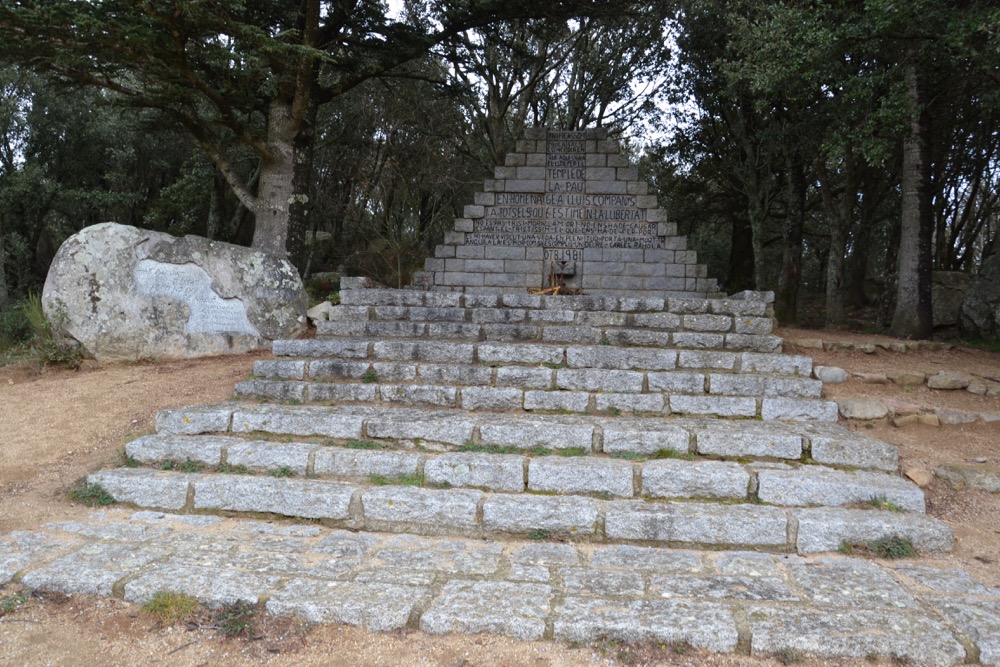 When Franco came to power, Companys fled to occupied France where he was arrested by the Gestapo and sent back to Spain. On Franco's orders, he was tortured, beaten and executed for treason.
The road widens and improves as you cross into Spain. Wooden viewing platforms allow you to gaze over more breathtaking mountain scenery towards La Jonqera, although it's not too easy to find an off-road parking place if you just want a quick photo.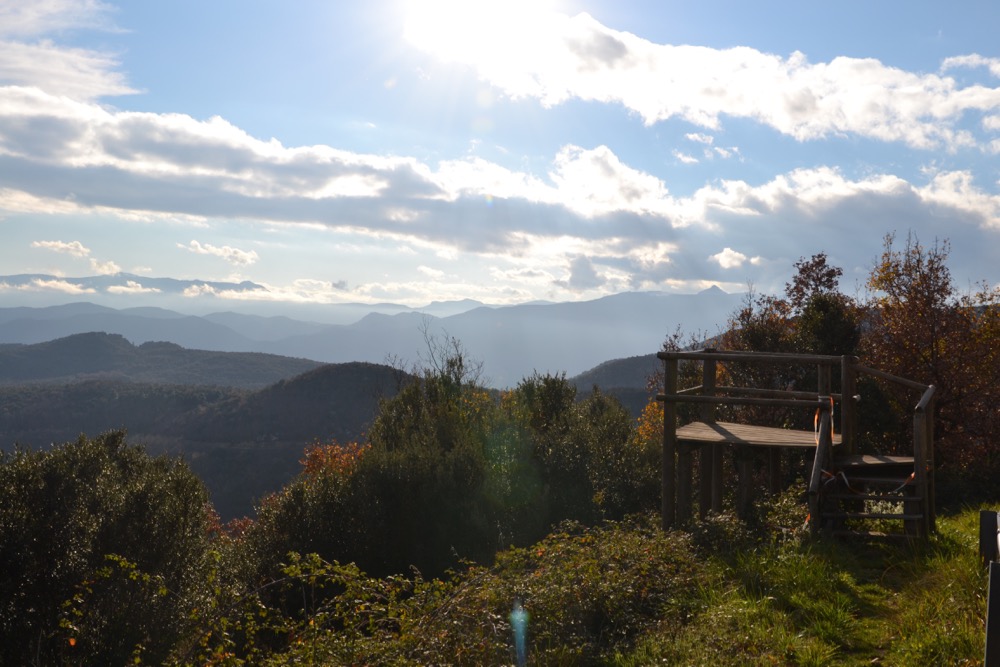 Better to park a little further on in the large carpark of the restaurant and hotel Manrella. Good, simple and well priced Catalan fayre, a great stop if you're 'en famille', with a pool for an avant lunch dip, and a play area for the kids – but beware the animal heads nailed to the walls if taxidermy isn't your thing!
If you're not ready for lunch, retrace your steps 100 yards to follow signs on the left to the Coll de Lli, the original 'Chemin de l'Exil'. After a gentle 30 minute climb, turn right after the stone Mas and step through a gate and back into France!
Here, you find another monument, this time a rather unexciting stone plaque on land grazed by wide eyed, peaceful cows. These gentle ladies watch over this indelible route, trudged by thousands of exhausted and frozen refugees in the winter of 39, as well as three fleeing presidents; Lluis Companys, Manuel Azaña of Spain, and José Aguirre of the Basques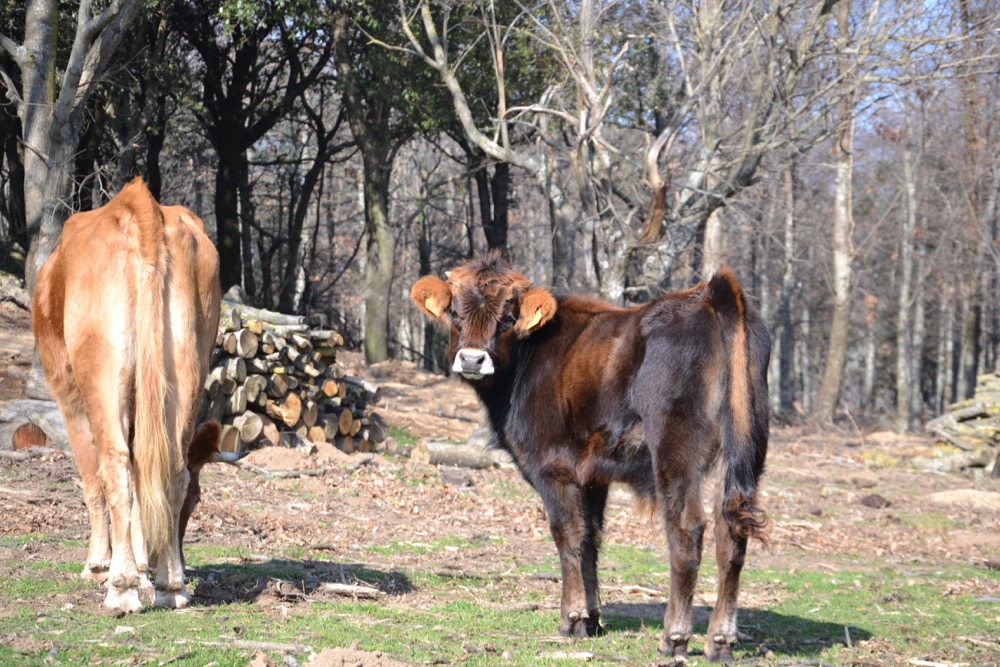 Returning to the stone Mas, you can turn right and continue up the trail for a further 30 minutes until you arrive at a rocky peak on your left, perfect for a panoramic picnic, or head back to the car for the short drive to La Vajol.
Just before the pretty village, park in the carpark on your left and take the track above, leading quickly to an amazing bronze sculpture raised up on rocks, in a strangely scruffy clearing.
The Gracias family crossed the border with thousands of other refugees, fleeing Franco's forces. Dutch photographer Roger Violet, took a photo of father Mariano Gracia, supporting his 6 year old, one legged daughter Alicia along the gruelling route over into France. The couple were later immortalised in bronze.
Back to the car park and left into the village, look out for the interesting mining sculpture on the right. The villagers of La Vajol mined talcum powder for many years. Today the mines are closed but during the Spanish Civil War, they were used to hide and store the treasures of the fallen Spanish Republic, priceless artwork from the Prado museum and around 500 million dollars in gold lingots.
According to legend, in 1939, seven lorries carrying the gold bars left La Vajol, heading for the nearest port. Only six arrived. Eyewitnesses stated seeing the lorry around Argelès where it was suggested that the drivers had buried it in the sand, awaiting better times. Always take a bucket and spade to the beach!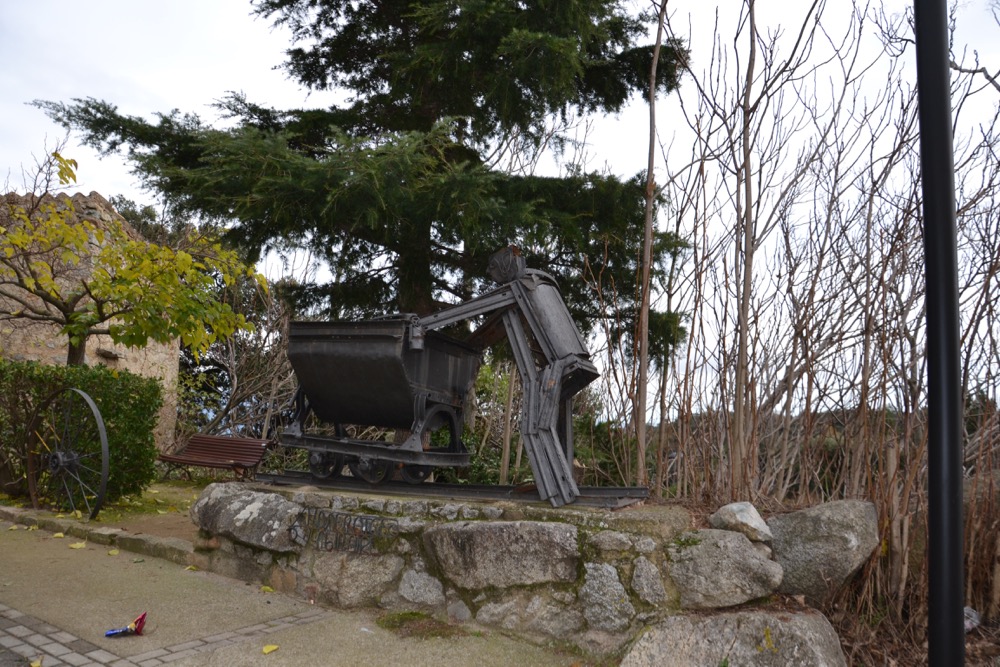 Opposite the mining sculpture, climb the ancient steps towards the plaça. We ate an excellent lunch at the Casa Comaulis on the right. Tasty, cheap and clean, friendly service and highly recommended. They also provide basic accommodation.
Straight on to the Romanesque church of Sant Martí de La Vajol with its steep exterior steps, a fascinating feature, and turning right after the church, arrive back onto the main through road, at the third restaurant, the Ca la Conxita, with a little shop selling local produce. You certainly won't starve in La Vajol!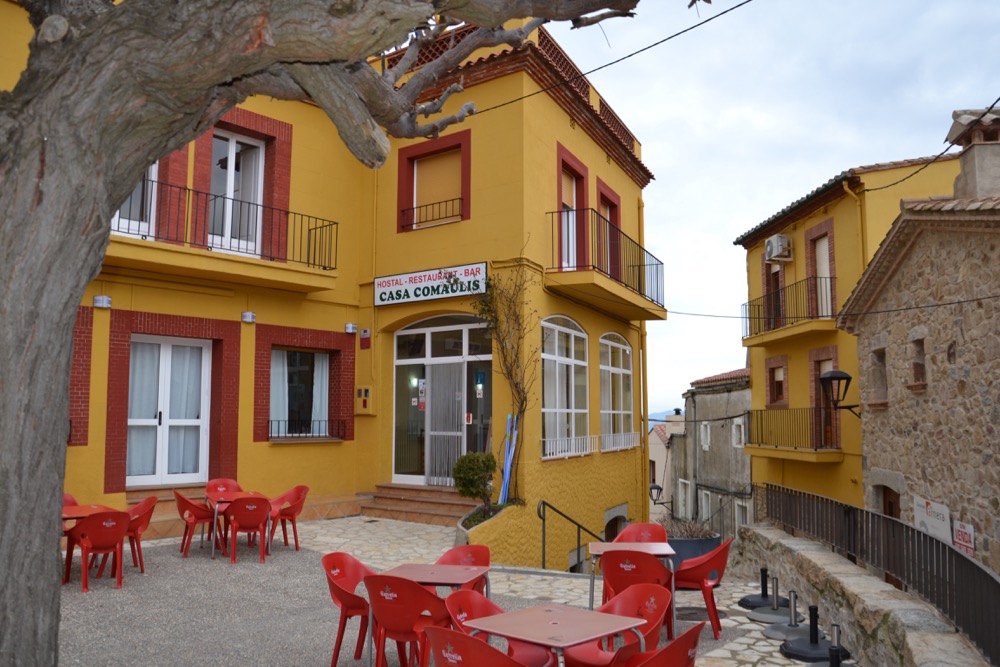 Back down the hill to the car park, from where you can continue to explore nearby Spanish villages such as pretty Maçanet de Cabrenys, make the long looping journey back into France via Coustouges, drive back on the main road via La Jonquera and Le Perthus, or retrace your steps back to Maureillas.
Salut! i Que tinguis un bon dia!
(We won't wish you Adeu. Republicans would be more likely to use the less religious "Salut" instead.)