September 16th to October 30th 2014
"Crimes en série, la figure du Sérial Killer"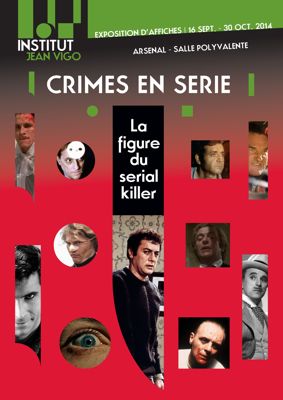 The Institut Jean Vigo boasts the third largest collection of cinema posters in France. This collection of more than 60,000 posters and 100,000 photographs related to the cinema has never been made public before but now, at the beginning of each season, there will be a themed exhibition of these treasures.
Jean Vigo launches its first exhibition of autumn exhibition with "Crimes en série, la figure du Sérial Killer"
When Robert Ressler, FBI agent, first used the words "serial killer" in the early 70s to describe a type of crime, he could never have guessed that it would become one of the 'buzzwords' of the future. Literature, cinema, video games, television … fiction devoted to this type of murderer are legion. Cinema posters of Jack the Ripper, Hannibal Lecter, Norman Bates and other "monsters" who , despicable as they may be, appeal to all our voyeuristic insticts.
From September 16 to October 30
Institut Jean Vigo
1 rue Jean Vielledent
Perpignan
Open Tuesday and Thursday before film screenings.
Other days and hours available for school groups and individuals by appointment.
Information: 04 68 34 09 39