Summer Firework Displays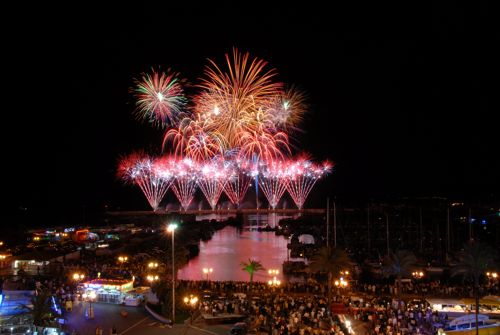 Throughout July and August, the evening skies of North Catalonia usually whizz, pop and crackle to the sight and sound of fireworks displays, sometimes musical, sometimes echoing over sea and port, or illuminating ancient bell towers, chateaux and mountains.
Because of the drought crisis and the extremely high fire risk, the fireworks seem to have been restricted to just a few dates. Although they are scheduled, do still check with the local tourist office, that they will still be taking place on the day at the time shown as weather, strikes, and other circumstances may causes changes to the schedule and/or cancellations.
Also, just a little note on firework safety. Please be aware that rules & regulations in France are much stricter than in the UK and certain fireworks you can buy in the UK may be banned in France, and for good reason!
Click the link for full details on rules & regulations in France. But, if in doubt, best to leave it to the experts and go to one of the many organised displays – there's certainly no shortage of them!
August
Every Wednesday
11pm Argelès sur Mer* (the Mairie will give the go ahead, or not, week by week, based on the drought/fire risk)
Sunday 6th
10pm Le Lydia, Le Barcarès (laser/light show)
Monday 14th
10.30pm Canet en Roussillon
Tuesday 15th
10.30pm Pia
10.30pm Saint Cyprien
11pm Le Barcarès
Wednesday 16th
10pm Collioure
Friday 25th
10pm Banyuls sur Mer
Although we try to put all firework displays on the list, our information is only as good as the people who send it! 🙂 If you know of a display not on the list, please email us and we will add it to the list – laura@anglophone-direct.com