6th – 14th October 2016 – Port Vendres
The Belem, famous three-masted French barque, will return to Port Vendres in October.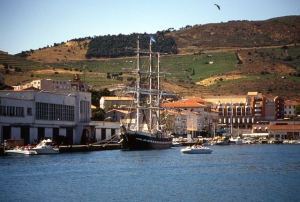 The public will be able to look around the ship on Saturday 8th from 14h – to 7h30 and Sunday 9th from 10h – to 7h30. (5 euros)
To celebrate the arrival of this magnificent vessel, there will be a variety of entertainment, including BBQ , bal and fireworks on the port.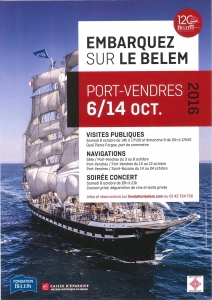 All about the Belem
Construction year: 1896, launched on 10 June 1896.
Maiden voyage: on July 31, 1896 to Montevideo and Belém, Brasil – her namesake.
Shipbuilding: Chantiers Adolphe Dubigeon, Nantes (Chantenay-sur-Loire).
Home Port: Nantes.
Flag : France.
She was originally a cargo ship, transporting sugar from the West Indies, cocoa, and coffee from Brazil and French Guiana to Nantes, France.
By chance she escaped the eruption of the Mount Pelée in Saint-Pierre de la Martinique on 8 May 1902.
Saint Pierre was full of vessels, no place to anchor, so Captain Julien Chauvelon angrily decided to anchor some miles further on in a beach – sheltered from the exploding volcano, and saving the boat.
She was sold in 1914 to Hugh Grosvenor, 2nd Duke of Westminster, who converted her to his private luxurious pleasure yacht, complete with two auxiliary Bolinder Diesel engines 300 HP each.
In 1922 she became the property of the beer baron Sir Arthur Ernest Guinness, who renamed her the Fantôme II. The Fântome II sailed around the world via the Panama and Suez Canals including a visit to Spitsbergen.
During her approach to Yokohama harbour while sailing the Pacific Ocean the barque managed to escape another catastrophe – an earthquake which destroyed the habour and parts of Yokohama city.
Sir Arthur E. Guinness died in 1939, his yacht was moored in Cowes, Isle of Wight. In 1951 she was sold to the Venezian count Vittorio Cini, who named her the Giorgio Cini after his son, who had died in a plane crash near Cannes on 31 August 1949 .
She was used as a sail training ship until 1965, when she was considered too old for further use and was moored at the Island of San Giorgio Maggiore, Venice.
In 1972 the Italian carabinieri attempted to restore her to the original barque rig. When this proved too expensive, she became the property of the shipyard. In 1976 the ship was re-rigged to a barque.
Finally, in January 1979, she came back to her home port as the Belem under tow by a French sea-going tug, flying the French flag after 65 years. Fully restored to her original condition, she began a new career as a sail training ship.
Wikipedia