Storms, Waltzes and Punchups
by Basil Howitt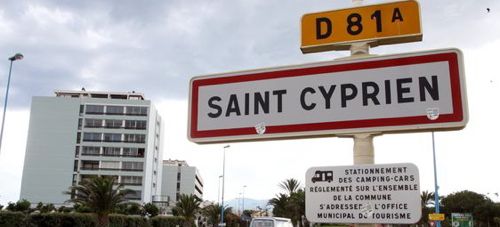 The Saint Cyprien Soap Opera continues with the Waltz of the Deputy Mayors, Rowdy Council Meetings, and the Mayor facing an accusation of assault.
The spirit of peace and goodwill to all men certainly didn't hover over the town hall of Saint-Cyprien over the Christmas season. After a year of staggering scandals and upheavals The Saint Cyp Soap Opera showed no sign of running out of plot material for 2010.
The story so far
A little over a year ago the then mayor of Saint-Cyprien, Jacques Bouille, was remanded in custody in Perpignan's sordid Mailloles prison on a staggering raft of corruption, fraud and embezzlement charges. They stemmed from his craving to acquire objets d'art for his private enjoyment at public expense – leaving the town's coffers in debt to the tune of some 55,000,000 euros.
Boule's sensibilities were too vulnerable for such a squalid prison environment and in May 2009 he committed suicide by hanging himself by his dressing gown belt "reinforced by a lace". (Full story here)
Bouille's widow, Marie-Antoinette, is holding the authorities responsible for his death and is suing the state for 1,170,000 euros in moral and material damages.
Bouille's immediate successor as mayor was his deputy, Pierre Fontvieille. Fontvieille's reign lasted a mere nine days before he too was remanded in custody (though released under judicial control after 22 days) on a cluster of charges – based as much on sins of omission as commission in his capacities as Bouille's personal banker and as the municipal treasurer. (Full story here)
Along with these two mayors, some 19 men and women have to date been charged with serious offences – mostly centred round the offering or taking of bribes in return for favours rendered.
Thierry del Poso
In September 2009 it appeared that peace might at last reign over this storm-wracked stretch of coastline. After an interregnum under Three Wise Men appointed by the prefect, Saint Cyprien finally gained another mayor on 13th September: Thierry Del Poso, backed in the second round by the UMP, was elected with a 47.48 % majority on a Nouveau Centre break-with-the-past ticket. His liste carried 25 of the 33 seats on the conseil municipal.
In his victory speech he declared that his first objective was "to unite and reassure … I am legitimate, and it remains for me to convince those not already persuaded." Alas, M. Del Poso has so far signally failed in his objective. Quite the reverse!
Storms, Waltzes and punchups
By the end of last year, three of Del Poso's chosen adjoints (deputies) with designated responsibilities had become "dissidents", because they had dared to challenge his autocratic and secretive leadership style. They and two other councillors had expressed a strong objection to "a certain political opaqueness" on the part of the man who had been elected on "the values of transparency".
At "un conseil orageux" (a stormy meeting) on 28th December the three deputies were "dismissed", giving way to a new 1st deputy, Madame Nathalie Pineau. Hence the wittily coined headline "La Valse des Adjoints" in our excellent regional rag, L'Indépendant.
Le Blog de Bernard and Le Petit Prince
The nastiest thorn in Del Poso's flesh is undoubtedly Bernard Beaucourt, who competed against him in the elections under a divers gauche ticket, but gained less than a 10% share of the votes in the first round. Beaucourt has started an avidly read blog with 15,000 hits per month. In it he lambasts Del Poso's every move, referring to him as Le Petit Prince heading a team "in decrepitude".
"I'm going to kill you."
The two men clearly loath each other, and on 28th December, according to reports, Del Poso could contain himself no longer. Beaucourt claims that just before the council meeting, "I found myself in front of the mairie, I was talking to Claudette Guiraud (UMP) and one of her former fellow candidates.
All of a sudden, Claudette said to me, "Hold on the mayor's arriving." … He hasn't said a word to me since 17th June last. But he came up to me, grabbed me by the back of my coat, put his fist under my chin and pushed me saying "I'm going to kill you. You know well that if I wish I am capable of breaking you." He was surrounded by 4 or 5 of his colleagues who wanted to lead him into the mairie, but he escaped and came back to me saying "You have betrayed my confidence. You know very well what I'm capable of. He was as white as a sheet. Then he followed his colleagues inside."
Beaucourt then went to see a doctor to report a pain in his left jaw before lodging a complaint with the police of violence, though not serious enough to incapacitate him from work. For his part Del Poso formally denies the facts reported by Beaucourt. He insists there was "no violence, absolutely no altercation". "I simply asked him, firmly, to stop defaming me, insulting me and spreading falsehoods about me in his blog. I spoke to him very firmly, but that is all. I absolutely didn't grab him by the back of his coat… This monsieur no longer exists politically, hence he is trying to make his mark in the media, tarnishing my name…"
Watch this space!
Taken from local blog
"All this is derisory, Saint Cyprien is the laughing stock of the whole world. I am sad for my town."