Walk the Region with Tim and Chris Parker
---
Circular to and from Ermitage de St Ferréol

A short circular walk of 2hrs plus time to enjoy the scenery and visit the Ermitage. It is suitable for all walkers with a reasonable level of fitness. Walking boots recommended. 140-180metres of ascent.
Access: map IGN 1:25000 Ceret, Amelie-les-Bains-Palalda 2449OT
Start: Just off the D115 Le Boulou to Amelie road, at the start of the D615 road to Llauro, park near the Pont du Diable . The walk to the Ermitage is way marked from the car park with yellow and green printed signs on tall posts as well as yellow line markers all along the route. (Starting height 144m)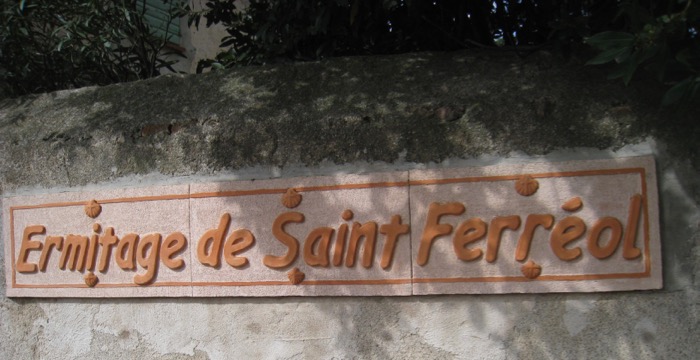 The walk: Before starting the walk you may like to cross the road to walk on the 14th Century Pont du Diable. Cross back over main road to look across to the wonderful railway viaduct (now unused as a rail track) and to Le Canigou beyond.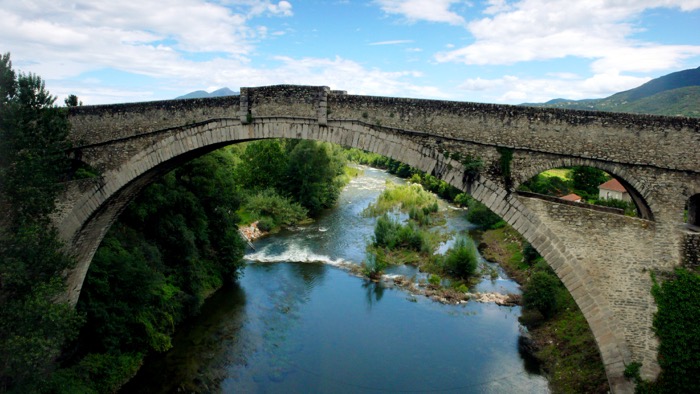 Set off up the D615, under the railway bridge and take the first road right into a lotissement. Bend left round the edge of the lotissement – do not follow the cycle track to St Jean Pla de Corts. Follow the way-marks with the cherry orchards on your right.
From here you can see your destination ahead right, on top of the hill and a large white house.
The 13th century Ermitage is very well maintained. Outbuildings damaged by fire in 1975 have been refurbished in the style of their 18th century origins. The sundial is a replacement of the original and was set up in 2004. A lamplight procession from Céret to the site is held every September 18th on the Festa Major.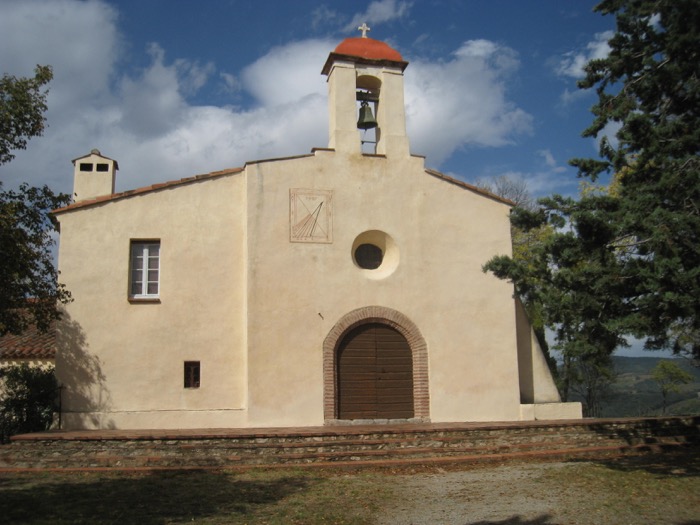 The site offers wonderful views on all sides, with Céret and its backdrop of mountains, the Alberes and route to Spain to the south and east; Le Canigou to the north west. A plaque near the building gives some of its history.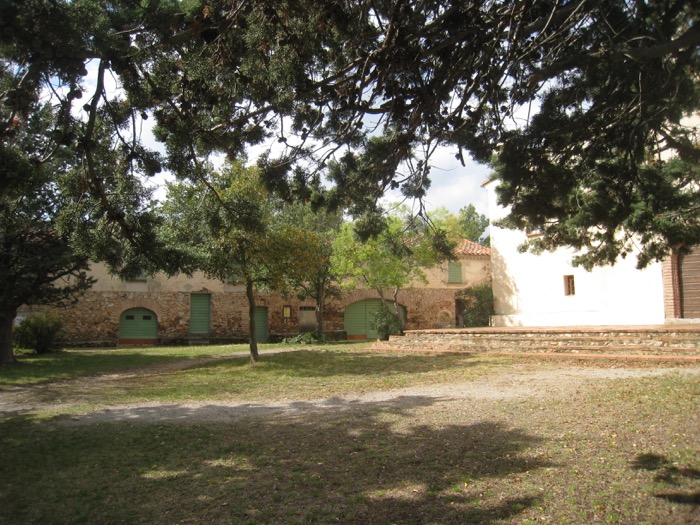 After some rest and relaxation take the path from the rear of the building down to the lane and continue to the D615. (293m)
Here cross the road to continue the way marked path up to 320m and join a double track on left to exit lower down the road. (To miss this section you can walk down the road for 10 mins to the same point of exit)
Continue 10 mins down the road to next way mark post "Roc Blanc" and filter left for 30 yards on a double track. Take the right fork up a slope, past a property. The double track continues past other scattered properties and continues on down the hills. You will still have a clear view of the Ermitage on your left for a long way.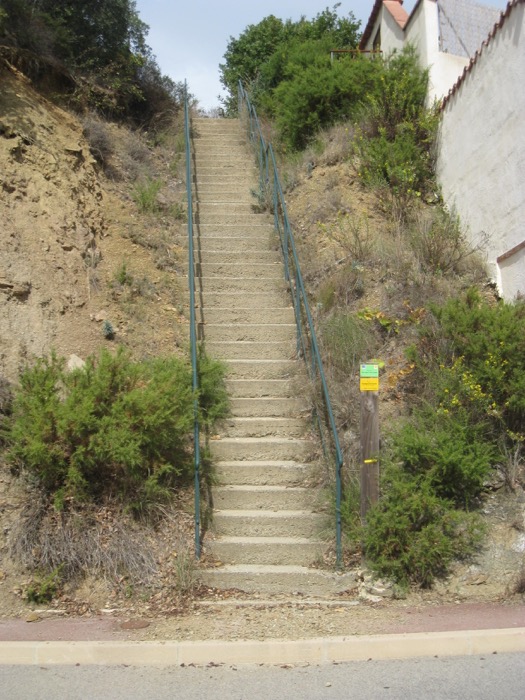 Eventually, a narrow, rocky path leaves the double track on the right to arrive behind a lotissement and drop down a steep set of concrete steps. Turn right and left onto the D 615 to return to the car park. (1 hour of descent)
This is a good walk to combine with a trip into Ceret, to wander its leafy, narrow streets and enjoy a snack or meal and maybe a visit to the Museum of Modern Art.