This walk takes about an hour and a half to two hours including time to explore the castle. The way up is fairly steep but should be fine for people who are moderately fit.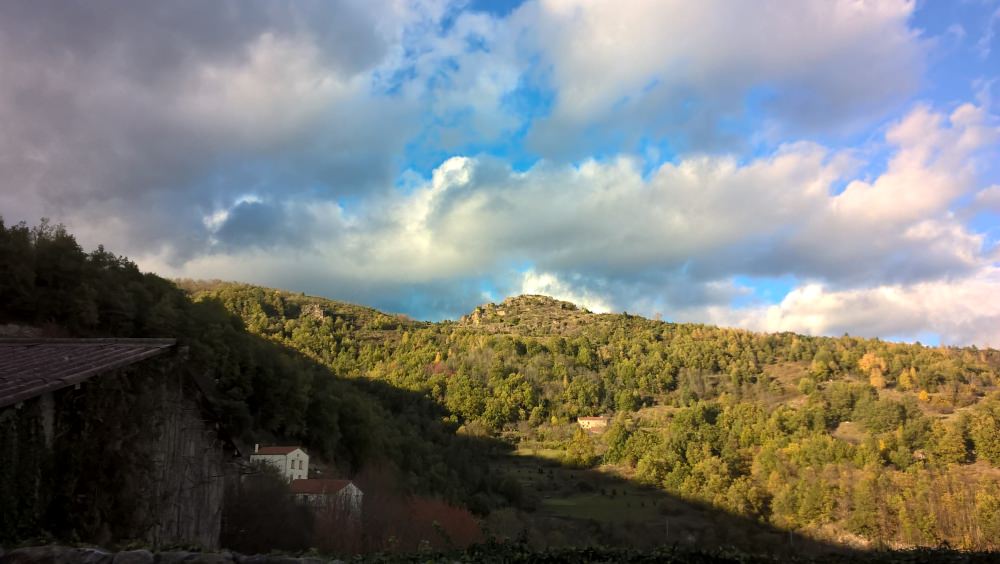 The walk starts from the lovely village of Montferrer, perched on the hillside high above the main road from Arles to Prats de Mollo. To get there just follow the signs from the main road up the valley. Park your car in the village itself and walk back out down the road that you came in on, until you get to a right hand bend with a yellow signpost pointing up a path through the woods.
The signpost says "Le Chateau 1 hour". Follow the path which climbs quite steeply to start off with and cuts across a track a couple of times. You will eventually come out onto a meadow which you cross, then re-enter the woods for a short spell before emerging at the bottom of the ruined castle.
The owners of the castle were on the wrong side of the war against Louis IX and fled to Spain to live out their lives in exile. The castle was destroyed by Vauban in retribution and has been deserted ever since. It now belongs to the nation. You can scramble up and look around the ruins before continuing, and enjoy the panoramic views of the surrounding mountains and across the plain to the sea.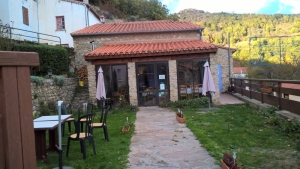 Once you've had your fill, you have two choices: either continue on up on the path that leads away on the other side of the ruins, then take the dirt track back to the village which will make the walk about 2 and a half hours in total.
Or turn around, go back down the way you came up and head to the Diamant Noir. This is a small restaurant which is not open all the time, so best to ring in advance. The owners are a young couple who recently took over and who gave us a friendly welcome. They had two hiking groups (including us) in that day, so the restaurant was full.
Our group all had a set menu, booked in advance, which cost us €20 for 3 courses including wine and coffee. The starter was salad with a wooden platter of local charcuterie between 4; it was all very good quality and the paté was delicious. The main course was pork cheeks, off the bone, in a sauce of sausage, carrot and cabbage with home made chips. Again it was very tasty. Pudding was an apple flavoured millefeuille with added sparklers to celebrate the birthdays of our friends which was the reason that we were there.
After a leisurely coffee and having finished the wine, we rolled back out to our cars and drove home.