PRATS DE MOLLO CARNIVAL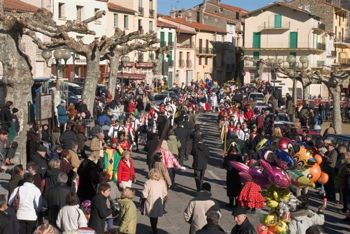 Following directly on from the Bear Festival, Prats-de-Mollo entertain you with a fun day of carnival in the streets. (Various traditions described below)
Programme
10h00 *Mascarade (Traditional procession through the town)
11h00 Sardanes (Place d'Armes)
15h00 **"Encadenat" (costume parade through town)
16h30 ***Ball de la Posta" (Traditional dance with a wooden plank)
18h00 Sardanes (Place Josep de la Trinxeria)
22h00 Ball…Traditional marching with Prats de Mollo "ladder" (Foyer Rural)
---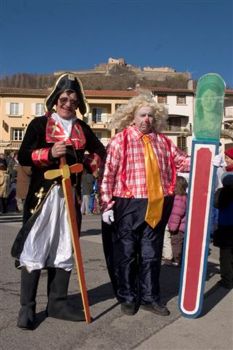 *Mascarade
The children of the village dress up in white and cover their faces in flour, after which they parade through the streets making as much noise as possible, banging on pans and bin lids with anything that they can get their hands on!
*Encadenat (link up)
Exactly what it sounds like! Young and old, dressed in flamboyant and colourful costumes, join together to form a long line as they dance through the streets of the town, conga-like!
*Ball de la Posta.
The 'posta' is a plank of 1m50 long and 30cm wide, which a picture of a pretty girl at one end, representing the virgin, and a devil on the other side. Dancers range themselves in couples opposite the carrier of la posta and his colleague who carries a wooden sword. The dancers advance three times, in couples, towards the armed pair. The first time they bow, the second time the lady must kiss the face on the posta, choosing devil or virgin, and the third time, she gets a smack on the bottom with the plank! In olden days, this dance was a judgement on vice and virtue!
*Tio-tio
This takes place during the ball on the Tuesday evening. Dressed in white, covered in flour, and equipped with a lit candle, participants dance round in a circle and try to set the person in front alight!!!!! The 'le porteur du balai' is on hand to put any unfortunates out with his broom! ( Tio means log and is actually represented by a roll of paper stuck on the back of each dancer. It is this that they try to set alight rather than the whole person!!)