Born in Barcelona in 1923, Antoni Tàpies, painter, draughtsman, printmaker and sculptor, is credited with introducing contemporary abstract painting into Spain. He is considered one of the great master artists of the 20th century and is perhaps the best-known Catalan artist to emerge since the Second World War.
He experienced first hand the brutality of Franco's Spain during the Spanish Civil War and used his tactile and textured tableaux to express the unrest and oppression under Franco's rule.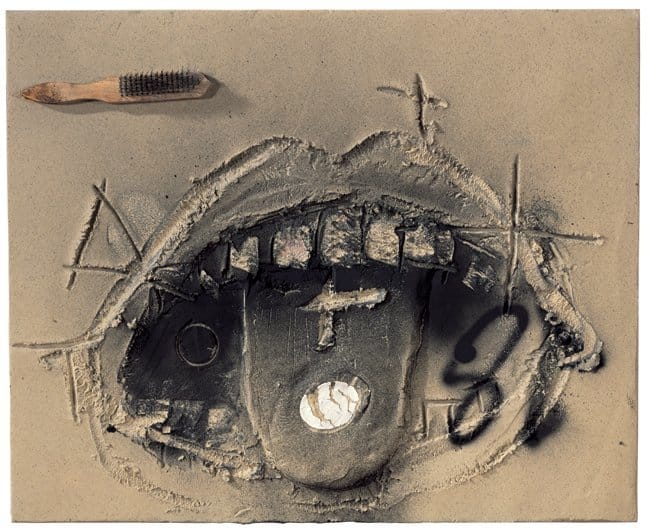 .
Tàpies started as a surrealist painter – his early works were influenced by Paul Klee and Joan Miró – but soon become an abstract expressionist, working in a style known as "Arte Povera", in which non artistic materials are incorporated into the paintings.
He believed that art was a kind of magic, bringing together sand, marble, dust, found and discarded objects, and resin, to connect with an unseen, metaphysical world.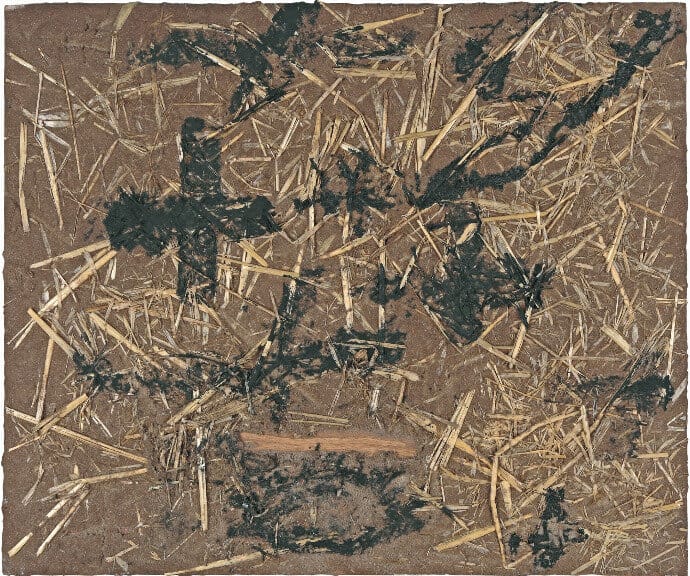 He soon began to develop a recognisable personal style related to matière painting, or 'Art Informel', a movement that focused on the materials of art-making as much as the art. The approach resulted in textural richness, but its more important aim was the exploration of the qualities of matter. Tàpies freely adopted bits of stuff, detritus, earth, and stone-mediums that evoke solidity and mass in his large-scale works.
A style that might not be to everyone's taste, this style of work created from unconventional materials such as dust or sand intended to challenge the viewers idea of reality.
Religious symbols resembling marks on a child's exercise book, signatures, distortions of the artist's own initials…..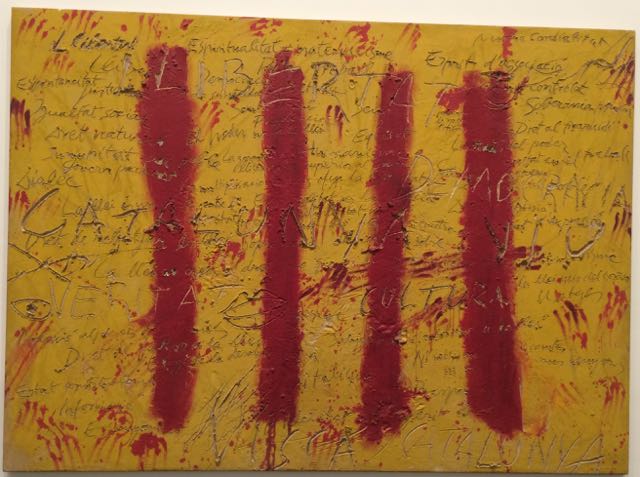 Several of his pieces show his strong Catalan roots, such as 'In The Catalan Spirit' (1971) with the red and yellow of the national flag covered in graffiti, or 'Companys' (1974) referring to Luis Companys, president of Catalonia from 1934, who fled Franco to occupied France where he was arrested by the Gestapo and sent back to Spain. On Franco's orders, he was tortured, beaten and executed for treason.
Friends of friend Joan Miró, acquaintance of Picasso, for whom he created a public monument in Barcelona, he died on 6 February 2012
Tàpies lived in Barcelona where there is a museum, Fundació Tàpies, dedicated to his life and work.
Not everyone's cup of tea!