Soirée lyrique, Argelès
---
Event Navigation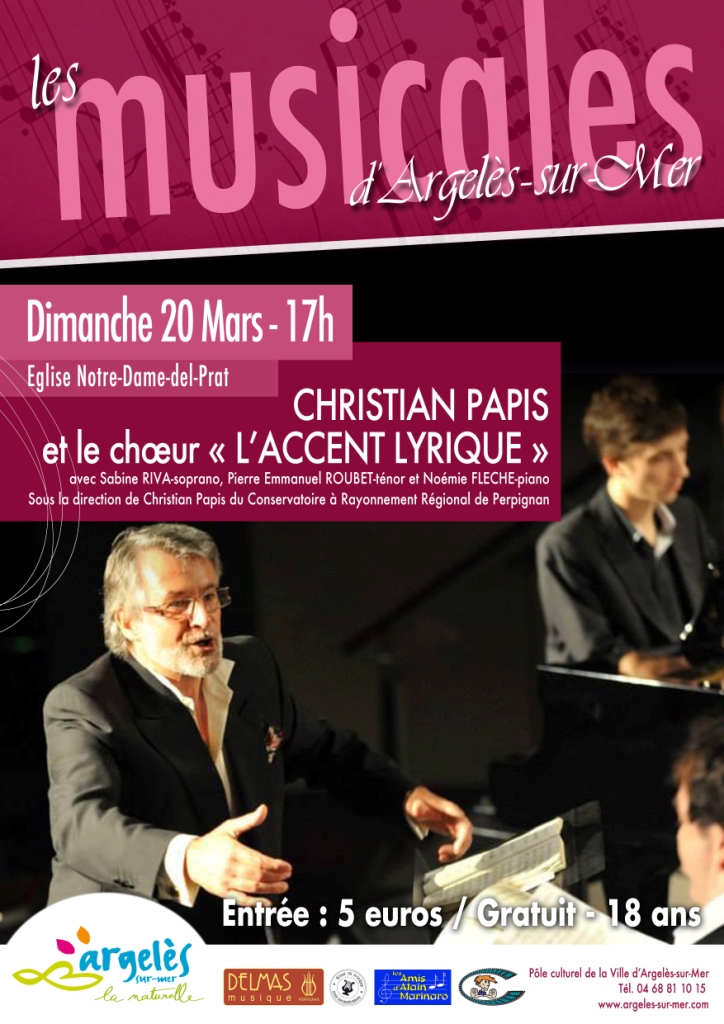 From 17h
Directed by Christian Papis, the 'accent lyrique' choir with Sabine Riva, soprano, Pierre Emmanuel Roubet, tenor and Noémie Arrow on piano will perform on stage.
Christian's original musical training was in the saxophone at the Conservatory National Superior of Music in Paris, but his talent for singing was quickly discovered and he became one of the ten foremost tenors in the world. His career in opera saw him performing in Europe's leading opera venues, including La Scala, Paris Opera, Berlin, Madrid, Venice and Glyndebourne, London, Vienna, Geneva, and singing under the direction of famous names including Daniel Barenboim, Andrew Davis, Riccardo Muti and Georges Prêtre. Christian's voice has featured on numerous operatic recordings; he has appeared on television and made films.
After working alongside Pavarotti, Domingo, Carreras, Alagna, Dessay, Berganza, Van Dam, Hampson, Ramey, and many other stars of the operatic world Christian Papis singing career was cruelly cut short by a medical problem. In recent years this has led him to bring his wide experience to teaching at Musikthéater of Amsterdam, Maastricht, Stadtsoper Frankfurt am Rhein, at a number of Conservatoires, most recently Schola Cantorum in Paris, Bordeaux, Nantes and now, since 2010, in Perpignan where he is Professeur de Chant.
On a more personal level Christian is an enthusiast for many different musical forms – from jazz to baroque, from opera to flamenco guitar, oratorios and recitals for lyric voices.
His experience during 35 years on the international music scene has opened an exciting new chapter for music fans in the PO.