Les Hirondelles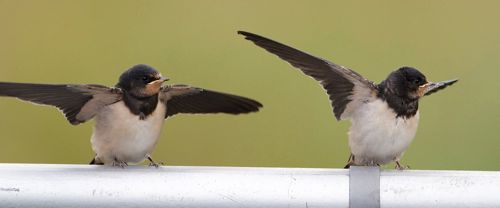 Aristotle said 'One swallow does not a summer make',  but when these harbingers of spring and summer promise arrive in the P-O we know for sure that winter is over.
Weighing little more than 20 grams with brains no bigger than a pea, these cute little chaps accomplish the most amazing feats of navigation, flying thousands of miles using the sun, stars and familiar landscapes.
Searching for their dream nest-from-nest in the sun for the birth of their  babies, they are very cute, and particularly appealing to animal-loving Anglo Saxons, but do make sure you're a happy host and willing to wade through bird poo, dried mud and bits of stick if they've chosen your porch for their holiday home!
Oh, and expect them back every year.