Carcassonne on Fire – 14th July
---
Event Navigation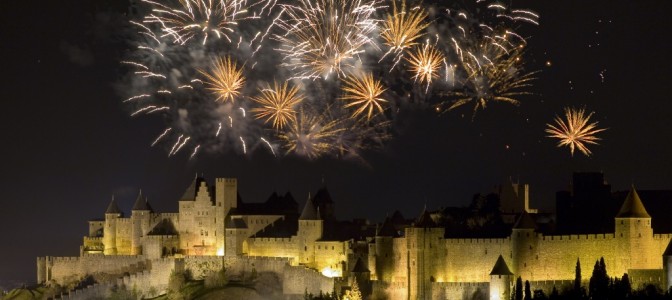 Embrasement de la cité de Carcassonne 2022……with the Train du Pays Cathare et des Fenouillèdes (TPCF)

Every 14th July, in celebration of the storming of the Bastille, the mediaeval City of Carcassonne lights up with one of France's largest and most spectacular firework displays

At around 22hh30, more than 700,000 people come together on the banks of the River Aude to admire the 25-minute multi-coloured extravaganza which transforms the ramparts into a splurge of light and sound, terminating in a breath-taking and explosive finale.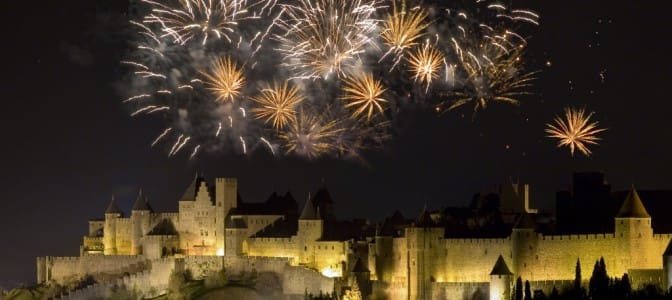 Why not leave the car at home, pack a picnic, and relax and enjoy the views on the 'Train du Pays Cathare et des Fenouilledes' firework special.
Reservations can be made on 04 68 200 400 or by email to info@tpcf.fr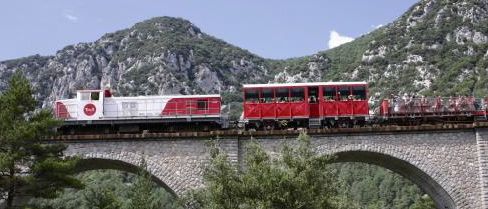 Running from Rivesaltes, just off the N9 north of Perpignan, to Axat, high up in the Fenouillèdes, is a railway line 100 years old.
It was built at the very beginning of the XX century to connect Rivesaltes to Carcassonne and was in regular passenger use till 1939. Sadly the spectacular stretch between Quilan and St Martin-Lys was cut but the remaining line still used for freight and by the TPCF.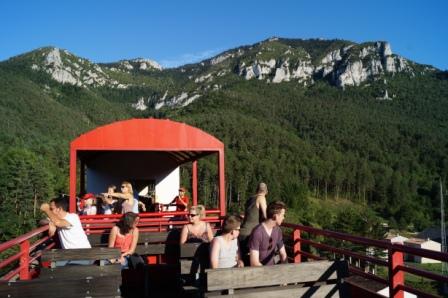 At Rivesaltes station, the bright red and white carriages of the TPCF await you, small and gentle beside the speeding TGVs and international freight trains. The country through which it passes is a land of vines and Cathar Castles, a slow climbing journey of discovery.
It stops at Cases de Pène, on the left hand side you can see the tiny hermitage church of Notre Dame de Pene, on the right the vineyards of Chateau de Jau. Tasting lunches and dinners held by the lake in the shade of a 300 year old mulberry tree are a must-do for all wine enthusiasts.
Next stop: Estagel, birthplace of Francois Arago. Look out for Mas Amiel and Chateau de Queribus standing on the skyline across the vines as you draw into Maury. Maury station is owned by Cave of the Vignerons of Maury, get off here for tasting and castle visits.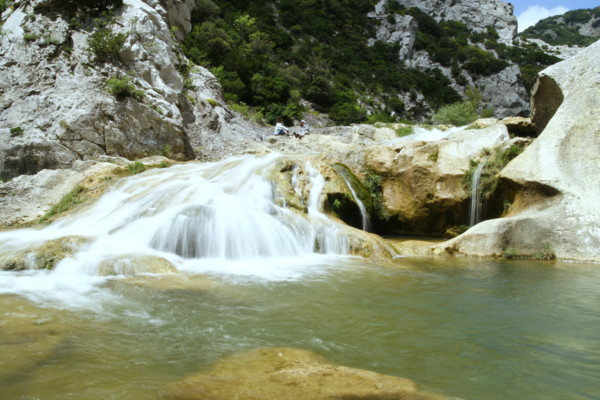 At St Paul de Fenouillet you could take a bus to explore the Gorges de Galamus, or visit Le Chapitre, a IX century Abbey cum XIV century College with a dramatic dome and intricate plasterwork housing a museum of Art and Tradition, as well as having exhibitions of painting and sculpture, minerals and archaeological treasures.
The train moves on to Caudiès de Fenouillèdes, last stop in the P-O and main office of the TPCF. The countryside becomes more and more dramatic and at Lapradelle it stops on the 1904 viaduct to allow you to admire the Chateau of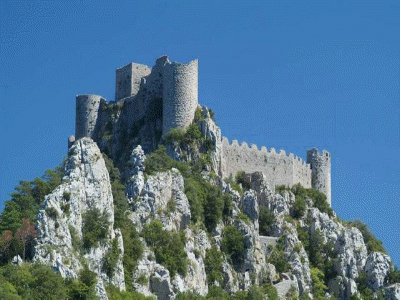 A series of tunnels and a sharp climb end on a viaduct over the Gorges du Georges, more fantastic views and a final stop in the pretty little town of Axat. The timetable and differing circuits vary from month to month. All are exciting and fun. The train can be booked for private parties.
Of course, the firework special has a special evening timetable. Check it out HERE ….. and have a great evening.