SATURDAY 18TH MAY 2013
FESTIVAL OF THE BANDAS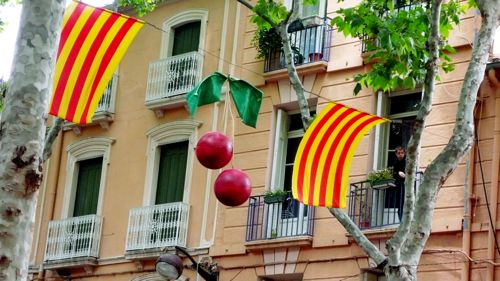 Céret still has it all going on this weekend, but without quite as many cherries around as usual.
Despite the postponing of the Céret cherry festival until the first weekend in June, there will be a communal meal in Place de la Liberté on Saturday evening, that will feature some cherry dishes, and those ancient walls will still vibrate and throb to the beat of the Bandas festival.
Cherry flags are already being hung around the town, giving that cherry feel, and the weekend is being marketed as both bandas and the "first of the cherries," even though the official cherry festival will take place in two weeks time.
FIND OUT HERE WHY THE CHERRY FESTIVAL HAS BEEN POSTPONED
Programme

Bandas in the streets Els Companys de Céret :
La Ttipitto (Basque), les Canaillous de Millas , la Dixilend Riverted (Manlleu-Catalunya sud), les Mayouns (Landes), les Clarineros (Landes), la band'haway (Toulouse)
Saturday

10h00 : Opening of the market for the first cherries
10h30 – 13h : bandas
Cherry based menus in the restaurants
14h30 Sardanes with Cobla Mil·lenària
open to all
Théâtre de verdure – Patio du MúSIC CIMP – FREE
Opening of the MúSIC 'Musée des instruments' Céret to the public on the 20 May
17h00 : Bandas
18h30: Apéro-Concert – place de la Liberté with Bandas
20h00: Open air dinner with entertainment from the Bandas – place de la Liberté
(20€/personne – reservation Office de tourisme on 04 68 87 00 53)
SUNDAY

10h00 :
Opening of the market for the first cherries
10h30 à 13h: Bandas

Cherry based menus in the restaurants