Saturday 1st – Sunday 2nd May 2013

ROMERIA
Flamenco avec Ana Morales
Chapelle de Juhègues, Torreilles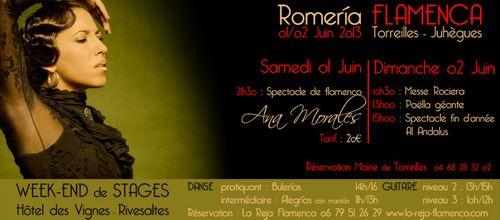 Week-end of all things Spanish with show, giant paëlla géante, flamenco courses…

On Saturday in the Théâtre Verdure at Juhègues, famed bailaora Ana Morales, accompanied by a host of talented artistes, will present a show based around the history and origins of Flamenco – styles, cultures, through to present day.

For true Flamenco fans, La Reja Flamenca offers courses in dance and Flamenco guitar

On Sunday, the site of Juhègues will put on a 'Messe Rociera' (Spanish mass in song) and from 13h, rendez-vous in the shade of the pine trees for a 'paella géante' with a festive Spanish ambiance, followed by a Flamenco show with the association Al Andalus.
Reservations for show (20€) and paëlla (15€) : Marie de Torreilles: 04 68 28 32 02.
Reservations courses (70€ for 4h) : La Reja Flamenca: 06 79 51 26 29.