Food for Thought with Suzanne Dunaway
Rice to the occasion, part II : paëlla
I made a great discovery the other day, rearranging my shelves in the kitchen to be a bit more accessible – my original paella pan, a huge, heavy lid-included wonder that used to feed the multitudes in another life in California.
If you have a very large skillet or are lucky enough to have a paella pan, have a go at this popular dish of our region. The only work involved is really the chopping of the chicken and having enough broth ready. After all, paella is a kind of huge, elaborate risotto, right?
I don't know anyone who does not love paella, but few make a version maison, choosing to order from take-out places and not work so hard! But I can only say that homemade paella is a different ballgame from store-bought, if only because it needs no re-heating (or travel) and the shellfish stay tender and moist.
With all of the lovely fish, shellfish and sausages we have here in the PO, it's a shame not to use them in this amazing dish. I love to simplify recipes, and I think you'll find that this is no exception,
Give it a try and kick your culinary talents up a notch.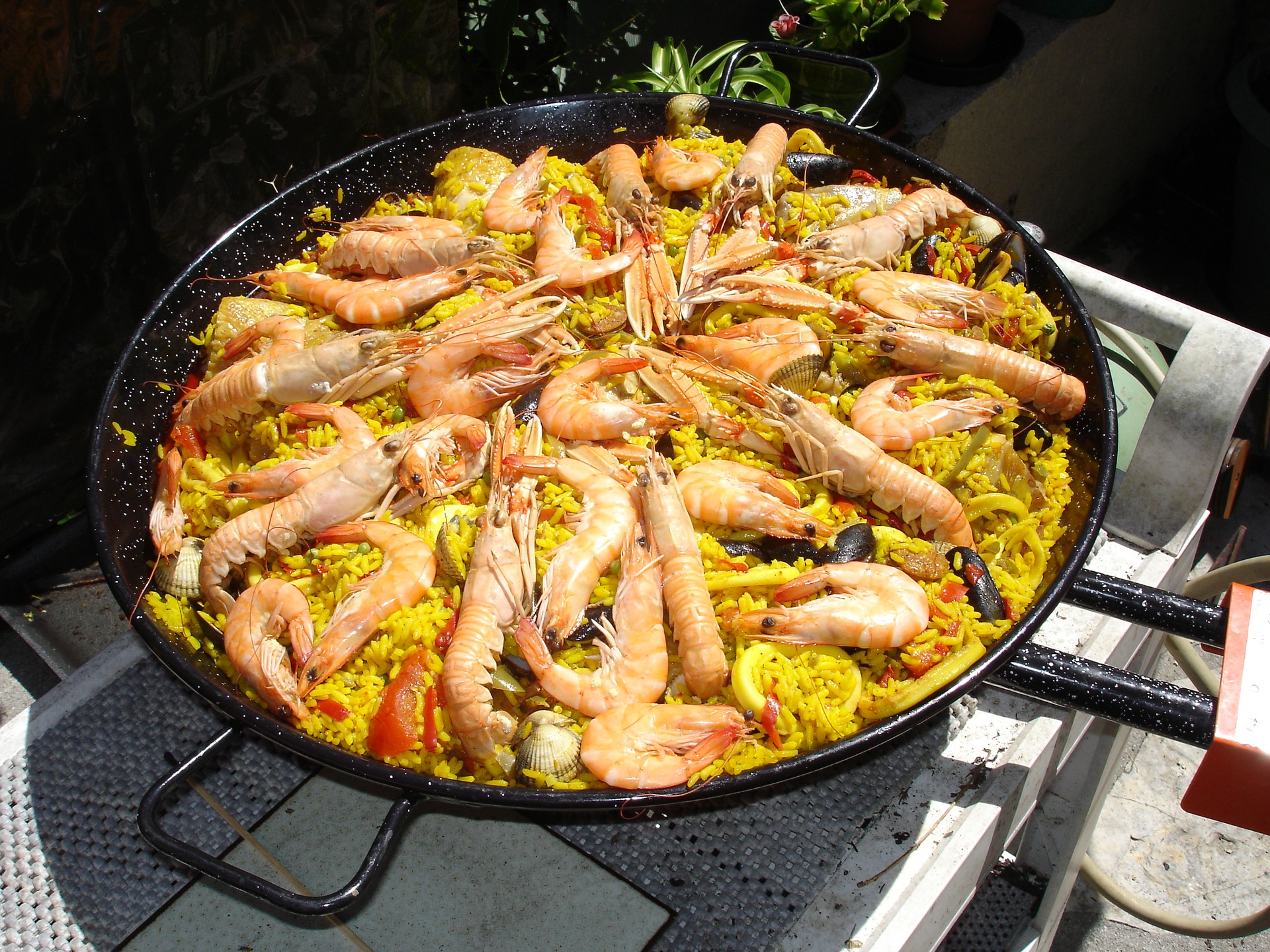 Recipe
Ingredients
1/2 cup olive oil
3 tablespoons butter
1/2 pound of lean bacon, cut into small dice
5 cloves garlic, chopped fine
2 sweet onions, chopped fine
1 large red pepper, sliced thin
3 cups paella rice or even the lovely rice of the Camargue
1 generous cup white wine
1 generous cup crushed fresh tomatoes (or canned, but fresh are best)
6-8 cups chicken broth
1/2 teaspoon powdered saffron or 2 generous pinches of saffron threads, rubbed between the fingers to pulverize
1 small chicken, cut into serving pieces
4 sausages, cut into 1/2-inch slices (I use both merguez and Catalan sausage)
1/2 kilo of shrimp in the shell
½ kilo of coques or small clams
A dozen or so mussels
Method
Heat the oven to 375°F/200°C.
In a large paella pan, heat half of the olive oil and sauté the bacon for a few minutes, then add the onions, garlic, and pepper and cook a few minutes until just soft.
Add the rice and stir well to coat the rice with oil and butter and continue cooking for another few minutes to seal the rice.
Add the wine and stir over medium heat until absorbed. Add the chicken stock and saffron and cook for about 15 minutes, stirring, until just half done.
In another pan, heat the rest of the oil and sauté the chicken and sausage rounds in olive oil until golden. Add the shrimp, clams, and mussels and sauté for another few minutes.
In the large paella pan with the onions and garlic mixture, add some of the crushed tomatoes, then a layer of the chicken and shellfish and sausage, then more crushed tomatoes until all is used up and the clams are peeking out along with the shrimp and sausages and so on.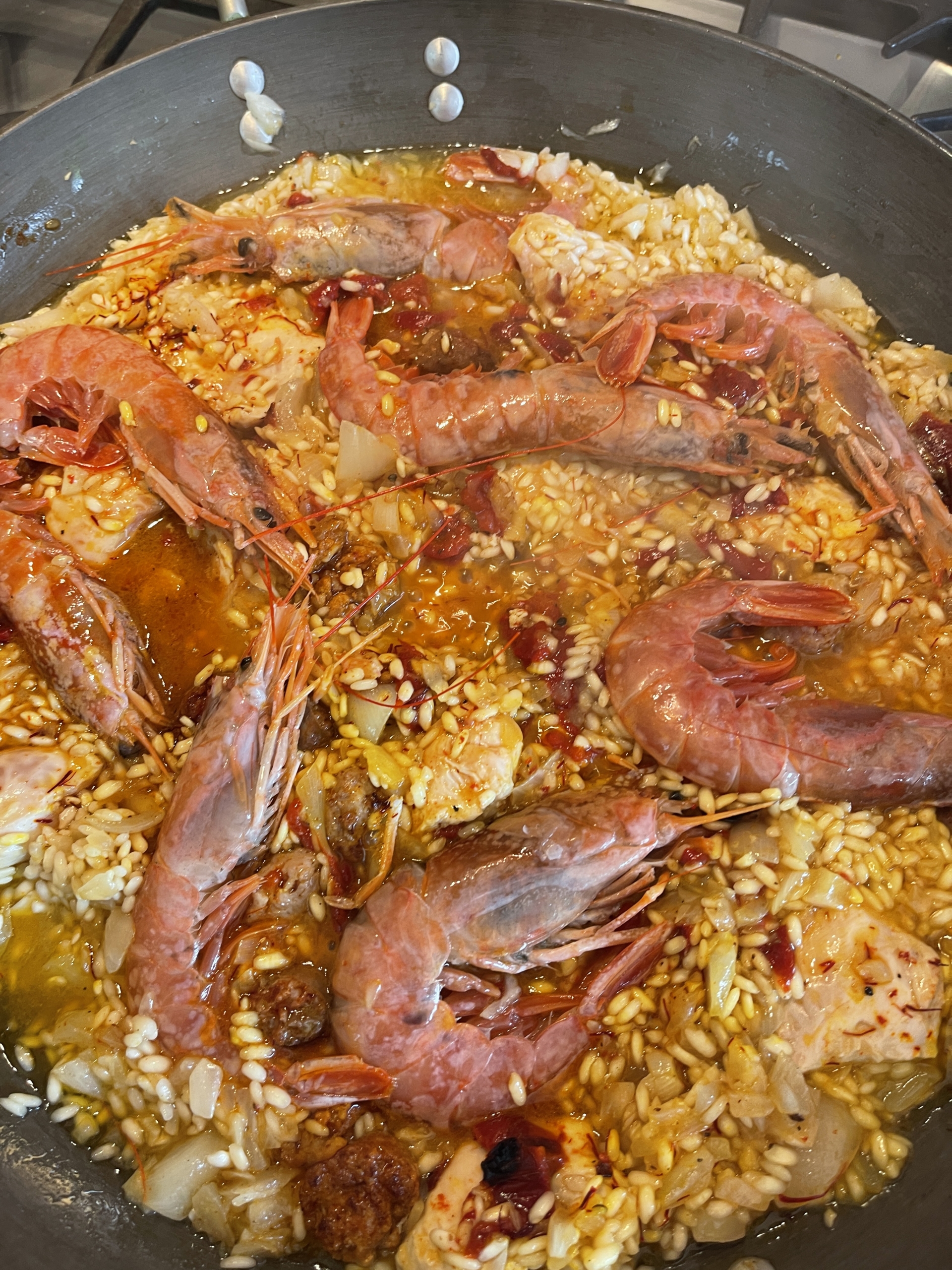 Cover the paella pan tight with its lid or with foil, and put the whole thing in the oven for the clams and mussels to open.Add more stock if needed as the cooking proceeds so that the rice has enough broth while steaming.
When the shellfish are opened and the rice is tender, the paella is done. Let it sit for a few minutes before serving.
I love this with a nice cool rose, plenty of bread and a cool green salad.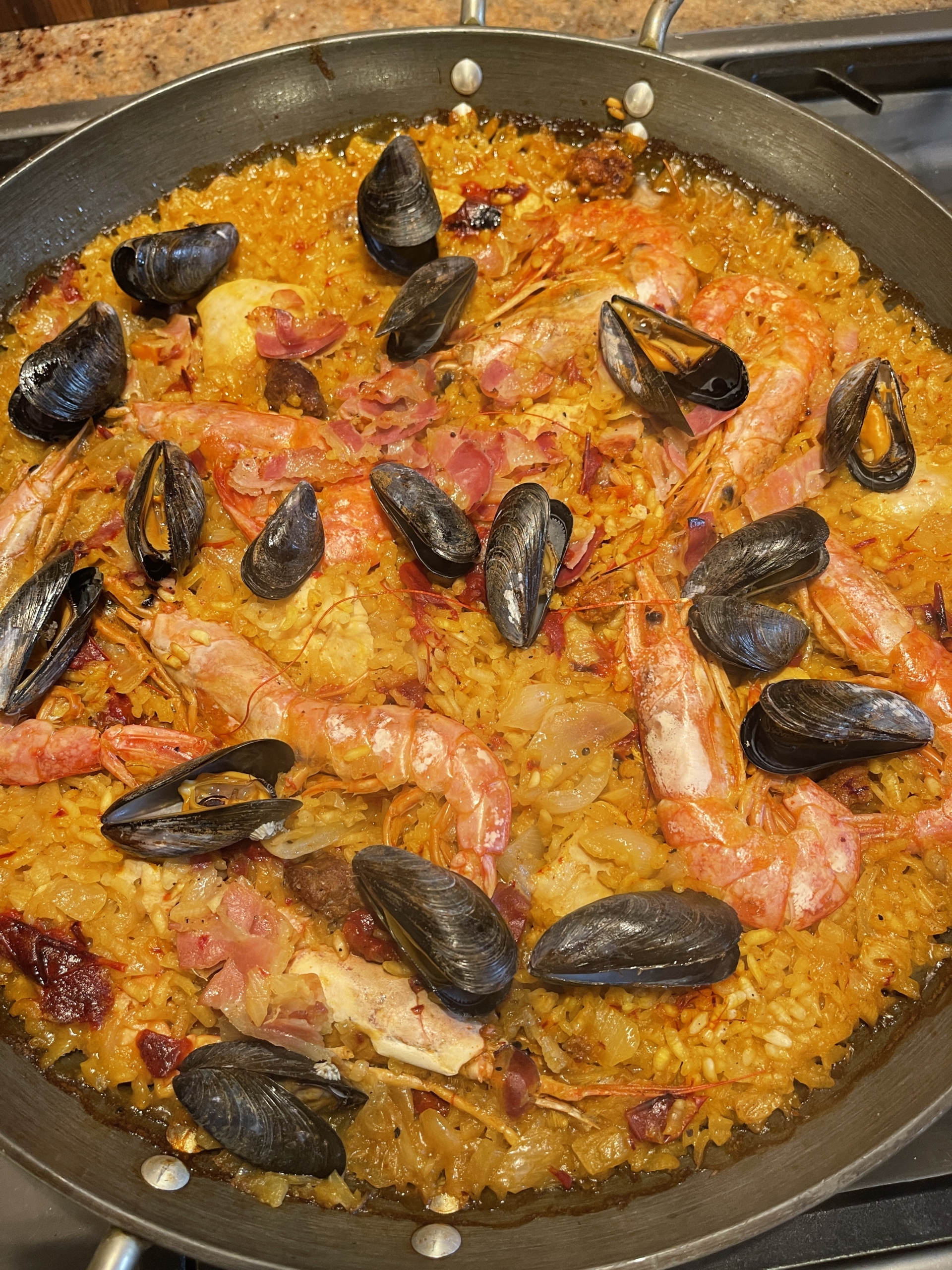 Meet the chef
P-O Life reader, Suzanne Dunaway, has cooked since she was 5 years old, when she made cinnamon pinwheels from her mother's pastry dough.
She LOVES to cook. Some might say she LIVES to cook. The smells, the tastes, the textures…
She is a firm believer in simplicity and creates her recipes in the ethos of 'anyone can cook'.
After years of experience in her own kitchen, cooking schools and private classes all over the world, in this weekly blog, Suzanne shares with us her PO-inspired creations.
All content and recipes are copyright of Suzanne Dunaway.