With Tim and Chris Parker

A 13km 4 hour circular with 500 metres of ascent, much of which is in the first part of the walk.
Well signed route with yellow waymark signs.
The views from the ridge reach out to sea and inland in all directions. Walking boots essential.
**Shorter 2h 30 mins option included and is a really good morning or afternoon walk if this is all you have time for.
Access: map IGN 1 :25,000 Top 25 No 2548 OT Perpignan and Top 25 No 2448 Thuir/ Ile sur Tet
GETTING THERE
Take D117 from near Perpignan Airport, direction Foix, St Paul de Fenouillèdes. After a few kilometres turn left at island to Casa de Pène. On leaving the town look out for parking on left hand side of road at the first right hand bend. This area offers shade for vehicles.
START OF WALK
Start directly from car park. Well-made path with rocky steps leads to a bifurcation. (10 mins) Rock faces plunging into the valley are impressive! (Take right hand path for an extra 15 mins aller/retour to Notre Dame de Pène if you wish, with lovely views across the Agly valley and Casa de Pène.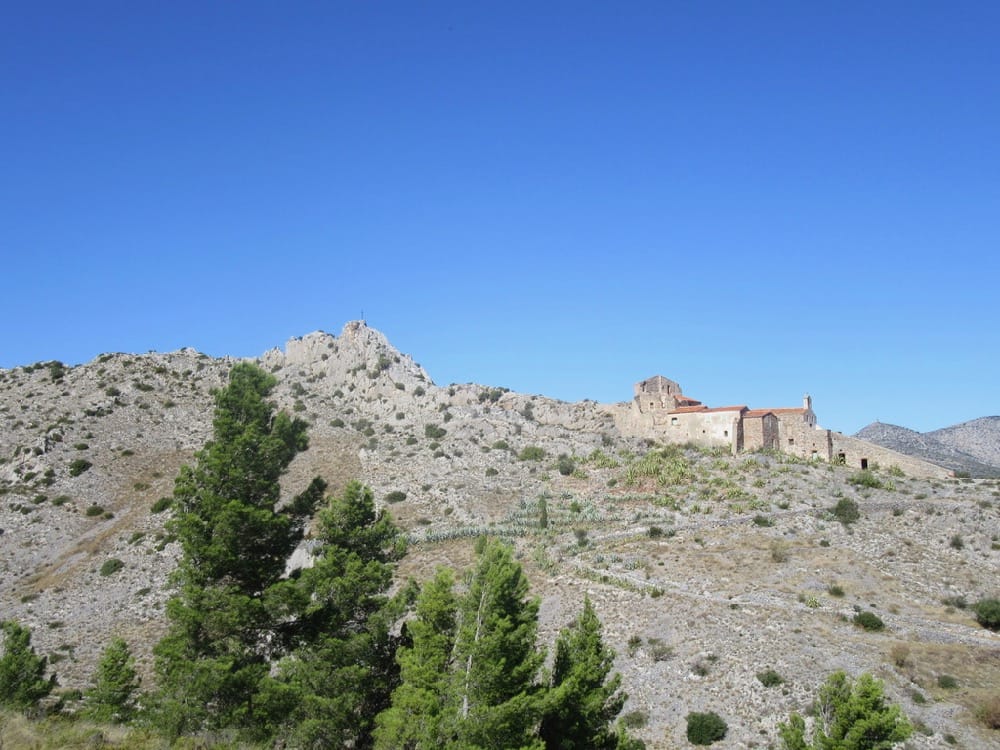 In the year 1000 the rock was occupied by a small castle Castellum de Pena. As it gradually lost its strategic importance, it became a hermitage from 1488. The site is now maintained by a group of volunteers.
Return to bifurcation and follow other fork to left with 2 options for ascent to ridge. Either take the path to the right marked with a yellow cross a few metres on which you can follow to reach base of a scree path taking you directly to the top, OR take our more gradual approach, bending left on the path from the bifurcation, following path for approx. 80 metres, and turning right at a large cairn.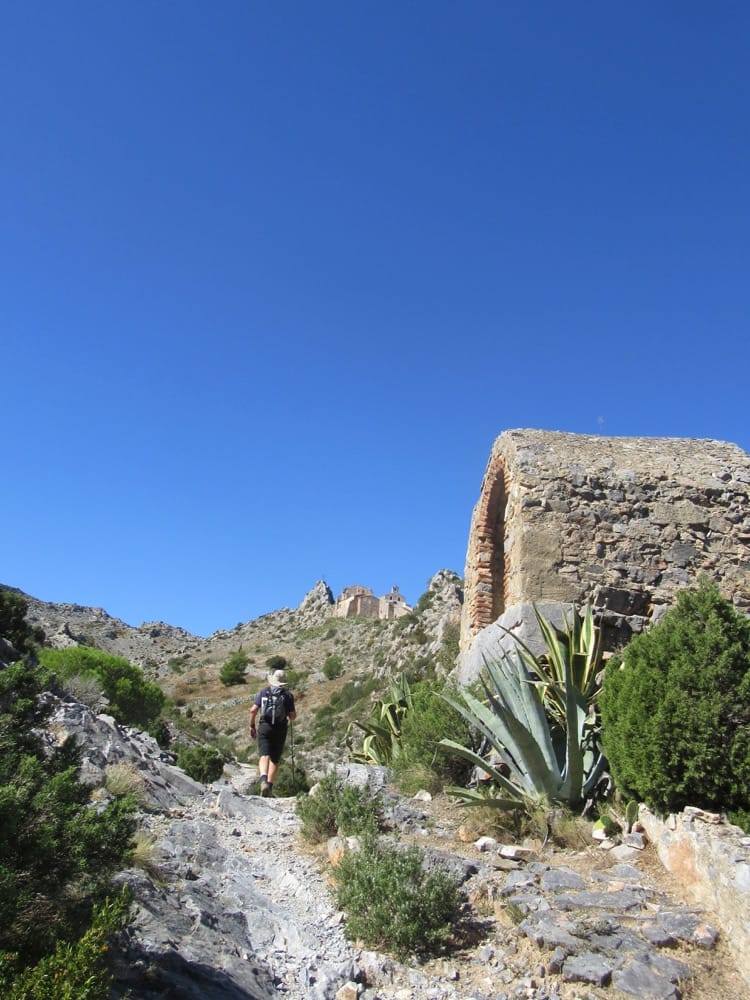 Gradually traverse and climb in direction of mast visible on ridge. Emerge at top of scree section. After short scramble path bends left to enter a short rock gulley.
Turn right at end of gulley and continue upwards to summit ridge, (1 hour to here if you included chapel visit).
FOR SHORTER WALK TURN LEFT HERE AND FOLLOW THE BROAD SUMMIT TRACK UP AND OVER THE ROC REDOUN AND DOWN TO A QUARRY EDGE** 25 MINS
To continue full walk, turn right on broad track to reach mast after 50 metres. Here turn left and drop to another broad track. Turn right and follow this rock and stone summit track La crête de la Cresse for approx 35 minutes to reach path on left in direction of Calce.
Summit ridge offers superb views of the coastal plain, the Albères and Canigou, the Corbieres and Quèribus and the Agly valley.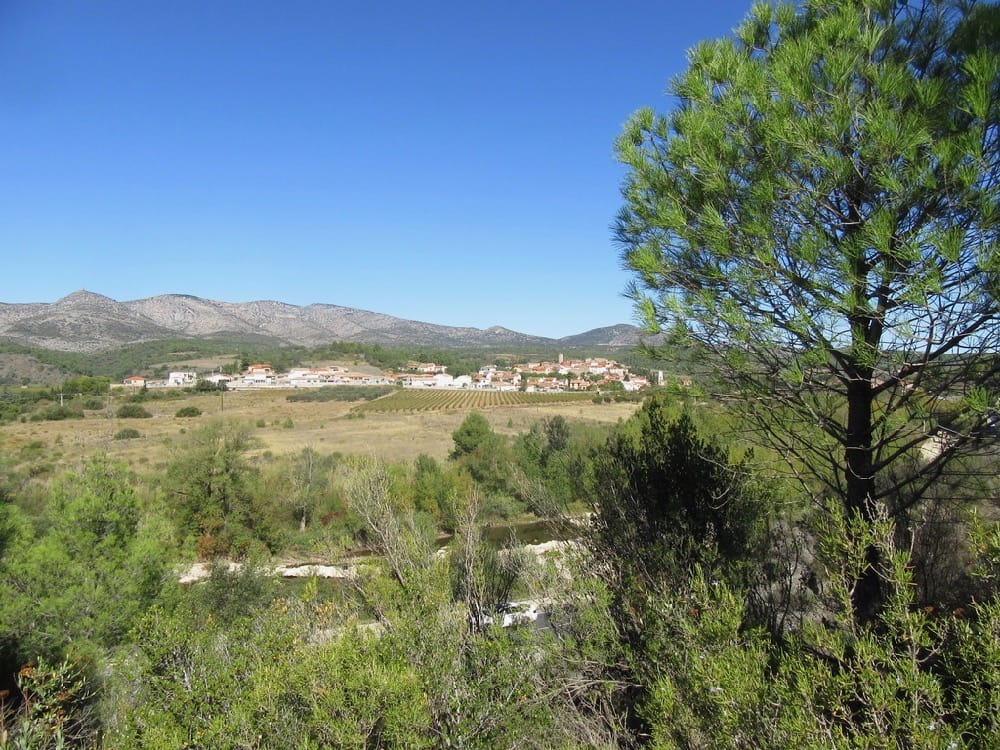 Turn left and drop down to reach section of tarmac. Do not continue on new tarmac unless you want to walk into Calce. Take vineyard road, (rougher tarmac), on left – waymarked "Chapelle de St Catherine 1h 10 mins". In fact, the long, pleasant valley road to the turning for the chapel takes approx. 45 mins.
A left turn is waymarked to chapel and return routes. After 20 metres find path to chapel, which is set among trees, and offers a good picnic place. Return to cross road of paths, and follow waymarked signs for Notre Dame de Pène.
Pass an impressive set of split rocks from an old quarry. Take the route signed only for Notre Dame de Pène and NOT the routes signed via Roc Redoun, as they will take you back to the top of the ridge. Sign indicates 1h 25 mins for the return route.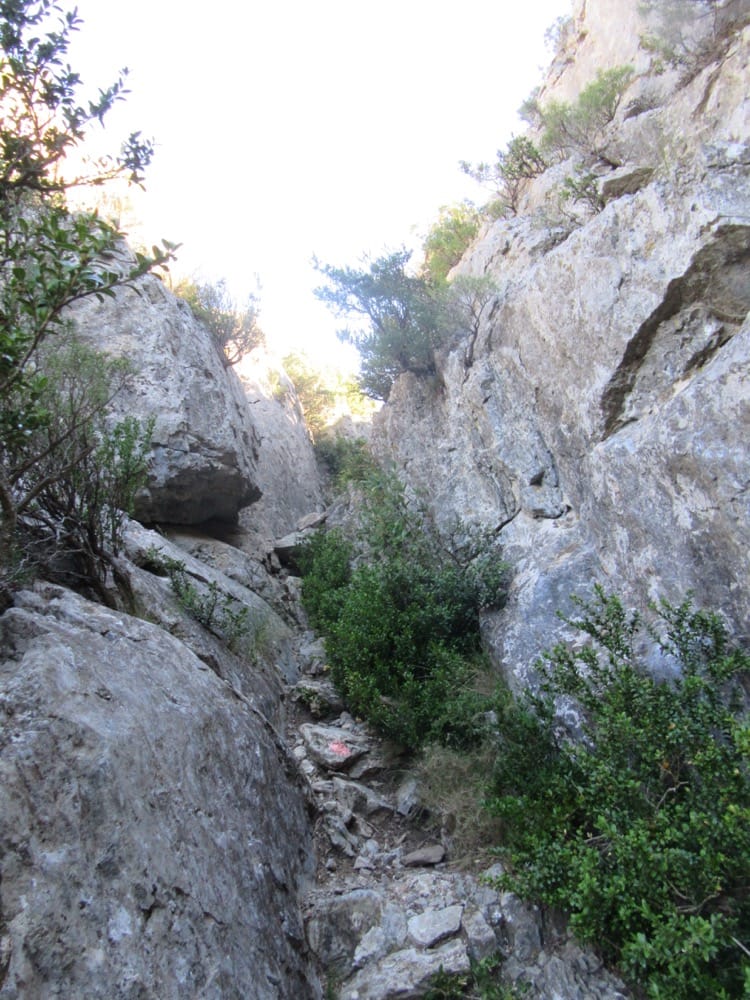 Enter pine woodland. Trust the signs for ND de Pène as they take a few turns.
** ARRIVE NEAR QUARRY EDGE and follow for 700m. Reach path on left waymarked ND de Pène. Path drops into valley and continues in a downward direction with a few ups along the way! The cliffs of Roc Redoun make an impressive side to the valley.
Arrive back at first bifurcation and turn right to descend to car park.