The colourful Hotel Cortie in the narrow streets of pretty Thuir centre has been a hotel-restaurant and events venue for more than a century.
Located on the Rue J.J. Rousseau, a narrow street near the Caves Byrrh, it's difficult to miss its sunny colours.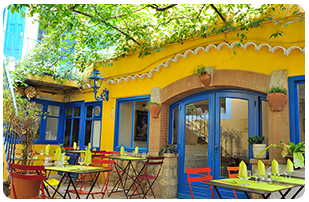 The building itself belonged was to the Violet brothers and started off as a wine cave in the 19th century.
Their cook Therese Cortie, turned it into a hotel and in 1930, it was refurbished as a hotel-restaurant.
In 2006, under the direction of Pierre Cortie, last in the Cortie line, and in need of extensive modernisation, the Hotel Cortie closed for through lack of funds to renovate.
The end of an era?
Mais non. Francois Mayeux, out on a Sunday bike ride, saw the 'hotel à vendre' sign, and fell in love. He purchased the building and set out to bring the hotel back to life, keeping all the old charm but adding a touch of modern.
In May 2011, Hotel Cortie was reborn – with 40 places in the restaurant and 20 places on the terrace, as well as 12 rooms, each with a distinctive style. The rebuild was so solid that it is said that if an earthquake is forecast, you could take refuge there as the hotel would stand as Thuir crumbled!
Labelled 'hôtel de charme et de caractère'