Thuir, lively little town in the Aspres, is probably most famous for the Caves Byrrh. Created by the Violet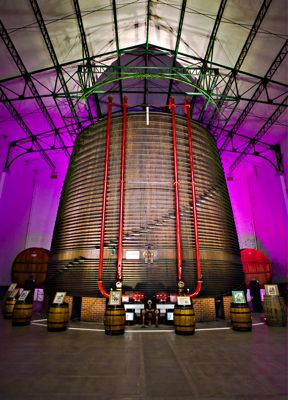 brothers in 1873, and otherwise known as 'vin tonique et hygiénique au quinquina', Byrrh used to be a world renowned Catalan apéritif.
The brothers apparently started off as travelling salesmen, selling various things including 'tonic'. With the arrival of the railway in Perpignan in 1858, they saw the chance to take full advantage of the new industry that it brought to the region, and put together the recipe for Byrrh, which was to become famous throughout the world. It is created from good quality Roussillon wines and quinine water, and said to be medicinal.
Instantly popular, a station hall was ordered from the Gustave Eiffel workshops. From it 30 million litres made their way annually to 350,000 customers world-wide. Now, not only Byrrh but Cinzano, Dubonnet, Ambassadeur and Suze are made and matured in the 600 huge oak barrels that line the chais leading to the biggest oak barrel in the world. 10 metres high it contains 420,500 litres.
A fascinating guided tour takes you through the station concourse, shows you how the wines are flavoured and fortified to make the aperitifs, passes by evocative old advertising posters and ends with a tasting.
Open 7/7. Entrance 2 euros, visits every 15 mins from 9h to 11.45 and 14.30 – 17.45 in summer. Info: 04 68 53 05 42.