Thuir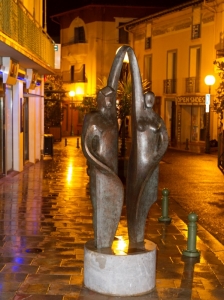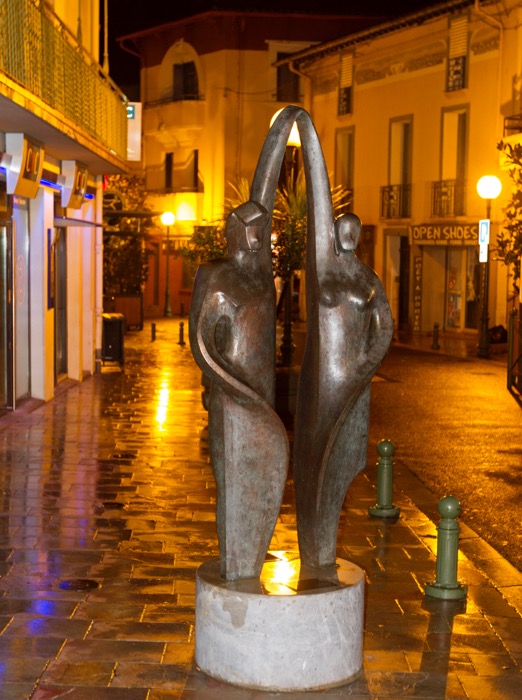 Thuir, dynamic little town in the Aspres, is well worth a wander. With plenty of good restaurants, cafés and shops to while away a pleasant few hours, there is also a colourful and lively market on Saturday morning, and an excellent program of arts, music and dance at the Théatre des Aspres on Boulevard Violet.
Visit the 18th century church of Notre-Dame de la Victoire, with its curious statue of the Virgin, created in the thirteenth century from black lead.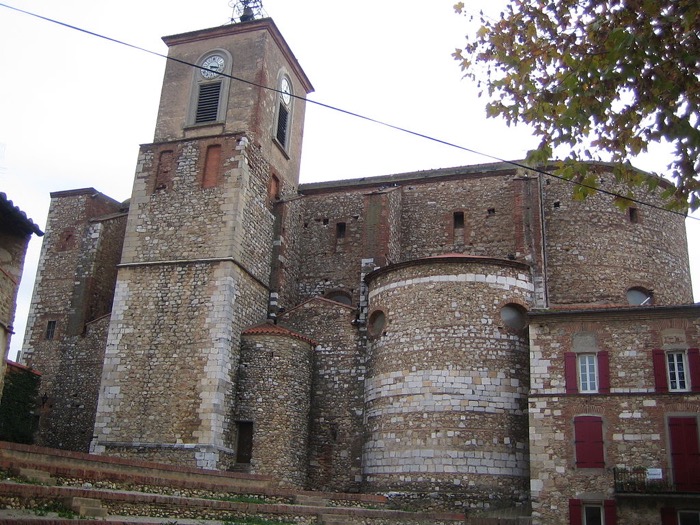 According to legend, when Charlemagne went into battle against the Saracens on the heights of Passa, he placed this statue of the Virgin in the midst of his parched and exhausted army, just as they were about to desert the battlefield.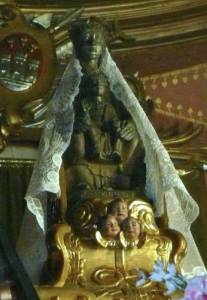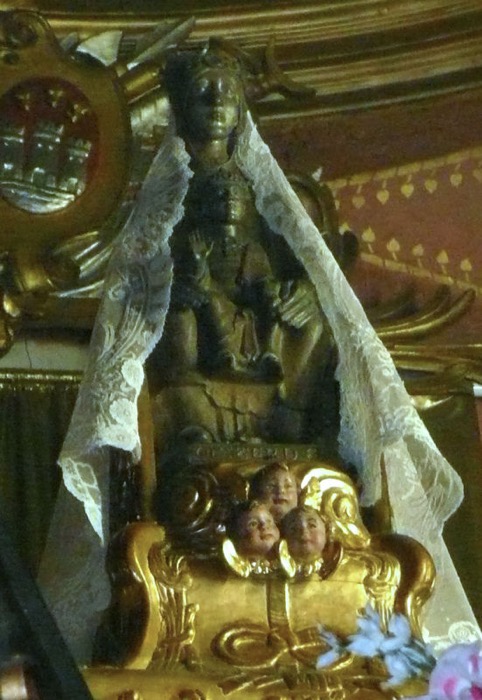 A fountain of water gushed from the dry land, the soldiers drank to their fill, and, replenished, drove away the enemy. Charlemagne had a monastery, Monestir del Camp, built at the scene of this miracle. If monastery living appeals, it is now on sale for a cool 2.200.000 €, a fascinating ancient monument steeped in history and legend….but that's another story for another day.
After visiting the church, wander round the remains of the ancient watch towers and the 'cellera', heart of the original small fortified settlement, dating back to 950. Farmers often built cellars or fortified areas around the church, sometimes surrounded by pits, to store and protect their crops from abusive local lords seeking inflated and unjust taxes.
Or how about a visit to the rather mysterious 'Cave Rouge' on Route de Saint Féliu for a live escape game? Fort Boyard/Crystal Maze style, you, your family and friends will be locked up in an old wine cave with 60 minutes to solve the puzzles, follow the clues, find the Elixir of Life and break out – if you ever want to see the light of day again! Challenging, stimulating, fun….but maybe not for the claustrophobic
But Thuir is probably most famous for the Caves Byrrh.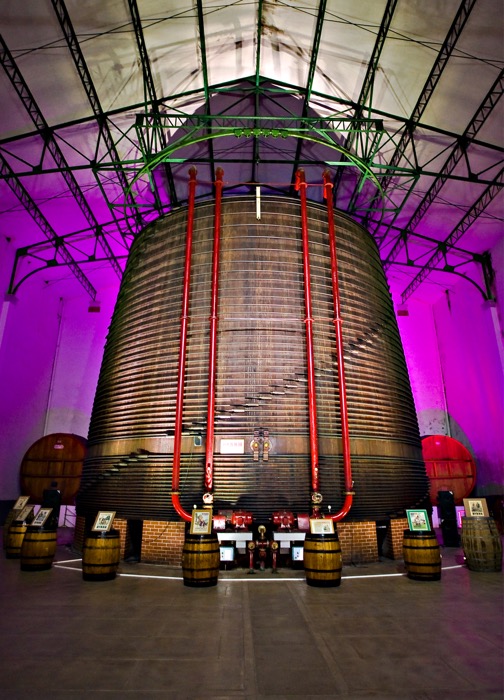 Created by the Violet brothers of Corsavy in 1873, this well known aperitif, 'tonique et hygiénique', is created from good quality Roussillon wines and quinine water – and said to be medicinal!
Today, not only Byrrh but Cinzano, Dubonnet, Ambassadeur and Suze are made and matured in the 600 huge oak barrels that line the chais leading to the biggest oak barrel in the world. At 10 metres high, it contains 1,000,200 litres. A fascinating guided tour takes you through the station concourse, built by Gustave Eiffel, shows you how the wines are flavoured and fortified to make the aperitifs, passes by evocative old advertising posters, and ends with a tasting.
www.byrrh.com
Gustave Violet, son of one of the Byrrh creators, chose not to follow in his father's footsteps. Instead, he became an artist, sculptor and architect. At the outbreak of WW1, he was conscripted. On his return in 1918 this gentle artist, totally traumatised both physically and mentally by the horrors of war, was commissioned by several of the towns of the P-O to sculpt their War Memorials.
In fact, with no wish to glorify war, the monuments he created were very much ANTI-war. In Thuir, at the gateway to the cemetery, his bas relief sculptures depict not glory but sorrow and dispair. Other Violet memorials in Perpignan, Prades, Estagel, Tautavel and Claira, follow similar themes; women waiting for sons and lovers who would never return, the tragedy of war….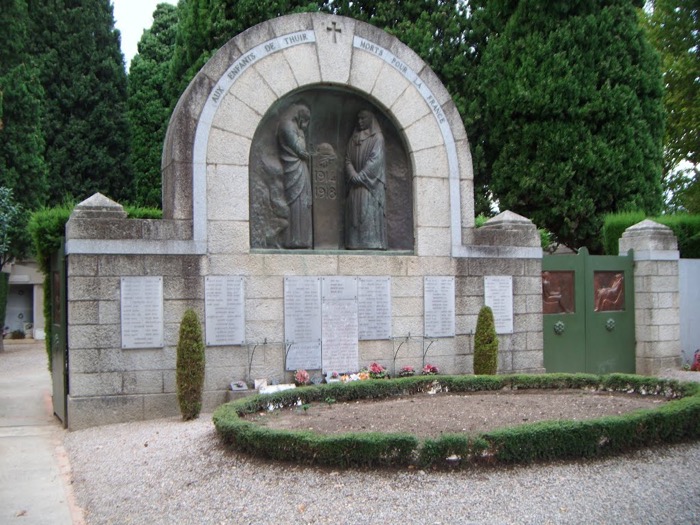 Thuir is also an important wine centre, surrounded by neighbouring villages of Terrats, Trouillas and the beautiful hamlet of Ste Colombe de la Commanderie.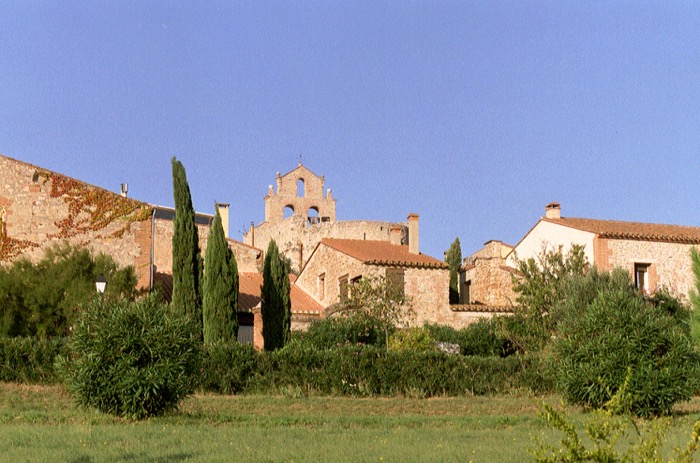 Heading from Thuir towards Trouillas, look out for the 'Tour Bouteillé' of Terrats, the only three storied wine tower in France. Well worth popping into the 'Vignobles de Constance et du Terrassous', its wines the cooperative results of 70 winegrowers farming 800 hectares of vineyards, for a taster of these reliably good and well priced wines.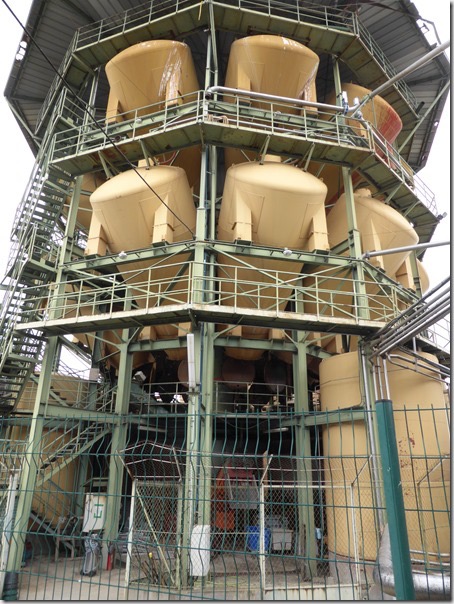 Legend tells that the vines of Terrats grew on land that was, once upon a time, a secret and magical village called Mirmande. This realm of fairies and enchantresses would ' fill men's souls with joy and pleasure'.
On now to Ste Colombe de la Commanderie, where wine domaine Mas Deu was once used by the Knights Templar as their administrative and religious headquarters. At the height of their power they controlled over 800 hectares and the largest vineyards in Europe.
At the start of the 14th Century, Arnaud de Villeneuve, Physician to the Kings of Aragon, created the first ever Vin Doux (dessert wine) in the cellars of Mas Deu. During WW2, it was the headquarters of the Occupying German Army. Before retreating in 1944, they blew up most of the beautiful old buildings – but Claude Oliver will be happy to welcome you for a tasting in the 18th century out-buildings which remain.
Domaine Treloar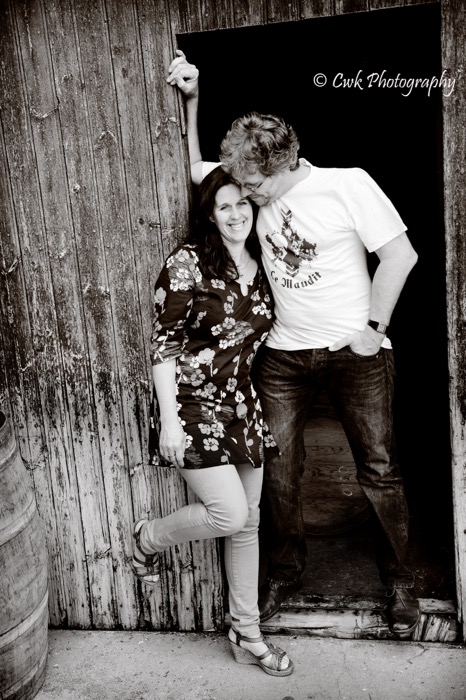 In nearby Trouillas, Yorkshireman Jonathan Hesford and his Kiwi wife Rachel bought an old cave in the village and built their home around it. If you're looking to improve your wine knowledge, they offer a visit to the Domaine Treloar vineyards, followed by a tour of the winery with its 100-year old large oak 'foudres' and a tutored tasting of their wines, along with explanations of terroir, organic viticulture, fermentation techniques…… Tours cost 15€ per person throughout the year and can be booked on 04 68 95 02 29 (www.domainetreloar.com).