Saturday, September 6th 2014
Music Hall in Baho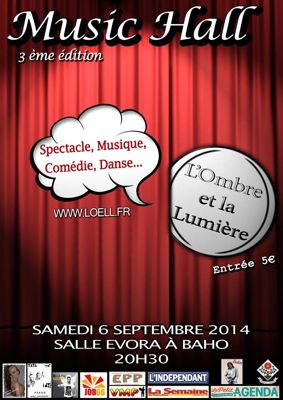 The association "Shade and Light " will present on Saturday, September 6th the third edition, since 2012, of its show Music Hall at 8:30 pm in the salle Evora of Baho.
Offering a space to all arts and to all artists, this evening is above all placed under the sign of sharing, where every participant has a space to express himself and exchange with the audience.
This year more new numbers: dances, songs, theatre, humour and also special appearances! In brief, whether you are rather keen on South American rhythms, rock, rap or comedy, each will find some benefit for an unforgettable evening. Without forgetting the dance floor, the meeting with the artists and refreshments..
In order to support local artists of the Pyrennees Orientales…
Let's meet on September 6th, 2014 in the room Evora of Baho. Not to be missed…See you soon