Snowshoeing in the Pyrenees Orientales 2019
The snow is falling in the Eastern Pyrenean mountains and no doubt thoughts are turning to waxing and servicing skis in preparation for the opening of the pistes.
In every family however, there are people who love the mountains but do not like to ski and walking around a small ski station is not too inspirational, so what options are there?
There are several hot pools in the Cerdagne and Capcir but the only one in the centre of a ski station is the new Angleo hot pool in Les Angles, which is a great way to spend a very pleasurable two hours which would make a great "après" snowshoe session.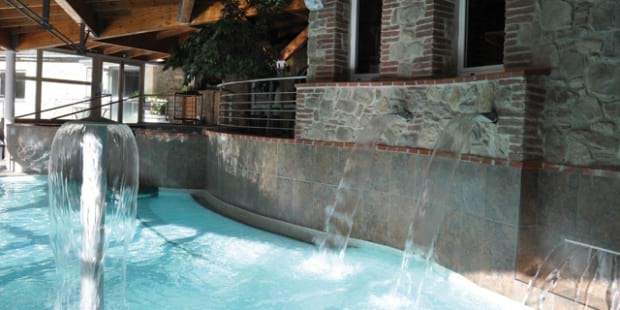 So, what else can you do?
Fortunately, in the Capcir/Cerdagne there are several snowshoe guides who have joined together to offer days out in the snow for non skiers or skiers looking to do something different.
So, what's involved in snowshoeing?
Snowshoeing is really popular in this area and involves walking in the snow with what look like glorified plastic tennis rackets on your feet. These "racquets" enable you to walk through deep snow in the forests and mountains in areas that it would be impossible to walk through with just walking boots.
How fit do I need to be?
One of the most frequently asked questions! If you are an active person who enjoys rambles in summer then you will be able to partake in our snowshoe walks. Our trips are not "route marches" as we tend to average just 2kms per hour with perhaps two hours walking before and after lunch. This is not because the terrain is difficult but because in winter there is just so much nature visible in the snow.
Normally in the lower mountain areas, we have to stick to the paths as the vegetation is to dense to go "off piste" but in winter the shrubs and bushes are covered so that we can go anywhere and into the middle of the wildlife. Tracks and animal signs are difficult to see in summer and only in winter do you realise that so many animals inhabit our wonderful region and following and identifying these tracks is a key part of our days out. It is especially magic after a fresh fall of snow when your guide will make a good track for you through the snow.
What equipment do I need?
Snowshoeing does not require you to have any special gear as we provide the snowshoes and poles and you will only need your normal walking clothes and boots. Waterproof/windproof jacket and pants, hat, gloves and sun glasses are the basics as well as a rucksack to carry it all in. A packed lunch, snacks and drinks will complete your bag. Most days we will come equipped with mulled wine and special treats to enhance your day out.
Where do we go?
Living all year round in the mountains we are always out looking for the best snow and we delight in taking you to untracked areas ranging from Puyvalador to the north to the Spanish borders to the south. We have also been exploring farther afield on the borders of Andorra. Normally we meet up in Mont Louis between 9 & 10 am at the Edelweiss café (see map below) and then transfer to the start of our walks.
How can I get involved?
I work with Ian Pendry from St Pierre dels Forcats and Steve Wilson from Formiguères and for this coming winter we plan to go out every Thursday. We would love for you to join us. If Thursday is not good for you and you have a few friends who would like to try snowshoeing then please do contact us as we are out most days of the week and would be pleased to see you. 
Snowshoeing Trips – February Half Term
Every Tuesday & Thursday at a selection of venues throughout the region
Meeting point : 9.30am at the Edelwiess cafe / petrol station in Mont Louis (see map below)
Walks will be all day, returning to the Edelwiess at around 5pm. This may vary a little depending on the planned walk and access time.
You will need walking clothing, boots and a packed lunch. Snowshoes provided as needed.
For those that have already done some of the local walks with us and would like to try some new venues, please let us know which days work for you and we will adjust our plans to head to pastures new that day.
Price for the guided day including snowshoe rental is 35€ per person. Group discounts are available.
Reservation can be made up to the evening prior to the day.
Contact
Mike
Tel: 0679 10 54 53
Email: mike.rhodes@free.fr
Angela / Ian
Tel: 0678 23 81 30 / 0632 32 07 43
Email: info@altitudeadventure.com / ian.pendry@orange.fr
Eidelweiss Café (meeting point)
If you are looking for something more adventurous we are running a week long snowshoeing trek culminating with a three countries tour starting in Spain, passing into Andorra over a 2700m pass and ending up back in France. Last year's trip was a major success so come and try it out.
If you would like to be involved with our 2019/2020 snowshoe trips then please do let me know and I will add you to our mailing list. I will send you a notification one week ahead of the next week's destination so that you can come and join us. We do need to know numbers so that we can arrange the correct number of snowshoes.
As featured in P-O Life n° 66 (winter 2019-20)