Snowshoeing in the P-O 2021
The snow is falling in the Eastern Pyrenean mountains and although the pistes aren't open yet for skiing this year due to Covid-19 there are still many activities available for individuals or families to spend an enjoyable week, weekend or day out in the mountains. We had the pleasure of joining Ian, Angela and Mike (our very own English speaking local mountain guides) for a days guided Snowshoeing around Lac des Bouillouses, near Les Angles.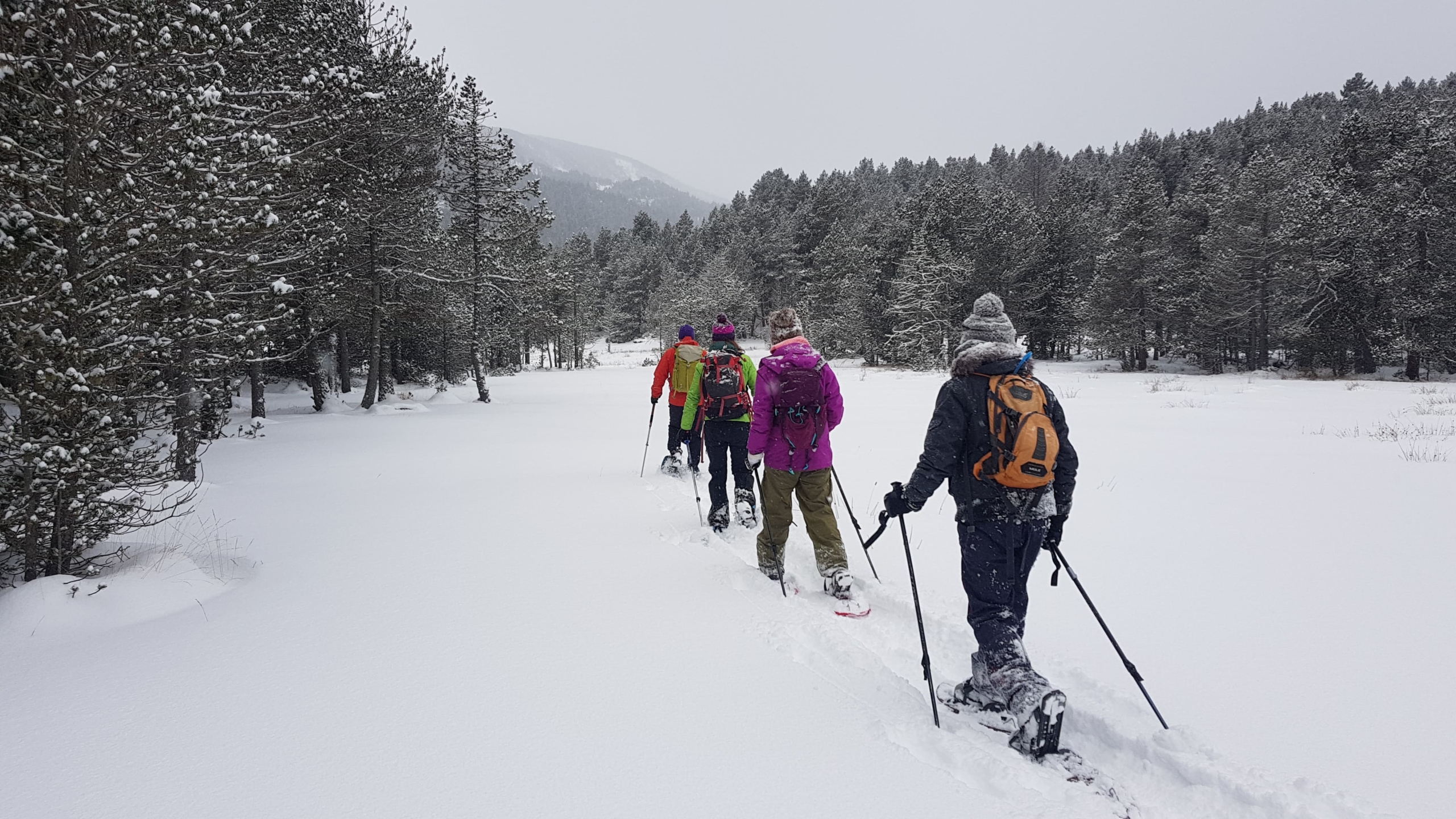 Claire and I organised a days snowshoeing for Wednesday 30th December 2020. It was 35€ each including the equipment. We drove up from Les Alberes with our snow chains in our boot, up to Mont Louis. We parked in the carpark and there waiting fully masked up in their people carrier were Ian, Angela Pendry and Mike Rhodes. We used the hand gel, donned our covid masks and hopped in for the short ride up to Lac des Bouillouses
The first place they intended on setting off from was busy with others having the same intentions as us. So we turned round and instead chose another location going in a slightly different direction where no one else was heading.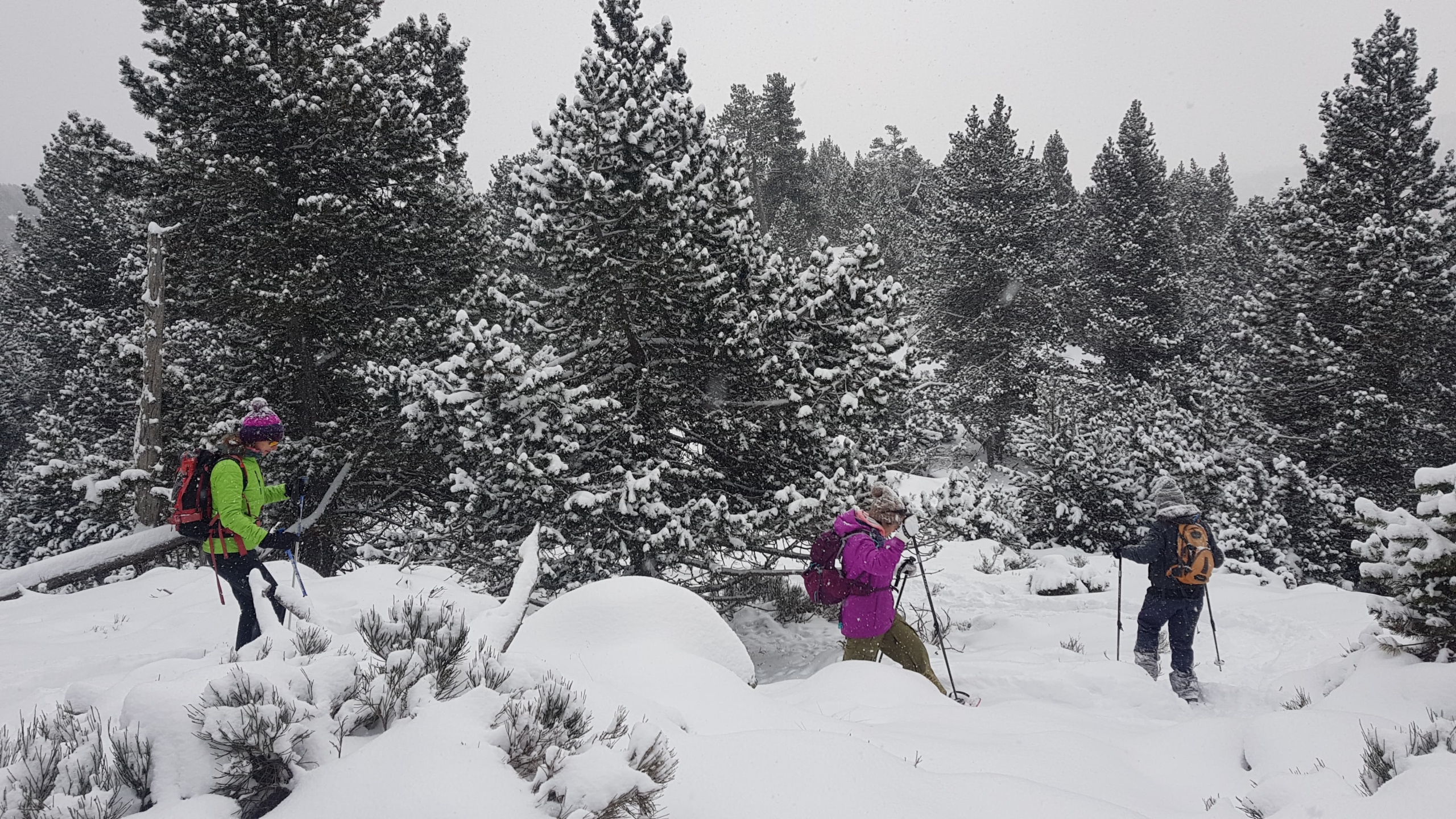 We had the forest all to ourselves. Well I say all to ourselves. Us and the animals that is. We saw so many deer tracks from different species. Hare tracks. Woodpecker holes. We didn't actually see any animals but they were there.
After trekking within the forest for an hour or so we came out at the top of the ridge with magnificent views over Font Romeu, just in time for lunch before descending back down towards the Lac. We took sandwiches but the others had pasta and hot tea. I think next time I would also take some tasty pasta. The shot of whiskey from my hip flask warmed us up fine!
We learnt all about why woodpeckers choose certain trees to build their nests. Why they make lines around the barks of trees in search of food. Why male deers rub the velvet off their antlers on low branches in order to harden them ready for the rutting season and how to identify the many different animal tracks within the snow.
It was a great day out, just what we needed in these covid confined times and we'll certainly be back for more.
Thank you to Ian, Angela and Mike.
Don't forget that Ian and Angela Pendry have the beer nano brewery "Brasserie du Mouli" and if you place an order like we did they will bring the beer with them to the Snowshoeing so you can then pay and take it home afterwards.
So, what's involved in snowshoeing?
Snowshoeing is really popular in this area and involves walking in the snow with what look like glorified plastic tennis rackets on your feet. These "racquets" enable you to walk through deep snow in the forests and mountains in areas that it would be impossible to walk through with just walking boots.
How fit do I need to be?
One of the most frequently asked questions! If you are an active person who enjoys rambles in summer then you will be able to partake in our snowshoe walks. Our trips are not "route marches" as we tend to average just 2kms per hour with perhaps two hours walking before and after lunch. This is not because the terrain is difficult but because in winter there is just so much nature visible in the snow.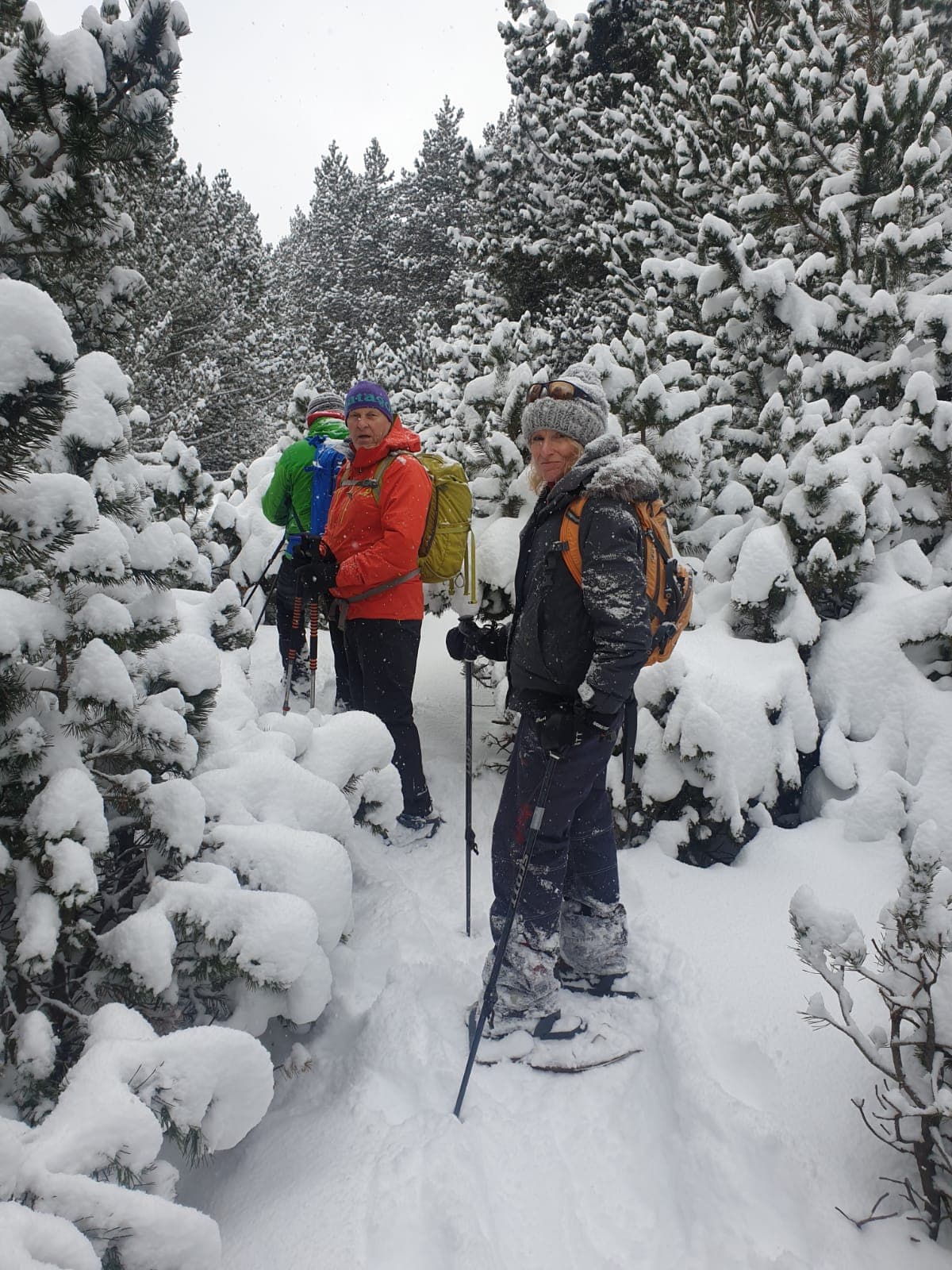 Normally in the lower mountain areas, we have to stick to the paths as the vegetation is to dense to go "off piste" but in winter the shrubs and bushes are covered so that we can go anywhere and into the middle of the wildlife. Tracks and animal signs are difficult to see in summer and only in winter do you realise that so many animals inhabit our wonderful region and following and identifying these tracks is a key part of our days out. It is especially magic after a fresh fall of snow when your guide will make a good track for you through the snow.
What equipment do I need?
Snowshoeing does not require you to have any special gear as we provide the snowshoes and poles and you will only need your normal walking clothes and boots. Waterproof/windproof jacket and pants, hat, gloves and sun glasses are the basics as well as a rucksack to carry it all in. A packed lunch, snacks and drinks will complete your bag. Most days we will come equipped with mulled wine and special treats to enhance your day out.
Where do we go?
Living all year round in the mountains we are always out looking for the best snow and we delight in taking you to untracked areas ranging from Puyvalador to the north to the Spanish borders to the south. We have also been exploring farther afield on the borders of Andorra. Normally we meet up in Mont Louis between 9 & 10 am at the Edelweiss café (see map below) and then transfer to the start of our walks.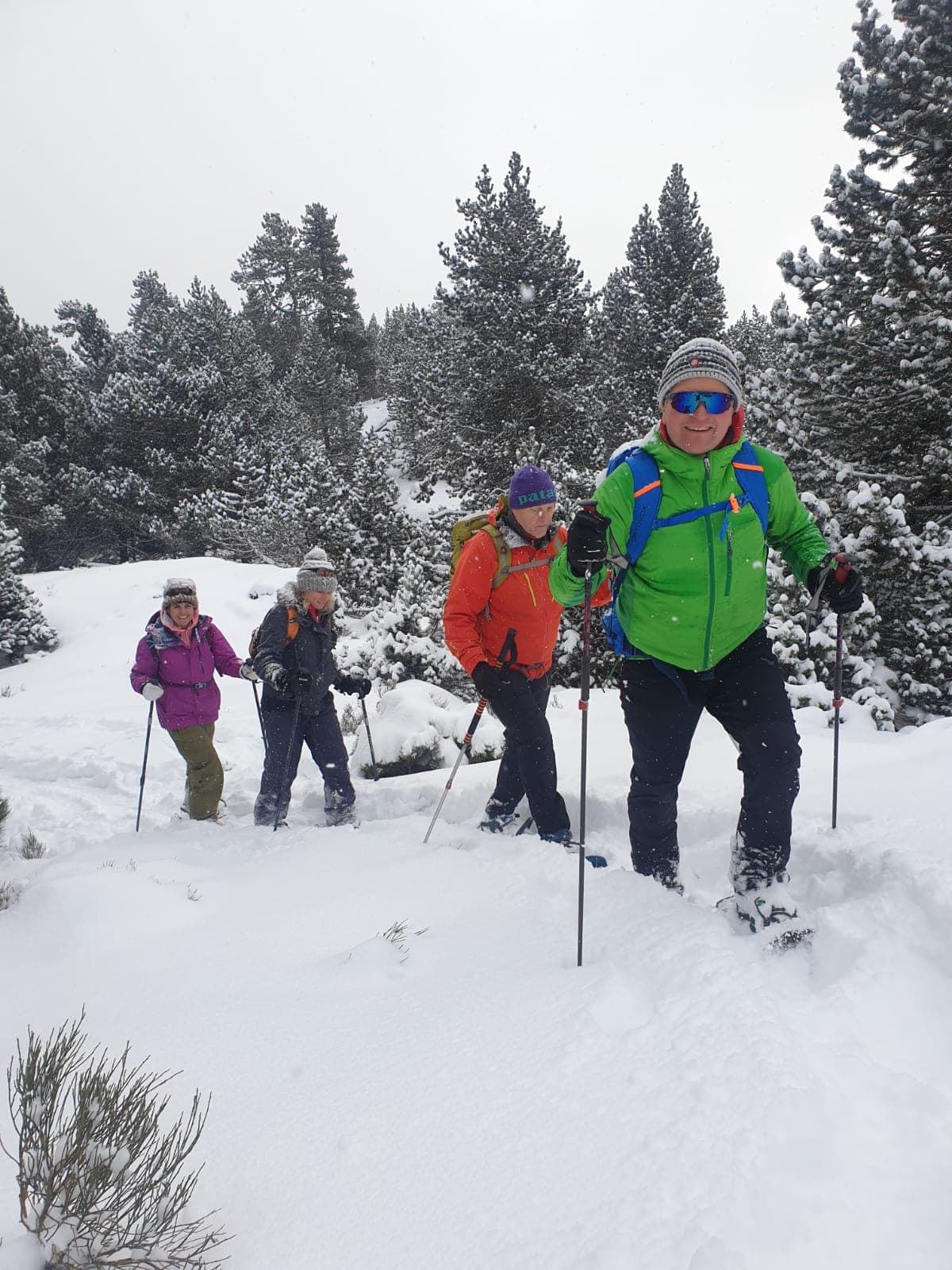 Snowshoeing Trips
Book direct and the guides will try to accommodate you.
Meeting point : 9.30am/10am at the Edelwiess cafe / petrol station in Mont Louis (see map below)
Walks will be all day, returning to the Edelwiess at around 5pm. This may vary a little depending on the planned walk and access time. This can be modified to suite your requirements.
You will need walking clothing, boots and a packed lunch. Snowshoes provided as needed.
Price for the guided day including snowshoe rental is 35€ per person. Group discounts are available.
Reservation can be made up to the evening prior to the day.
Contact
Mike
Tel: 0679 10 54 53
Email: mike.rhodes@free.fr
Angela / Ian
Tel: 0678 23 81 30 / 0632 32 07 43
Email: info@altitudeadventure.com / ian.pendry@orange.fr
Eidelweiss Café (meeting point)
As featured in P-O Life n° 66 (winter 2019-20)