Friday 6th April to Sunday 30th September 2012
Argelès Presents an Ode to the Forest
By Ellen Turner Hall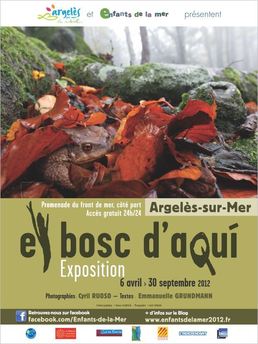 On the promenade of Argeles Plage the 2012 edition of Enfants de la mer invites you to learn about forests at home and away. "Home" is the Alberes Mountains, a place of legend and a real-life success story of biodiversity. The other two thirds of the exhibition is devoted to the menaces to tropical jungles worldwide and projects, notably in Senegal and Madagascar, to reverse their decline.
The exhibition consists of photographs and information panels (in English) where you will find 105 reasons to look after the environment. You will discover a bird that can fly backwards, an ant that invented agriculture and a flower that holds 3 records: largest, heaviest and smelliest! All this extravagant variety to inspire you to get involved in projects to protect the forest and the fragile balance between us and the trees which shelter, feed, warm and cure us.
The tangled and fallen beech trees of the natural reserve of the Massif des Alberes are home to an impressive variety of local fauna and flora, but the island of Madagascar, during 88 million years of isolation, has produced a diversity of species found nowhere else. The Common Leaf-tailed Gecko is anything but "common" with its versatile bright red tongue which it uses to scare predators or to wipe the dust from its lidless eyes!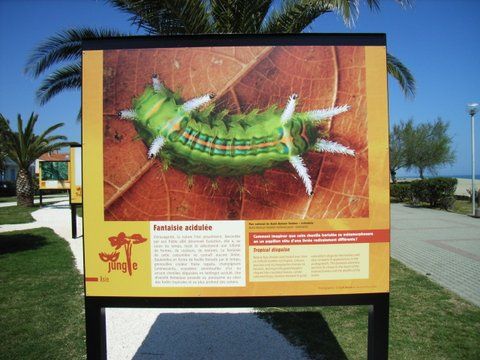 On the other hand, there is something quite familiar about the courtship practices of the Peruvian Cock of the Rock. Every year a group of males strut their stuff in front of a group of females, who choose the best dancer or the sexiest singer to fertilize their eggs. This is known as "lekking" or…facebook?
The most lasting image remains one of hope: a villager holding a seedling in his hands. Replanting forests will bring the ecosystem back into balance.
The exhibition runs from 6 April to 30 September. During this period you and your children can participate in a series of events designed to protect our resources. Programme details from: www.enfantsdelamer.fr.