AUTOUR DU PORT.
Paintings & Photos by Ari Hantke
14th – 28th June 2012 Le Dome, Port Vendres
FREE ADMISSION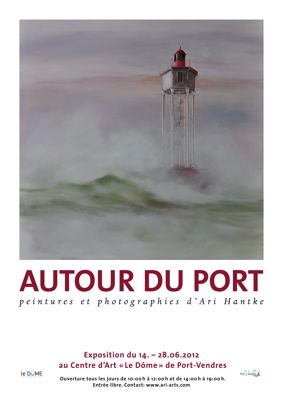 Whilst looking for a film location, German producer Ari Hantke came to Port-Vendres. It was love at first sight…
A couple of years later, he decided to leave the film business behind and settle in France. It is therefore small wonder that Ari Hantke's second exhibition at the Dome in Port Vendres focuses once again on adopted home, with acrylic paintings, water colours, drawings and photographs offering unusual views on the sights and everyday life around Port-Vendres harbour.
Before Ari Hantke settled in Port-Vendes, he studied Architecture and Fine Arts in Munich. On leaving university he was snapped up by Von Branca, a top German architect and put to work on a major project that lasted six years…
He switched to movie making, working for Constantin Costa-Gavras, Claude Zidi, Edouard Molinaro and Jean-Jacques Beineix. For his 2004 film The Ninth Day by internationally renowned director Volker Schloendorff (The Tin Drum), he was awarded the German Film Award 2005 for Best Production Design.
When Ari isn't painting, he is busy in his Port-Vendres architect's office, realising building projects, alterations and renovations. And sometimes, he can also be found playing guitar and singing with Pierre Leberger at the Bistrot du France, 21 Quai Forgas, in Port-Vendres. Go along to listen, sing along, or take your guitar or other instruments and have a jam!
Le Dôme – Port Vendres

With Michael Brady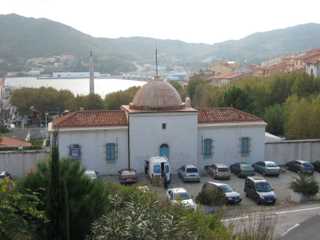 From assemblies of legislatures that convene under them to zoological collections housed by them, domes signal unusual venues round the world. France has many, including Le Dôme restaurant, an Art Déco masterpiece on the Left Bank in Paris, Le Dôme Théâtre in Albertville and the ultramodern Le Dôme entertainment centre in Marseille. Though of lesser fame, Le Dôme in Port Vendres sets itself apart from its namesakes by having the most curious of dome histories.
Designed in the late 18th century by royal architect Charles de Wailly as one of the grand buildings contiguous with Place de l'Obélisque at the harbour, the neoclassical Le Dôme originally was meant to be a hotel for foreigners. It must have done poorly at that, as in 1835, five years after Port Vendres became the principal port for dispatching soldiers and supplies to the French colony in Algeria, Le Dôme was given to the Army as a flat for the military governor of the adjoining barracks. It fulfilled that role for some hundred years.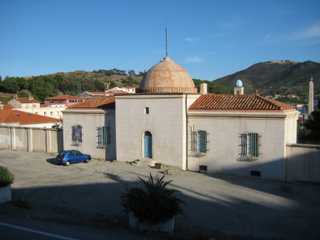 Partly destroyed during the Second World War, Le Dôme was restored afterwards as an art and culture centre. The restoration was visionary, as today Le Dôme offers a pallet of exhibitions, concerts and other cultural events, peaking in summer. Inside, the chalk-white walls impart an aura of veneration to works displayed, and the lower-level garden facing l'Obélisque affords a splendid view of the harbour as well as superb acoustics for concerts held there.
At the garden level there's a small, permanent gallery dedicated to the works of Charles Rennie Mackintosh, the famed early 20th century architect, designer and artist. The location is fitting, as in 1923, the scenes in and around Port Vendres prompted him to devote himself entirely to painting.
Opening hours throughout the year are 2:30 to 7:00 pm, or longer for special events. For the schedule of upcoming events, contact the Port Vendres Office de tourisme Tel 0468820754 or the Mairie Tel 04 68820103