Friday 14th September 2012 – 
Bages

Grand concert in aid of cancer research (étoile de Martin).
Sports hall, Bages (nr Perpignan, direction Le Boulou)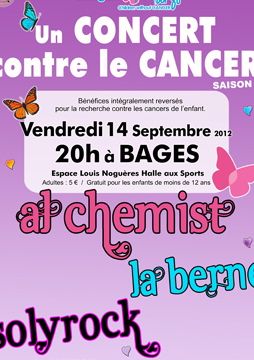 In June 2010, after a couageous battle against a brain tumour, Margaux, 14 years old of Bages became a twinkling star in the sky.
This concert in homage to the brave young girl, will take place on Friday 14th September at the sports hall in Bages, beginning at 21h. All proceeds will go to the 'Etoile de Martin' charity for cancer research.
Live music and dancing with:
Al chemist
Local trio
http://al-chemist.com/index.htm
Solyrock
Sunshine and rock!
Camille Della-Pietra (vocals) Michel Fol (base) Joël Ferrer (drums) Gregoire Revel (guitar) Gilles Gimenez (guitar)
La berne
Sextet of passionate rockers
Franck Sala (guitar and vocals), Yolande Hernandiz (double bass and vocals), Benjamin Borne (accordion and vocals), Rémy Busquet (guitar and vocals), Pascale Ridao( base and vocals) Jano Aumeras( guitar and vocals

A GOOD NIGHT AND A GREAT CAUSE
Admission: 5€ (free for U12s).
More info: 04 68 21 89 50