Sunday 2nd February 2014
salle Jean Carrère in Argelès sur Mer
Bingo for Charity in Argelès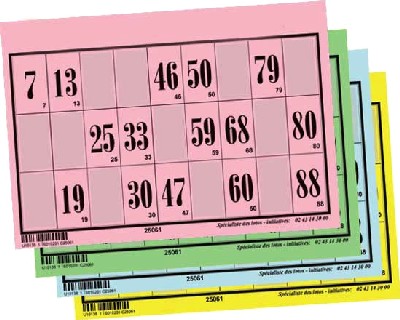 From October onwards you'll see 'Rifles' advertised everywhere you go in the P-O! No need to duck unless you're talking "two little ones"! It's bingo!
In fact, all non profit making associations are allowed to organise 2 rifles a year in order to raise funds for their activities, so it's all for a good cause.
Here's a good chance to brush up on your French numbers, and help out with a worthwhile charity. The Restos du Coeur are putting on 21 games of bingo on Sunday 2nd February at the salle Jean Carrère in Argelès sur Mer at 15h. All welcome.
Prizes of Leclerc vouchers for 150 – 200€, flat screen TV, micro wave, hams, baskets of food….
8€ – 4 cards
12€ – 8 cards
16€ – 10 cards
20€ – 15 cards

More info: 06 43 90 80 21